Coyle's work ethic started long before his NHL days
From his hard work to his soft heart, Chuck Coyle couldn't be prouder of his son, Charlie Coyle, for all he does on and off the ice.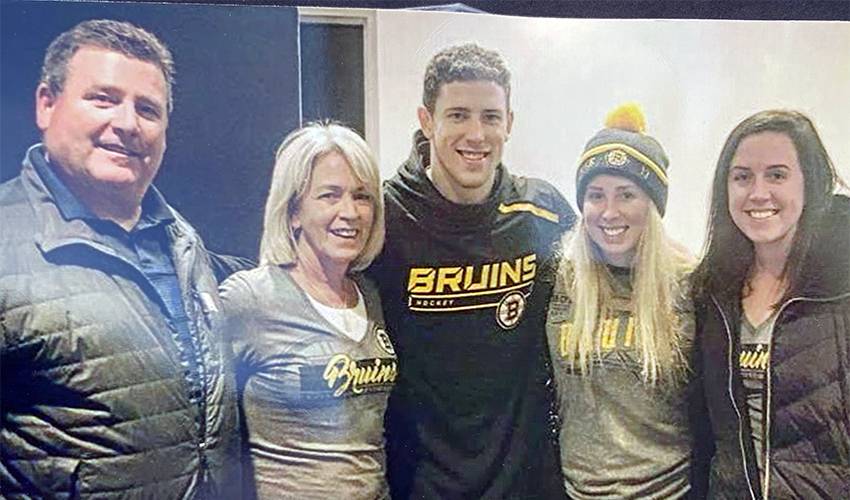 Feature photo courtesy of Chuck Coyle
---
It was anything but a glamorous seasonal gig for a teenage Charlie Coyle. While some of his friends had higher paying and less strenuous part-time jobs, there was never a trace of complaint out of the kid from East Weymouth, Massachusetts.
Long before he was a forward with the Boston Bruins, Coyle would arrive to his summer job on time and ready to put in a long day's work. The more Charlie's father, Chuck Coyle, recalled that summer from nearly 15 years ago, the more he realized it was the ideal example of who his son was, and most importantly, who he still is.
"He would help me around the house," recalled Chuck of his young son. "When he was in his middle teens – I used to have a small company, which would deliver cleaning supplies to restaurants – Charlie would work in the warehouse. He'd also work on the truck in the summer. He would go out with the driver on the deliveries. He'd work hard too."
On most days, Charlie would have to get himself to work by ways of a 20-minute bike ride. When he wasn't working in the summer, Charlie was busy staying in shape for the upcoming hockey season.
"I used to leave earlier than him, so a lot of times he would ride his bike. It was about four miles away from the house. He'd ride his bike to work and he'd also ride to the local high school and work out… he worked like a dog. He had some long days, but he always put in the work, whether it was in the weight room [aka The Dungeon], on the ice, or at his summer job. He never took shortcuts."
Hockey scouts also picked up on Coyle's strong work ethic.
Whether it was during his high school days, when he wore a Team USA jersey, or from his two seasons with the Boston University Terriers and one campaign with the Saint John Sea Dogs – the right-handed forward worked himself onto the right track for an NHL career.
Chuck always thought his son had a decent shot at making it to the big stage, but it was hearing the words from someone else that allowed him to dare think hope could become reality.
"Charlie was playing in one of the U.S. tournaments and I think he was out in Syracuse. When I went to pick him up at the end, he was with his coach there. I remember him saying goodbye to Charlie and he said, 'I'll see you in the show.' I said, 'Really?' and he looked at me said, 'Oh yeah. He's going to be there.' I was speechless. You have your thoughts as a father, but I always taught and believed in not getting too far ahead of yourself. To have someone come out and say that, it was a pretty good feeling."
Now 29 years old, Charlie was originally drafted 28th overall by the San Jose Sharks in 2010 and has since played in 621 NHL regular-season games and counting. He launched his NHL career in the 2012-13 season with the Minnesota Wild, where he would ultimately play 479 games until a trade on February 20, 2019 brought him back home to play for the Boston Bruins. While the jerseys may have changed over the years, the person wearing them has not.
"He did always have a good personality, easy-going, always loved to play sports, but hockey was always his top sport," offered Chuck. "He basically has the same attitude today… he's just older."
As for the player, Chuck continues to sees the same traits in his son as he did when he was younger.
"I like that he plays a 200-foot game. I like that he plays disciplined. He always played that way and I saw that because I coached him a lot growing up. He always had people coming at him and he was taught not to get sucked into all that other stuff. He was taught to play hockey and he's still doing that now. He's a clean player and he's a good teammate. He really works at it."
Charlie's successes have not come with an ego to match them.
For those who know him best, contributions on the ice are equalled by a giving personality away from it. Supporting charities, signing autographs, stepping up to help a cause – Charlie is always quick to lend a hand. Chuck is just as proud of his son for what he does off the ice.
"As a parent, it's unbelievable to see. In his first seven years when he was in Minnesota, thank God we had the internet and social media, so that we could see the things he and his teammates were doing in the community. It was really something. To see him spending time with kids, that really means a lot to see... In the summers when he comes home, it's the same thing. One time, there was a local benefit for a police officer that was killed. Charlie stayed two hours after it was over to sign autographs for the kids. So, when we see that, it really makes us feel good. He remembers being a kid."
He also remembers the work ethic that was required for Charlie to carve out an NHL career, and it's something Chuck continues to see whenever his son visits.
"Charlie, he's a great person. He's not big on himself. When he comes around here, he still does the dishes. He's pretty good at it. Whenever we have a holiday dinner or a party, he has no problem getting right in there. When he was young, he did that every night along with his sisters. Around family and friends, he's just a regular guy."
A guy always willing to go that extra mile.
"That job he had with me, he worked really hard," said Chuck. "I think with that job and with what he was taught, he understood the value of hard work early in life. He's carried that with him to this day."