After the Buzzer | Jason Robertson
He may not take the crown as a fashion icon, but Jason Robertson credits this Dallas Stars teammate for their adventurous clothing choices.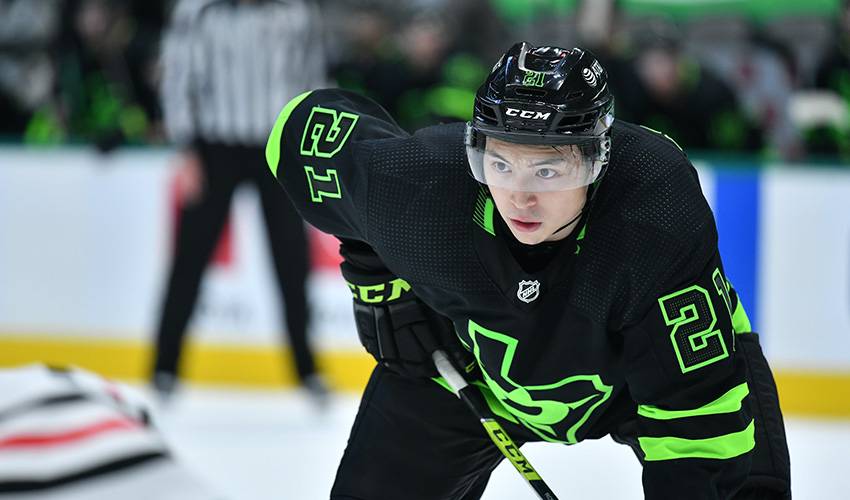 Feature Photo: Getty Images
From their bond with fans to their efforts in the community – and everything in between – 'After the Buzzer' is a weekly series taking readers beyond the rink to shine a light and provide insight on players' lives away from the game.
---
What is the one travel item Jason Robertson brings along with him on every road trip? Here's a hint: it requires some serious foot-eye coordination.
The Dallas Stars rookie sensation, who has stamped himself as a legitimate contender for Calder Trophy consideration, recently connected with NHLPA.com.
GAME ON
When he isn't piling up points on the ice, Robertson goes from game mode to gaming mode.
"I'm a heavy gamer. For the most part, that's what I do when I'm not playing. I'm a FIFA guy. I play a lot of that. I do Ultimate Team and play online. Nobody on the team really plays it. Esa Lindell plays it a little bit and I talk to him about it. Ever since the 2014 World Cup, I got into playing the soccer video game."
SCREEN TIME
Whenever he plays video games on the road, Robertson brings along a must-have 'teammate' for his soccer matches.
"I always bring my PS4 and my monitor. A lot of the guys were laughing when I brought my monitor and PS4 for a one-day trip when we flew to Nashville after our game and then played the Predators. We played there and left the next day, but I had a big suitcase with my monitor. That's pretty much my go-to whenever we play on the road. I get teased about it, but I like having it with me."
WHAT'S IN A NAME?
Although he isn't a big music guy there is one performer in particular that he enjoys, a country singer with a familiar first name.
"I'll listen to music in the car, but that's about it. If I had listen to one kind of music in particular, it would be country. That's what I enjoy. I like a lot of the new stuff. I like Jason Aldean a lot. He's also a Jason, so I guess there's that part of it too. I trained in Aurora [Ontario] with Gary Roberts a few years ago and around that time Jason Aldean was in Niagara Falls, on the American side. So, I ended up going with my older brother [Michael] and watched him there."
FASHION FORWARD
When it comes to dressing for NHL success, Robertson and his fellow teammates sport some serious passion for fashion.
Away from the rink, it's a much different style story for the 39th overall draft pick of the Stars in 2017.
"For me, it's all about whatever makes me feel comfortable. T-shirt, shorts and sandals work. You can't always do that. But it's all about feeling comfortable."
HE FOLDS
Robertson tried his hand at playing cards once, but after coming out on the losing end, he opted for a different form of entertainment.
"I watch TV when we're flying. Some of the guys play cards on the plane, but not me. I played once and lost, so I stuck with my TV shows to pass the time."
PARTING SHOT
"On the team, when it comes to fashion, I'd say Roope Hintz is really into it. He's always wearing these crazy outfits. I couldn't pull any of them off, but he definitely can. Everyone on the team says he's the most fashionable." – Robertson, on who wins serious style points on the Stars.