Player of the Week | Cam Talbot
With a pair of 39-plus save performances and three wins to give him 17 wins for the season, Cam Talbot turned in another strong week.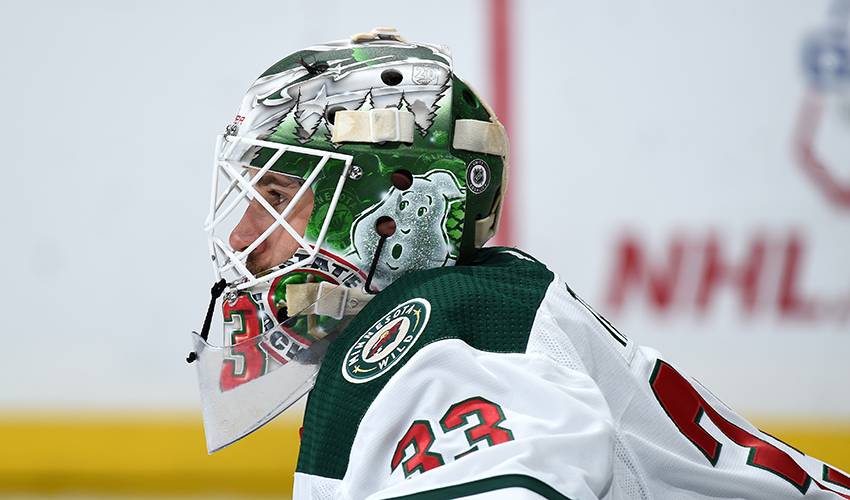 Feature photo: Getty Images
Cam Talbot
APRIL 19-25, 2021
3-0-0 OVER 3 GP
CO-LED LEAGUE IN WINS
.953 SV%, 1.67 GAA
101 SVS, 106 SA
---
Cam Talbot's best stretch of the season couldn't have come at a better time for the Minnesota Wild.
The 33-year-old went 3-0-0 for the week to earn a share of the league lead in wins among netminders while posting a 1.67 goals-against average and a .953 save percentage. Talbot is currently on a five-game win streak within a 6-0-1 stretch to improve his record to 17-6-3 with a 2.33 goals-against average and .926 save percentage.
The Caledonia, Ontario, native has been one of the top goalies in the league since March 12, going 13-2-2 with a .937 save percentage and two shutouts. In his first season with the Wild, Talbot has helped Minnesota clinch a playoff berth and believes it's important for both him and the team to not let their foot off the gas.
"You have to keep building into the playoffs," Talbot said. "You're not going to get a whole lot of time before Game 56 and the first round of the playoffs, so we have to make sure there isn't a letdown. You have to be ramping it up and playing the best hockey come Game 1."

LOOKING BACK

APRIL 19
W, 22 S, 24 SA, THIRD STRAIGHT WIN
---
MIN 5
ARI 2
Talbot made 22 saves to extend the Wild's winning streak to four games with a 5-2 victory over the Arizona Coyotes at Gila River Arena Monday night.
With the victory, Talbot earned his 15th win of the season to continue his history of strong play against the Coyotes.

APRIL 21
W, 39 S, 40 SA, FOURTH STRAIGHT WIN, GAME'S FIRST STAR
---
MIN 4
ARI 1
Talbot made 39 saves to help the Wild stretch their winning streak to five games with a 4-1 victory over the Coyotes on the road Wednesday night.
The Wild needed their netminder to be sharp early as Arizona fired off 14 shots on net in the first period. The Coyotes scored on the powerplay in the opening frame but Talbot shut the door by stopping 17 shots in the second period and another nine in the third.
Talbot's teammates knew how vital their goalie's performance was in keeping the game tied 1-1 entering the third period, where the Wild scored three goals.
"Now we can joke that it could have been 10-nothing in the first if it wasn't for this guy," said Wild forward Marcus Foligno. "But it's been like that all year. Honestly, just the relief we have, the confidence that we have in Cam and even Kaapo, it's huge for our team. And you can't have success without goaltending. That's going to be huge going into the playoffs and in a playoff push."
It was also a milestone night for teammate Kirill Kaprizov, who broke the Wild's rookie record set by Marian Gaborik with his 19th goal of the season.
Kirill Kaprizov nets #mnwild's third goal of the game, his 19th of the season. He becomes the new franchise leader for most goals by a Wild rookie in a season, surpassing Marian Gaborik's 18 in 2000-01. He also takes sole possession of first with 13 EVG by a Wild rookie.

—

Minnesota Wild PR (@mnwildPR) April 22, 2021

APRIL 23
W, 40 S, 42 SA, FIFTH STRAIGHT WIN GAME'S THIRD STAR
---
MIN 4
LAK 2
Talbot pushed his winning streak to five games by making 40 saves in the Wild's 4-2 victory over the Los Angeles Kings at Staples Center Friday night.
With the win, Talbot helped the Wild earn their sixth straight victory in another game where they were outshot. He also continued his dominant play against the Kings this season, establishing a perfect 4-0-0 record.
Wild teammate Kaprizov continued his impressive rookie season scoring a pair of goals that earned him a lot of praise from Talbot for helping the Wild get an early lead.
"It's huge for our team," said Talbot after the game. "Any time you can get up in a game early, we're a team that's pretty good at locking it down when we have the lead.
"He's a special player and he comes to play from the drop of the puck every night."
Cam Talbot appreciation tweet.

—

x - Minnesota Wild (@mnwild) April 24, 2021

LOOKING AHEAD
The Wild clinched a playoff spot Saturday in a 6-3 victory with Kaapo Kahkonen in net to close out the second game in the team's back-to-back. Talbot will try to help the Wild continue their climb up the standings as they open a three-game series against the St. Louis Blues on April 28.