Dressed for the part: Checking in with Matt Dumba
He's already a hockey player and a humanitarian, but there was room for another role in Matt Dumba's life and he's already dressed for the part.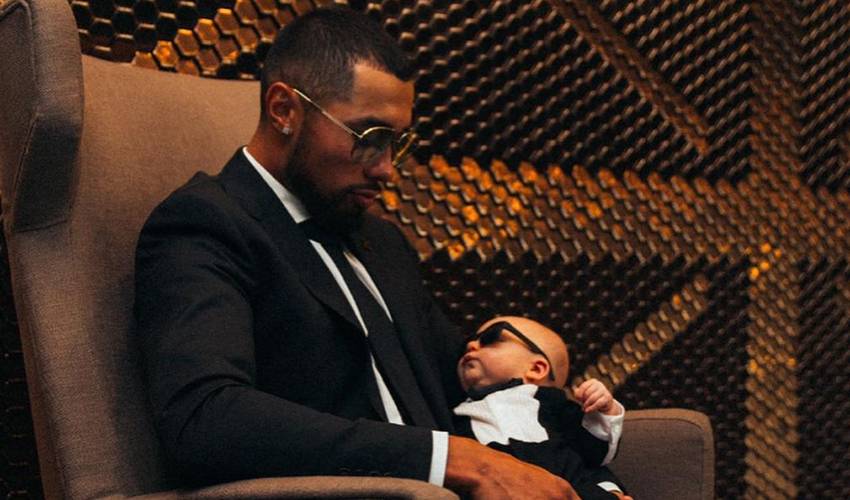 Feature photo: IG/ @matt.dumba
---
When it comes to being a godfather, Matt Dumba is picture-perfect in his new role.
The images look like they've been taken from the pages of a high-profile magazine photo shoot, the ones on Instagram that feature the Minnesota Wild defenceman and his equally stylish godson, Locke Powers.
Locke is the son of Tommy Powers, a close friend of Dumba's and past collegiate hockey player who founded "Empowers Performance" in 2011. The Florida-born former defenceman with UMass-Lowell is the President, Head Strength and Conditioning Coach, and Nutritionist for the company, a popular summer training and off-season hockey camp for NHL and elite amateur hockey players.
Dumba, who has been close friends with Powers for years, was humbled when he was asked to be Locke's godfather.
"Tommy, who I train with, he and his wife let me know over dinner that I was going to be Locke's godfather. It's great. This is the first time that honour has been bestowed on me. Tommy and I have been working together for 10-plus years. He's really like a big brother to me. So then, we started talking when we were training and came up with some crazy ideas for photos. The ones I posted were from one of the ideas that we talked about. We just ended up pulling the trigger on it."
From the matching sunglasses and suits, to the sweet high-tops, Dumba and his godson appear to have already established a solid bond.
As for who wore it better, the 26-year-old veteran of 411 NHL regular-season games admitted that Locke has locked up the title.
"We bought him a suit, and made sure I had something to match it. We had to make sure we had the Jordans. Ever since he was born, that's kind of been my go-to. He had to wear it better. He had the Dolce & Gabbana three-and-a-half-month-old-to-six-month-old suit. This thing was nice."
The duo, however, is more than just a fashion statement.
"Locke and I, we've got a good relationship. He's pretty cool. I came down to Arizona to work out with Tommy, and I was living at his house for a couple of weeks before I got my own place. He's such a good kid. I maybe heard him cry once in those two weeks. He's a fun, happy-go-lucky baby. He's awesome and he always puts a smile on your face."
Dumba, a King Clancy Trophy Award winner who has helped spread smiles to many in 2020, continued to offer support by taking part in a special evening for a family through the Hendrickson Foundation.
Founded by the late Larry Hendrickson, father to former NHL forward and current Wild assistant coach Darby Hendrickson, the foundation's aim is to enrich the lives of individuals with disabilities, and their families, through the game of hockey and making the sport accessible for everyone. The foundation supports Minnesota Special Hockey teams, the Minnesota Wild and Junior Wild sled hockey teams, and the Minnesota Warriors.
Dumba was on-hand when Daniel Acree, a Master Sergeant in the U.S. Air Force, who has spent the past two years overseas, surprised his children.
Acree's son, Dakota, a goaltender for the Dasa St. Louis Blues sled hockey team, and his younger brother, Bode, hadn't seen their father in two years.
The father and his sons were reunited at the Hendrickson Foundation's 2020 National Hockey Festival.
Dumba was there to help the family celebrate.
"It was a real special moment. What the Hendrickson Foundation does, not only in Minneapolis, but with families across North America, giving families a sense of belonging… it's remarkable. To be able to be part of something like that, I don't even know how to put into words the emotion I felt seeing him come out onto the ice. I had been hanging out with his two boys for a little bit on the one bench. Just to see their faces light up and see how ecstatic they were to see their dad, it really pulls on some heartstrings."
Dumba has watched the video that captured some of the moments of the evening on the Hendrickson Foundation's Instagram page more than a few times since it was posted.
"I'm glad they got the video. You don't get enough of those types of things on social media these days, the feel-good posts."
The seventh overall pick of the Wild in the 2012 NHL Draft feels fortunate to have been part of two of them.
In fact, it's just what the godfather ordered.
"I like the sound of that title. I definitely like hearing it and I couldn't be more grateful to have been given such a big honour. It means a lot to me."