Couture encouraging fans, inspiring teammates with online book club
If you're looking for something to do, considering booking a little time with Logan Couture.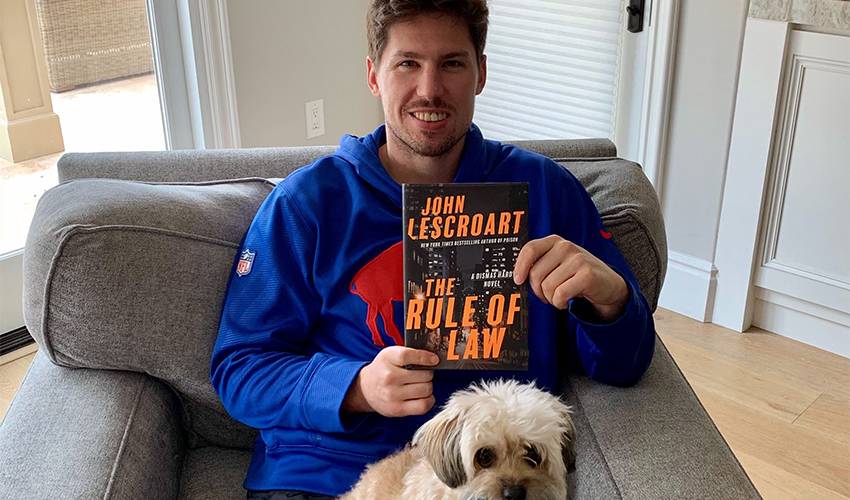 If you're looking for something to do, considering booking a little time with Logan Couture.
With the current NHL season interrupted by the COVID-19 pandemic, Couture, the San Jose Sharks captain, has taken his love of reading to a new level, ordering books by the dozen over the past month or so, then jumping on social media to share some of his favourites through his online book club.
An avid reader dating back to his childhood days, he ramped up his passion for a good book about five years ago.
With plenty of time on his hands these days, Couture's become a reading machine, thumbing his way through hundreds of pages each week.
"Reading is something I've done my whole life, and it was a little while ago that I really picked it up again when we were on the road. It's a good way for me to pass the time. Once I really started to get into it, I found authors that I liked and it kind of went from there. The Sharks asked me if it (book club) was something I'd be interested in doing, and we really never got around to doing it during the season. It just so happens that there's a lot of free time now and they asked me if I wanted to start it. I said 'sure,' and here we are.
"I'm having a good time with it and I think people have enjoyed it. It's something to take your mind off what's going on in the world right now. I think a lot of people read along with the first book I put out there."
That would be "The Rule of Law." Penned by John Lescroart, the legal thriller is the 18th book in the (fictional character) Dismas Hardy series.
It was a natural fit for Couture, considering Lescroart is a San Francisco-based author and many of his writings take place in the Bay Area of California.
The 31-year-old forward offered up his book review via his Twitter page, and unveiled the next book on his list, "Dark Matter," by Blake Crouch.
It didn't take him long to turn in his next review, which came by ways of a fan who recommended it on Twitter.
"In his books, John Lescroart talks a lot about the San Francisco Giants, and the Sharks. Hopefully, Sharks fans can get into his books because they're very good. I'm really into mysteries and psychological thrillers. I've read the whole Jack Reacher series."
As for his preferred reading method, don't expect any electronics to be involved.
"I'm a book guy. I need to flip the pages and feel the book. I order the books online and when they arrive, I'm like a little kid opening a Christmas gift. It brings some excitement into my life."
And while his book reviews are aimed for an adult audience, Couture isn't about to let down younger readers.
Growing up in southwestern Ontario, he was a big fan of "Goosebumps," a series of children's horror novels penned by American author R.L. Stine that also inspired the television series which aired on television from 1995-98.
"Goosebumps… those were big when I was a kid. My brother still has those books and he handed them down to his son. Those were the big ones. I still remember "Say Cheese and Die!" Books like that, I can still recall what happens in them. That was the big book series I was into when I was younger. I also got into Harry Potter when I was a little bit older."
Now, Couture is hoping his enjoyment of reading can inspire others to do the same, especially during days of self-isolation, physical distancing, and a majority of time spent at home.
"From the reaction I've seen, a lot of people have shown an interest in getting into books and reading along. It's a nice way to interact with fans through this time."
Couture, who just finished reading a three-part series ("The Power of the Dog," "The Cartel," and "The Border") by author Don Winslow, will continue to be on the lookout for books to share with his followers.
Just don't expect him to mimic Dolly Parton's new bedtime series "Goodnight with Dolly," in which the country music legend reads bedtime stories to kids online every week.
"I don't know," Couture said with a laugh. "I haven't read out loud since I don't how long."
For now, he's content to play the role of reading promoter, and he's even inspired fellow teammate, Brent Burns.

"It's about the excitement of a story, something that you can kind of get lost in and take your mind off of everything, really. You get into a good book and you're in the middle of it, that's all you're really thinking about. It takes a lot of the pressure and what's going on right now off your mind. It's a good way for me to escape, and I hope for them it's the same because everyone is going through times right now. Anything that they can escape from reality for a little bit, I hope they can enjoy it."