Spotlight shines on quiet leader Filppula around milestone moment
It was somewhat ironic that centre Valtteri Filppula found himself the centre of attention on Saturday night in Detroit.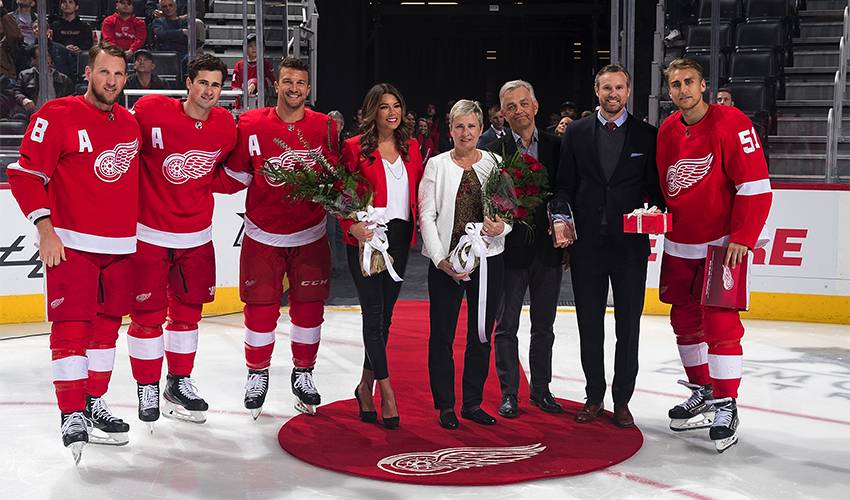 It was somewhat ironic that centre Valtteri Filppula found himself the centre of attention on Saturday night in Detroit.
Quiet and reserved by nature, Filppula was momentarily thrust into the spotlight when he was feted for playing in his 1,000th NHL game, a 1-0 Detroit home loss against the New York Rangers.
The 35-year-old was recognized on the scoreboard for the accomplishment and received a warm reception from the hometown crowd.
His teammates, including Dylan Larkin, were thrilled to see him reach the milestone.
"I think he's a great leader," praised Larkin. "I think he's been able to reach the milestone because he loves the game."
A game that has indeed been good to the Finnish forward.
Originally drafted 95th overall by the Red Wings in 2003, Filppula has been an impactful player at each stop on his NHL career.
The native of Vantaa (Finland's fourth most populous city) has been a Swiss Army Knife of sorts, a player capable of filling a variety of needs.
Scoring. Checking. Penalty killing. Face-off man. Power-play quarterback. Team player. Quiet leader on and off the ice.
Filppula's done it all.
"He is one of the top centres of all time in Finnish hockey," praised countryman and former NHL right wing Jere Lehtinen. "He is a great example of how to play the game by putting everything into the team to win games."
Filppula made his NHL debut on December 15, 2005, going on to appear in four games and recording one assist with Detroit in 2005-06.
Earning regular roster duty with the Red Wings in 2006-07, he won a Stanley Cup with the Original Six squad in 2008. He called the Motor City home until 2013, when he signed a five-year contract with Tampa Bay.
Prior to his time with the Lightning, Tampa Bay had made the postseason just once since 2007. The Eastern Conference club reached the playoffs in all three of Filppula's seasons there, including the Stanley Cup Final in 2015 – his third championship appearance – along with a spot in the 2016 Eastern Conference Final.
Dealt to Philadelphia March 1, 2017, Filppula appeared in 101 games with the Flyers before he signed with the New York Islanders July 1, 2018.
Exactly one year later, he inked a two-year deal to return to the Red Wings.
And while a playoff spot is out of reach for the Red Wings this season, Filppula's impact on his teammates, especially the young corps, hasn't gone unnoticed or unappreciated.
"I think Val is such a great teammate because he is so down-to-earth and has a great work ethic," said Larkin. "Val has been so good at relating to anyone on our team and I think he's a great leader. He takes care of his body really well and prepares really well for every practice and game."
On the international front, Filppula has earned two bronze medals at the World Junior Championship (2003, 2004), and an Olympic bronze medal in 2010.
At the 2012 World Championships, he scored four goals and had 10 points in as many games for a Finnish side that finished in the fourth spot. Four years later, he represented his country at the 2016 World Cup of Hockey.
Lehtinen, who played 875 career regular season NHL games, and is a three-time recipient of the Frank J. Selke Trophy as the league's top defensive forward, regards Filppula as the ideal mentor, whether it's in NHL circles or on the international stage.
Consider it a watch and learn tutorial.
"For the young players, he helps them by showing his work ethic, competitiveness and making the smart, right plays," said the four-time Olympic medalist, who earned silver with Finland at the 2006 Winter Games. "And that's all done to help his team win games."
Monday, Filppula was honoured by the Red Wings for playing in the milestone mark Saturday and was saluted with video tributes from several players and former teammates.
*
Alex Steen recently joined Filppula in the 1,000 games-played club. The veteran St. Louis forward reached his milestone on Saturday night in Winnipeg.
Minnesota Wild alternate captain Zach Parise is three games shy of 1,000 NHL games.