From undrafted to steady presence in Rangers net
Almost every kid on his team wanted to play goaltender. Unbeknownst to him, Alexandar Georgiev had the inside track on the job.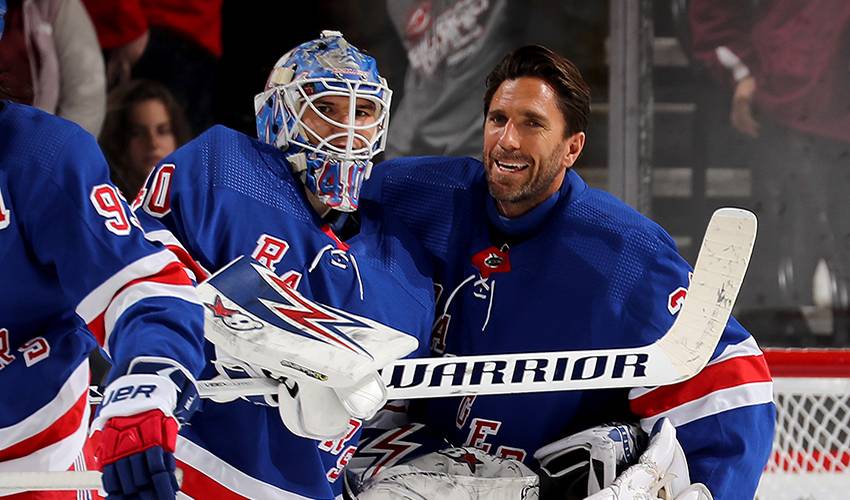 Almost every kid on his team wanted to play goaltender. Unbeknownst to him, Alexandar Georgiev had the inside track on the job.
When the coach gathered up the group of six-year-olds during practice and asked who would like to volunteer to be the team's goalie, the majority of young hockey players raised their hands.
One skater in particular, however, unwittingly made the decision rather easy.
"I was among the guys that wanted it (playing goalie) and the head coach actually talked to my parents and thought I would be a good goalie because I was backing up to the net whenever we were playing games," recalled Georgiev with a laugh. "That's how he convinced my parents and they went with it."
The Bulgarian-born backstopper, who moved with his family to Russia soon after he was born, embraced the role from the moment he strapped on his first pair of pads.
What was it about the position that piqued his curiosity?
"I would say it was really cool," said Georgiev. "I remember my first set of pads – red, white and black. I loved them. I liked the colours – it was really exciting."
Soon after he took on the role, he found himself watching NHL highlights, zeroing in on the goaltenders, picking up tips and marveling at the saves they made against the top players in the world.
It was also around that time Georgiev envisioned what it would be like to have that very same opportunity.
"When I was growing up, for me, it was (Hall of Fame legend) Martin Brodeur I watched a lot of," he started. "From the Russian guys, it was Evgeni Nabokov. Looking back, they had much different styles than the goalies have today. I was really watching those guys and highlights from NHL games, pretty much every day. I enjoyed watching it all."
After playing in Russia, Georgiev landed in Finland, where he eventually suited up with TPS of the Finnish Elite League.
Passed over in the 2017 NHL Draft despite a 13-8-4 record and leading the Liiga with a 1.70 goals-against average, he agreed to terms with the New York Rangers on July 19, 2017.
Georgiev started the 2017-18 season with Hartford of the American Hockey League, going 14-13-7 with a 2.98 GAA and .909 save percentage for the Wolf Pack.
On February 22, 2018, he made his NHL debut, making 38 saves in a 3-1 (he allowed two goals) road loss to the Montreal Canadiens.
The strangest part of his milestone moment? That game wasn't supposed to be Georgiev's first appearance on NHL ice.
"I was actually scheduled to make my debut against Ottawa a week before that and I got a really bad fever and the flu, two days before the game. So, I didn't make it to that game. The guy they called up, he got to come in during the middle of the game and relieve Henrik (Rangers starter, Lundqvist). I remember being sick, lying in bed, and watching the game. I thought, 'Wow… that was supposed to be my debut and now, who knows what's going to happen.'"
Georgiev, thankfully, didn't have wait long for the answer.
"I got back on the team pretty quickly, and was backing up the team for the next game. It was in Montreal and I had been with the team for a couple of weeks. I remember looking up at the banners, seeing those colours, and trying to enjoy that moment as much as possible. I was able to put all the nerves aside. I tried not to overthink it. I tried to approach as I would any other game, but I was excited."
As were two very important people in Georgiev's life, namely, his father, and his girlfriend.
"My dad was visiting me during that time, and my girlfriend was in New York, so they traveled to Montreal to see the game," said the 6-foot-1, 178-pounder, whose first NHL win came against the Edmonton Oilers on March 3, 2018.
The 23-year-old, who had two shutouts last season, has been quite effective backing up Lundqvist, with his level of play providing the Rangers with a solid one-two punch between the pipes.
Alexandar Georgiev will start for the Rangers against Toronto at MSG tomorrow night. It'll be Georgiev's 7th start in 10 games since Nov. 30.

—

Dan Rosen (@drosennhl) December 19, 2019
But Georgiev, who already posted two shutouts with his first 14 games of this season, hasn't forgotten what those early days in Russia taught him about what's needed to be a game-changing goalie.
"I can't say there's been one piece of advice my father gave me that has stayed with me. He always wanted me to be the hardest worker on the ice. He didn't tell me that, but he would bring me to every practice that he could find, and we'd be going to two rinks every day, pretty much six or seven days a week. He helped me a lot to understand what it takes to be successful. My family is a big part of why I'm in the NHL now."
Georgiev also hasn't stopped watching what other goalies do to shut down the opposition, especially a future Hall of Famer he shares a dressing room with.
"Our goalie coach, Benoit Allaire, he's tweaked my game since I got here, and my style has become closer to what Henrik is playing. Just watching him, he's an extremely hard worker. He's as big a competitor as you'll find. You just try and look at the things he does, especially the small things, that make him successful."