United Heroes League, NHLPA announce second annual 'All-Star Hero' campaign
Four selected service members will receive a once-in-a-lifetime trip with a guest to St. Louis for the 2020 Honda NHL® All-Star Weekend.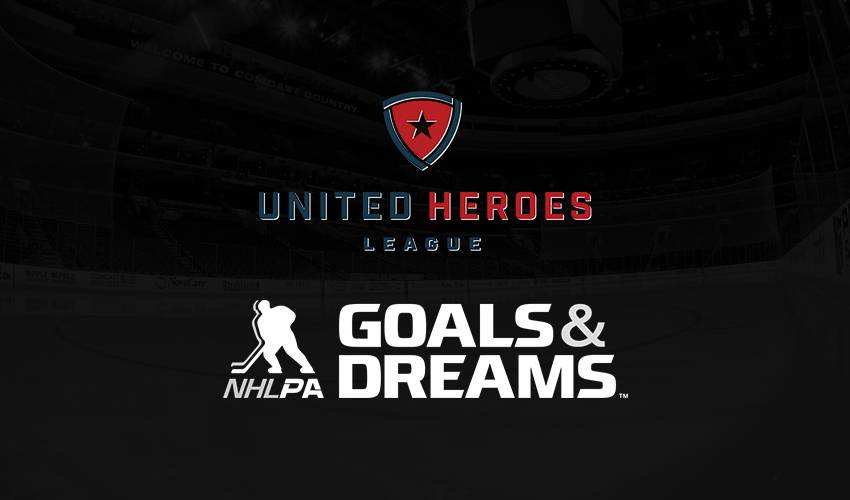 *Follow along on social media with #YourAllStarHero
---
UNITED HEROES LEAGUE, NHLPA
ANNOUNCE SECOND ANNUAL 'ALL-STAR HERO' CAMPAIGN
…Four selected service members will receive once-in-a-lifetime
trip with a guest to St. Louis for 2020 Honda NHL® All-Star Weekend.
TORONTO/HASTINGS, Minn. (Nov. 20, 2019) – The United Heroes League (UHL) and the National Hockey League Players' Association (NHLPA) have announced the second annual All-Star Hero campaign is underway to recognize military personnel and their families for their services through the players' NHLPA Goals & Dreams fund.
Beginning today until Dec. 1, 2019, the public is being asked to nominate their military hero through www.UnitedHeroesLeague.org/all-star-hero/. Open to all branches of service, submitted nominations will provide some basic information for either a U.S. or Canadian Forces service member, as well as a narrative as to why they deserve to be selected.
During the holiday season, four service members will be chosen by the UHL. Each selected service member and a guest will receive air travel to St. Louis for the chance to meet and interact with players in the NHLPA All-Star Lounge at the 2020 Honda NHL® All-Star Weekend. Tickets to the NHL All-Star Skills ™ and NHL® All-Star Game will also be provided, along with hotel accommodations, ground transportation and other prizing.
The four All-Star Hero winners will be personally notified by this year's regional ambassadors – Brent Burns, Jake Gardiner, Torey Krug and Blake Wheeler.
All-Star Hero nominations are open to the following service members:
Currently serving and honorably discharged Veterans from the United States or Canada, as well as immediate family members of those killed in action.
All branches of service, both active duty and reserve components. All ranks, both enlisted and officers/warrant officers.
Service member must have deployed one or more times.
"Working with the four individuals who were each selected last year as an All-Star Hero was an amazing and memorable experience for everyone involved. Together with the United Heroes League, and in support of all the incredible work they do for our Veterans, we are excited for the second year of the initiative," said Mathieu Schneider, NHLPA Special Assistant to the Executive Director.
"For ten years, the players have been our biggest supporters in advancing our mission of helping military families to stay healthy and active through hockey. Our All-Star Hero initiative with the NHLPA is a great example of the assistance and lifelong memories that the players help us create for our nation's heroes on a regular basis. I'm very excited for year two of this project, and to have Brent Burns, Blake Wheeler, Torey Krug, and Jake Gardiner involved as ambassadors for their regions. One of the best ways we can thank our military is by recognizing those world class warriors and their kids with help from the world class athletes of pro hockey, and we couldn't do it without the NHLPA Goals & Dreams program," said Shane Hudella, President & Founder of United Heroes League.
-30-