After the Buzzer | Jordan Martinook
When a player finds himself on the shelf, it might not seem there's much he can do to help out his teammates. But that didn't stop Jordan Martinook.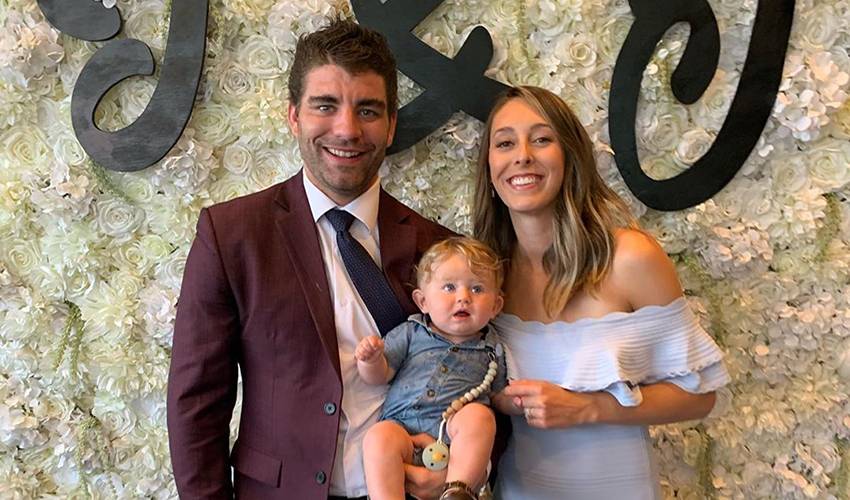 From their bond with fans to their efforts in the community – and everything in between – 'After the Buzzer' is a weekly series taking readers beyond the rink to shine a light and provide insight on players' lives away from the game.
---
When a player finds himself on the shelf, it might not seem there's much he can do to help out his teammates. But that didn't stop Jordan Martinook.
Sent to the sidelines in early October with a core muscle injury, the 27-year-old Martinook, in his second season with the Carolina Hurricanes, wasn't sitting around feeling sorry for himself.
Now back in action, the alternate captain used his time away from action by providing an assist for his teammates, and racking up some serious overtime minutes with his young son Chase.
MOOSE ON THE LOOSE
Being out of the lineup meant a different daily regimen for Martinook, specifically, hanging out with his son.
"It's all good. I got to spend quite a bit of time with him, and we just ended up having a lot of playtime. For Halloween, he went out as a Canadian Moose. We figured since we're Canadian and living down south, it would be a good idea. My wife found it and it was perfect. I guess the most eye-opening part of being a parent is that it's not all about you any more. You have to take care of another person, and you think of yourself second, making sure they're okay. It definitely gives you a lot more responsibility, that's for sure."
TEAM-FIRST APPROACH
"My wife, Courtney, is phenomenal. It's definitely about finding balance when you have a young child. When you need a break, the other person can pick up on it. If they need a break, you pick up on it. I feel like we're pretty good at that."
AN 'A' FOR LEADERSHIP
The six-foot-one, 204-pounder set a career high with 15 goals in 2018-19 and added 10 assists while playing in all 82 regular-season games for the Hurricanes. Martinook, who also registered four assists in 10 playoff games as Carolina advanced to the 2019 Eastern Conference Final, was named one of the team's alternate captains for this year.

"Coming into the league, it was something I never thought about. I knew I could I be a leader – you always kind of expect it of the best players – and you do see it once in a while, the guys that can bring the team together, and that's what I've tried to do my entire career. I have as much fun as I can and just make sure the guys are in good moods, and lead by example through work ethic, things like that. To get acknowledged was nice – it's an honour."
HAPPY PLACE
From cracking jokes and lightening the mood, to bringing some serious energy, Martinook pumped up his teammates as he worked to return to action.

"My personality, I think it gets people more involved, and I think it's something that the team needed," said the forward who was acquired by the Hurricanes from the Coyotes May 3, 2018. "Me coming in, I just came in guns blazing, just doing what I do. I think a lot of guys liked seeing that. I think our room is better for that."
HELPING HAND
Martinook also offered up some friendly advice and words of encouragement for his teammates when he was on the mend.

"I was still very involved in the group chat. I was still around. I came into the dressing room, just being myself, making people laugh, stir the pot a little bit. I'm not an offensive dynamo by any means, but if guys are struggling offensively, I try and help them out. If I see something – watching highlights or seeing things they've done before – I sent a couple of texts to a few guys, trying to help gain their confidence back. I don't know if they like it or not, but it's just something I'm trying to do. I definitely tried to stay involved."
PARTING SHOT
"Guys talk more, there's more banter, and that's what makes a good team. For me to be able to bring my personality into this group, it's been a perfect fit." – Martinook, on feeling right at home with his teammates.