My Top 5 | Noah Hanifin
You don't have to read between the lines when it comes to one of Noah Hanifin's favourite pastimes.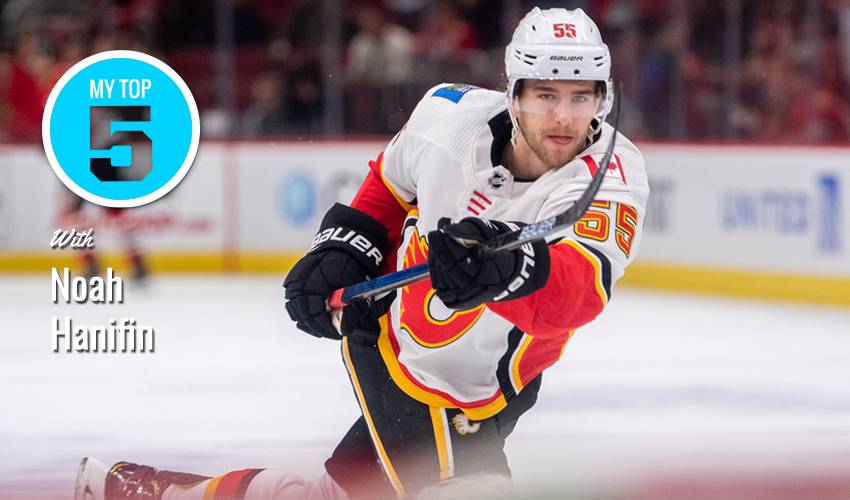 You don't have to read between the lines when it comes to one of Noah Hanifin's favourite pastimes.
When he's not busy patrolling the blue line for the Calgary Flames, the 22-year-old Hanifin can often be found sitting down to read a book.
Whether it's a favourite of an NFL great, or one suggested by a teammate, the Massachusetts native is always seeking a novel way to indulge in his hobby.
In this week's edition of My Top 5, Hanifin does things by the book…literally.
"I'm definitely a big reader. It's something I really love to do."

Hanifin's top inspiring page-turners
---
Achieve greatness
"Relentless would definitely be on my list of must-read books. It's written by a famous trainer who helped out Michael Jordan, Kobe Bryant, Dwayne Wade and others. I read it over the summer and it was awesome. It was very motivational. It goes into the mindset of players like Jordan and Bryant, and what made them so great. It wasn't necessarily just their physical attributes. I found it really interesting and I still read it during the season. It keeps my mind sharp."
Own it!
"Extreme Ownership is another one of my all-time favourite books. It's really good. It's by two Navy SEALS. I read it a few years ago. It's all about preparation and leadership. It really gives you great advice about being a leader."
Heart and soul
"Another book that has to be on my list is Wild at Heart, by John Eldredge. My cousin, who is in the military, suggested it to me. I checked it out and it was really good. It's somewhat of a Christian book that talks about what we need in life."
Assist by…Travis Hamonic
"I read The Soul of the Indian. Travis actually recommended it to me. I read it this year. It's about a man who was born in a Native tribe whose father was white and his mother was Native. At the age of 15, he left his tribe to become a doctor so that he could help his people. It's a true story and it was a very cool book to read."
Agreed!
"The Four Agreements is an excellent book. I actually learned about it when I heard (NFL quarterback) Tom Brady talking about it. It's his favourite book, so I checked it out. He read it in college and said it really helped his career. The four agreements are: 1) Be impeccable with your word. 2) Don't take anything personally. 3) Don't make assumptions. 4) Always do your best. The whole book discusses those four topics. I really liked it."