Presence, balance key for Nurse, Jankowski
The third of a five-part series highlighting the NHLPA's partnership with Kids Help Phone, members discuss the importance of balancing family and friends with a demanding career.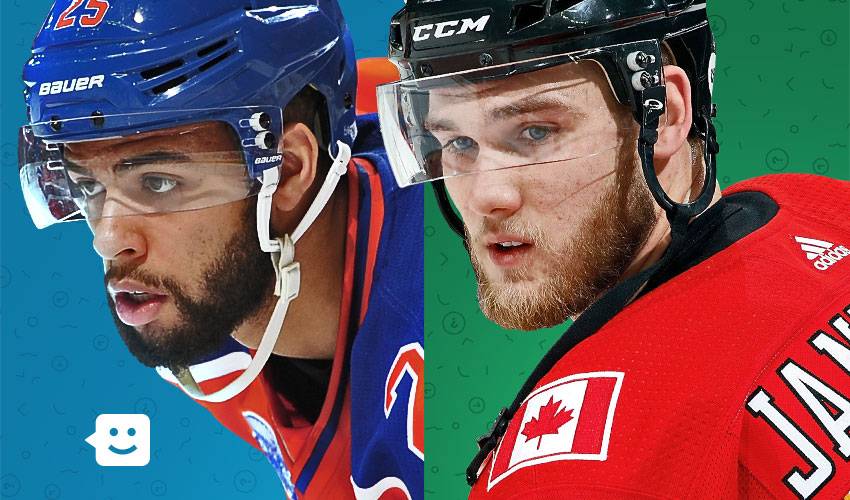 Even on the toughest of days, Mark Jankowski and Darnell Nurse both know who they can turn to for unwavering support.
Whether it's a bad bounce, a prolonged losing streak or a game where nothing happens to go right, Nurse, closing in on 250 career NHL games (all with the Edmonton Oilers) and Jankowski, tied for the lead with four short-handed goals in 2018-19, have seen it all.
And as deflating as those moments can be, they can always look to those they've come to count on over the years.
"It's important for me to make time for family and friends throughout the hockey year because the support I get from them helps through the grind of an NHL season," said the 24-year-old Jankowski. "I enjoy being able to unwind from hockey a bit and relax with them."
"It's also important to put away any pressures in my hockey life when I'm with friends and family because I don't want them to feel the pressures," he continued. "It's just being able to take my mind off of hockey for a little bit and focus on the time I get to spend with them."
Nurse, well on pace for his best offensive NHL season to date, concurs.
"I really appreciate any chance to visit with my friends and family," said the former standout for the Ontario Hockey League's Sault Ste. Marie Greyhounds. "I think it's really important to be engaged and to enjoy whatever you happen to be doing. Whether it's just hanging out with friends or sitting down for dinner with your family, it's something that always makes you feel better and it might even lift you up when you are feeling down."
Especially when you happen to be away from home for an extended period of time.
Thanks to social media, both players get the chance to spend a few minutes chatting family and friends during road trips.
"You want to keep up with what's going on with your family and friends," said Jankowski. "It can get pretty busy during the season, but you can always find the time to reach out to the people you are closest with. It's always good to catch up with everyone and to find out what's going on with them."
"Obviously, hockey can be very demanding and you can be on the road for a while," noted Nurse. "But even though you might be far away from your friends and family, it's good to make time, even if it's just for a couple of minutes, to stayed connected with those you're closest to."
---
This article is a part of a series for the NHLPA's partnership with Kids Help Phone. We hope these NHL players' words inspire you to appreciate the support of your family and friends. If you're looking for ways to achieve balance in all aspects of your life, you can learn more at KidsHelpPhone.ca.