Tanev's young Christmas wish a learning experience
There was one particular Christmas present Chris Tanev pined for when he was 12.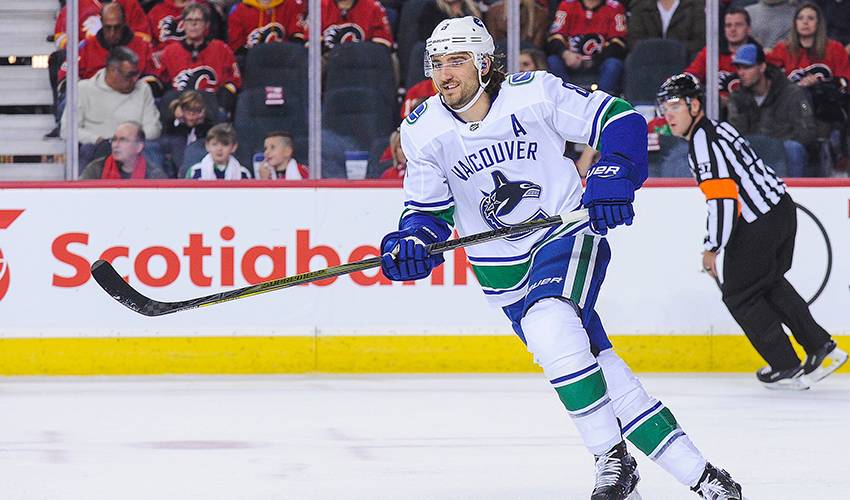 There was one particular Christmas present Chris Tanev pined for when he was 12. He got his wish, but only after is parents pulled off a playful Holiday prank.
For months, Tanev, then in Grade 7, had asked for a special Christmas gift, something he hoped to find under the tree on December 25 and that he could put to good use right away.
"The one thing I really wanted was a PlayStation 2," said the Vancouver Canucks defenceman. "I must have mentioned it to my mom and dad a hundred times or more."
After opening up several boxes and bags on Christmas morning, it appeared Tanev was left out in the cold.
Or was he?
"I really wanted that," said the alternate captain who ranks in the top five in blocked shots this season. "But my parents decided to have a little fun with me. When I woke up in the morning, I went downstairs hoping it would be there. When they were shopping, they couldn't find it forever, but then they finally found one. I open all these nice gifts, but I think I was a little disappointed and not that happy.
"I think they were teasing me. A couple of hours later, they brought down another gift for me. And there it was. It made my day."
Tanev might not have felt that way after he finally had the chance to play video games with his brothers, Kyle, and Brandon, who plays left wing for the Winnipeg Jets.
When the siblings sat down for some PlayStation 2 action, Chris quickly found out he was the one who often came out on the losing end.
"I always lost," said the Ontario native who grew up in Toronto's east end. "I'm just not very good at playing video games. I think it was Brandon and Kyle who would end up battling it out for bragging rights. I always wanted to play and to this day – I really don't play any more – I'm still not good at it."
Even after the gift delay and taking the bronze medal against his brothers, Tanev still has fond recollections of the present.
"For me, it showed how fun and meaningful Christmas is," he offered. "I know that my parents worked extremely hard for me to get that. You always feel very grateful when you receive the things you hope for."
While he won't be asking for anything himself this Holiday season, Tanev, who started his NHL career in 2010-11 as an undrafted free agent, has already bought a gift for Kyle.
He's still shopping around for Brandon.
What about a Vancouver Canucks hat?
"That would be good, wouldn't it?" he quipped. "We all started buying each other gifts when we were older, not hockey-related things. But I'll figure out something by Christmas."
Tanev, who turned 29 on December 20, does have one wish in mind for this Christmas. And no, it doesn't have anything to do with video games.
"I never really ask for anything. I just want health and happiness for my family. I'd wish that for everyone."