After the perfect summer, Mikael Backlund is ready for October
How would Mikael Backlund like to see the 2018-19 NHL season play out? Just like his off-season.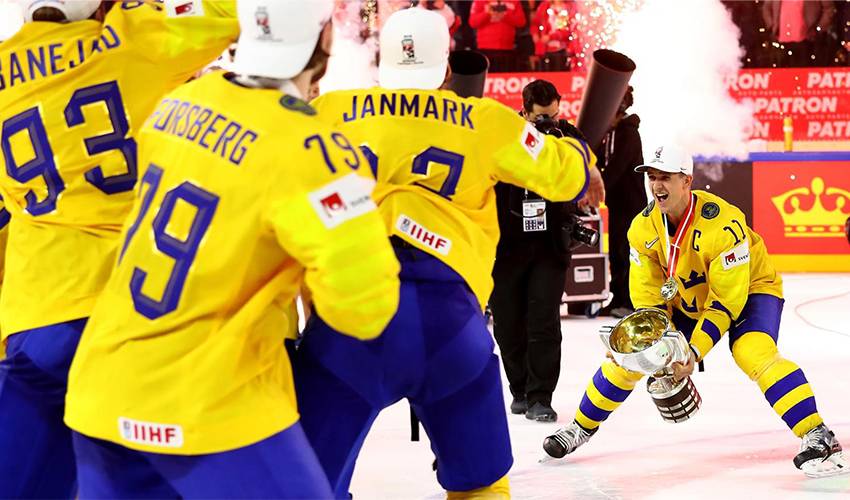 How would Mikael Backlund like to see the 2018-19 NHL season play out? Just like his off-season.
It was a longer spring and summer than he had anticipated, but it was certainly a busy and rewarding time for one of hockey's most effective two-way forwards.
A quick tour of his Instagram page shows just how special it was.
From captaining Team Sweden to victory at the IIHF World Championship, to tying the knot, to plenty of family time in his native country, Backlund, now back in Calgary to ready for the upcoming campaign, experienced several memorable moments outside of his NHL life.

"It's been great," Backlund told NHLPA.com. "It's been busy, but a lot of fun. The wedding, it was an amazing day. Everything worked out as Frida and I wanted it to, so we're very happy."
"We also had a baptism for my nephew (Nils) a couple of weeks ago, too, which was a nice time to see everyone."

"Frida and I also spent a lot of time on the lake on our boat. We tore down our lake house and we're going to build a new house there. I also got to watch the World Cup on TV with my grandpa. Sweden made it to the quarterfinals and played really well. It's a big thing over there and I love watching them play. It was just a really great summer overall."
He's eager to keep the good times rolling.
"Hopefully, it will be a good start to the season," said Backlund, who signed a six-year contract extension with the Flames this February. "I was really excited to get the deal done and I'm really excited about the team we have going into this year. I believe there's a bright future for us."
Backlund's teammates were ecstatic, to say the least, after he inked his new deal.
"That means a lot to me," said the 24th overall pick of the Flames (2007) who has played in 543 NHL regular season games. "We have a great group of guys here and we have a lot of fun together. It's a great team to be on. I was very happy to see them being excited for me."
Last season, Calgary finished with 84 points – a drop of 10 points from the previous year – and failed to make the playoffs.
The 29-year-old centre sees a motivated group ahead of the 2018-19 campaign.
"That's exactly the feeling I'm getting," said Backlund. "Everyone is excited to get going. The guys are anxious to get back at it and prove that we're a better team than we showed last year."
Perhaps Backlund can wear his Team Sweden football jersey around the Calgary dressing room for a little inspiration.
"One of our trainers, his background is from Iceland, so we talked a little bit about soccer in the spring," he said. "He was hoping Iceland would do better than Sweden, so I was giving him a hard time about that. Another trainer and a few guys on the team have an Italian background, so I was giving them a hard time about them not being there and Sweden beating them out. But I didn't bring my Sweden jersey with me to Calgary."
He's hopeful the Flames can go even further than Sweden did.
"Exactly. That's what we're looking to do. I believe in our team. I really like our additions and I think Brad (GM, Treliving) did a great job. I'm very excited about everything."