O'Reilly can't say no to Hockey Canada
Buffalo Sabres alternate captain Ryan O'Reilly always RSVPs yes when he is invited to represent Canada.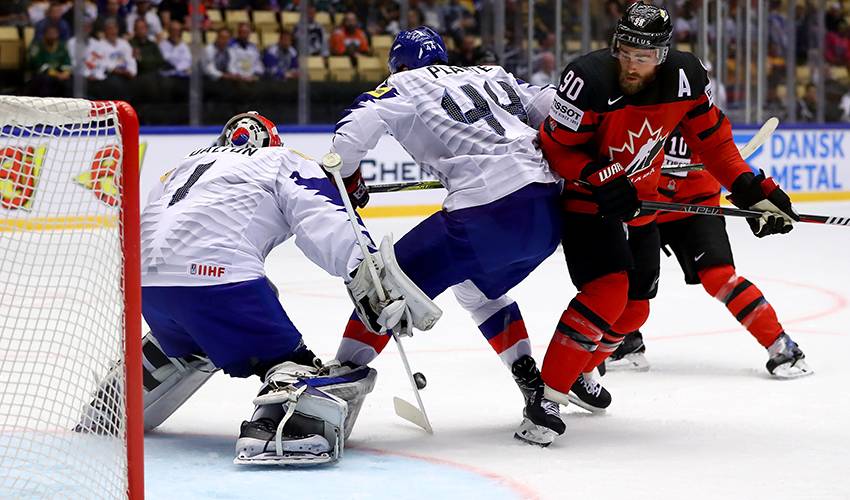 Buffalo Sabres alternate captain Ryan O'Reilly always RSVPs yes when he is invited to represent Canada.
His love affair of suiting up in a Hockey Canada sweater began a decade ago, and this month, the talented forward is competing in his sixth IIHF World Championship in seven seasons.
"I think it's something that being a Canadian player it's in your DNA," said the 27-year-old O'Reilly, of Clinton, Ont. "It's a chance to win something and it's something you want to be part of.
"It's a great tournament to go and represent your country with a bunch of great players. Absolutely, I would do it 100 percent of the time."
Canada is off to a decent start in Denmark with dominant wins over South Korea and the host national Danish team after opening with a shootout loss to the United States. O'Reilly has three goals in three games.
He remarked the shootout loss to the U.S. last Friday was a wake-up call for the Canadians.
"This is a never an easy tournament and each one is different and we have to find a new way to do it," he said. "We just played a good team and they're only going to get better. We have to grow our game, it's a good lesson for us."
O'Reilly speaks from experience. He won gold with Canada in 2015 and 2016 and almost made it three in a row last spring when Canada lost to Sweden in a shootout in the gold-medal final.
Even though the Sabres finished 31st overall, O'Reilly enjoyed a solid season. He was named one of the three Lady Byng Trophy finalists, for exhibiting gentlemanly play combined with a high standard of playing ability – an award he previously won in 2013-14 with the Colorado Avalanche – and set a record for face-off wins in a season at 1,274.
Before he joined Connor McDavid and other Canadian players at a training camp in Riga, Latvia in late April, O'Reilly and McDavid, who both played junior for the OHL Erie Otters, joined former Erie owner Sherry Bassin in Saskatchewan to visit survivors of the Humboldt bus tragedy that took 16 lives.
"It's a heavy day," O'Reilly told the Saskatoon StarPhoenix. "Being at the hospital to see some of the guys was very special. Going to the one school, when Connor [McDavid] walked in, one of the kids there had an Oilers shirt on and he just broke down crying. He was just so shocked to see him. It was pretty special to be part of that and witness that; how coming here made such an impact."
Even though, O'Reilly has performed in only two Stanley Cup playoffs and has never been part of a winning side in a series in his nine-year professional career, the face-off guru and strong two-way centre has a reputation as a big-game player.
In his first postseason, as an NHL rookie, O'Reilly scored an overtime winner in Game 3 to give the Colorado Avalanche a 2-1 series lead against the San Jose Sharks. But the Sharks wound up winning the first-round series in six games.
In O'Reilly's last playoff experience in 2014, O'Reilly scored two goals and checked in with six points in Colorado's heartbreaking seven-game loss in overtime to the Minnesota Wild in the first round.
This is O'Reilly's ninth time representing Canada and he is seeking his sixth golden moment, a record he's proud of.
At a glance
---
At 17, O'Reilly played for Canada at the 2008 Ivan Hlinka Memorial summertime event in Slovakia. He helped Canada win gold and he was named tournament MVP with three goals and five points in four games.
At the 2009 IIHF under-18 World Cup in Minnesota, on a talented team that included Taylor Hall, Brayden Schenn and Matt Duchene, O'Reilly and Canada lost 5-4 in a shootout to Finland in the bronze-medal game.
In the 2012 and 2013 World championships, O'Reilly and Canada finished fifth in both events.
In 2015 and 2016, O'Reilly and Canada broke through for back-to-back gold-medal victories at the World Championship.
A few months later at the 2016 World Cup of Hockey, O'Reilly replaced an injured Tyler Seguin. He won gold and played on a very effective line with Joe Thornton and Duchene.
In his attempt for a third consecutive gold medal last spring in Cologne, Germany, O'Reilly was one of Canada's shooters who failed to score in the 2-1 shootout defeat to Sweden. Oliver Ekman-Larsson was the only player to score in the shootout.