Guentzel remains grounded since dominant debut
Kirk Thompson still remembers the first time he met the "scrawny kid with the blonde, curly hair and the big smile." And he certainly hasn't forgotten the first time he faced Jake Guentzel on the ice.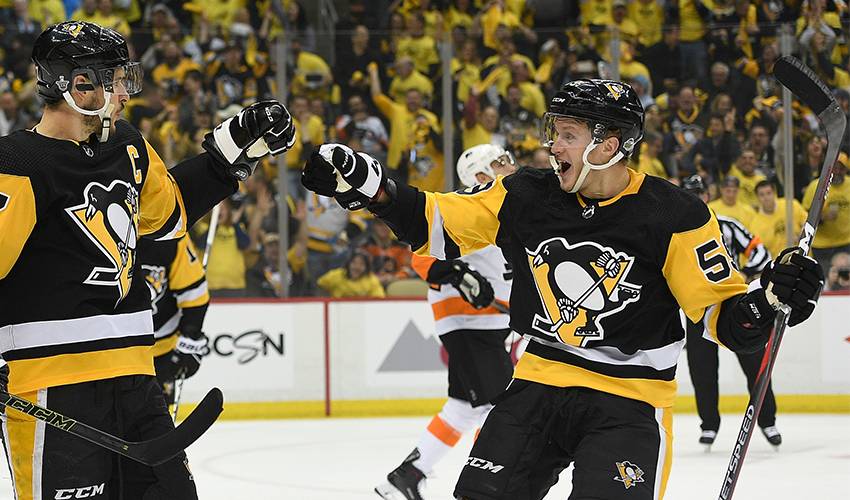 Kirk Thompson still remembers the first time he met the "scrawny kid with the blonde, curly hair and the big smile." And he certainly hasn't forgotten the first time he faced Jake Guentzel on the ice.
It was prior to the start of the University of Nebraska-Omaha's 2013-14 hockey season when Thompson, goaltender for the Mavericks, was first introduced to the team's new forward who was about to embark on his freshman campaign.
"When a guy skates in at you and starts picking the corners and using all these great moves, you can't help but be impressed," said Thompson, who played three seasons with Guentzel. "You couldn't help but say, 'Wow,' when you saw what he could do."
Mike Kemp, who had a 12-year tenure as the Nebraska-Omaha head coach, said the very same.
"I watched Jake when he was in high school and I watched him beyond high school in junior leagues before he got to us," remembered Kemp, who is now the school's associate athletic director and sport administrator for hockey. "He was a young guy who embodies incredible work ethic and an incredible level of intensity as he approached the game. Away from the game, he conducts himself as a young man who actually acts much beyond his years."
For Thompson, watching Guentzel, who would captain the Mavericks, do the same to other U.S. collegiate competition was far more gratifying.
"He was a special player," he said. "His freshman year he had 34 points, his sophomore year he had 39 points and in his junior year, he had 46 points."
In all, Guentzel, who was drafted 77th overall by Pittsburgh in 2013, recorded 40 goals 119 points in 108 NCAA games and earned NCHC All-Rookie Team honours.
He was called up by the Penguins in November 2016 and scored twice in his NHL debut against the New York Rangers, including a goal on his first shot and first shift. By mid-January, Guentzel was a regular in the lineup. He finished the campaign with 33 points (16 goals, 17 assists) in 40 games.
That impressive performance would pale in comparison to his post-season exploits.
Guentzel led all scorers in the Stanley Cup Playoffs with 13 goals and tied the playoff record for points by a rookie with 21, matching Dino Ciccarelli of the Minnesota North Stars in 1981 and Ville Leino of the Philadelphia Flyers in 2010.
According to the Elias Sports Bureau, Guentzel became the second rookie in NHL history to have a hat trick and score an overtime goal in the same playoff game when he helped Pittsburgh rally for a 5-4 victory against Columbus in Game 3 of the Eastern Conference First Round (Gerry Plamondon was the other, with the Montreal Canadiens in 1949). He was also the first Pittsburgh rookie to net three goals in a playoff contest.
His impact didn't end there.
Guentzel scored the winning goal in Games 1 and 2 of the Stanley Cup Final against Nashville, as Pittsburgh went on to become the first repeat NHL champions in 19 years.
"We all knew he would get there – he comes from such a great hockey family – but maybe he did it a little more quickly than we thought," said Thompson. "There's no doubt he was a special player."
Guentzel was also a person that didn't forget the people and the place that helped pave his way to an NHL career.
"To most people, he might come off as being quiet, but once he opens up and he's comfortable in his surroundings, he's the first guy to crack a joke," said Thompson. "He's a really good human being who really does care about all of his friends. Everyone says the same thing about Jake. He hasn't forgotten anyone."
That was obvious this January when the university had a Jake Guentzel Night at Baxter Arena.
"He was so cordial about giving up his time and meeting with fans," noted Kemp. "He handled the public with such poise and maturity. He is just a shining example of why people always say the greatest athletes to interview and the best athletes to be around are hockey players. He's so humble and modest about any of his accomplishments."
"He signed autographs for youth hockey players and kids before the game," recalled Thompson. "I think he signed about 1,000 autographs in 45 minutes. There was a line to get autographs that wrapped around the whole rink. It was pretty cool to see."
And Thompson, who still maintains a close friendship with Guentzel, admits it's pretty cool to see his former teammate making his mark with and against the best hockey players in the world.
"It's unbelievable when you turn on the TV and you see him and Sidney Crosby, or if he's playing with Evgeni Malkin or Phil Kessel – it's doesn't matter who he's playing with. It's just unbelievable to look at him for all of us. We have to pinch ourselves sometimes. You can only imagine what it feels like for him."
That scrawny blonde kid with the big smile has done okay for himself.
"He sure has," said Thompson.