Hellebuyck's confidence contagious
When things get frenetic inside the Winnipeg Jets blueline, Josh Morrissey knows he doesn't have to panic. Not with Helly on the case.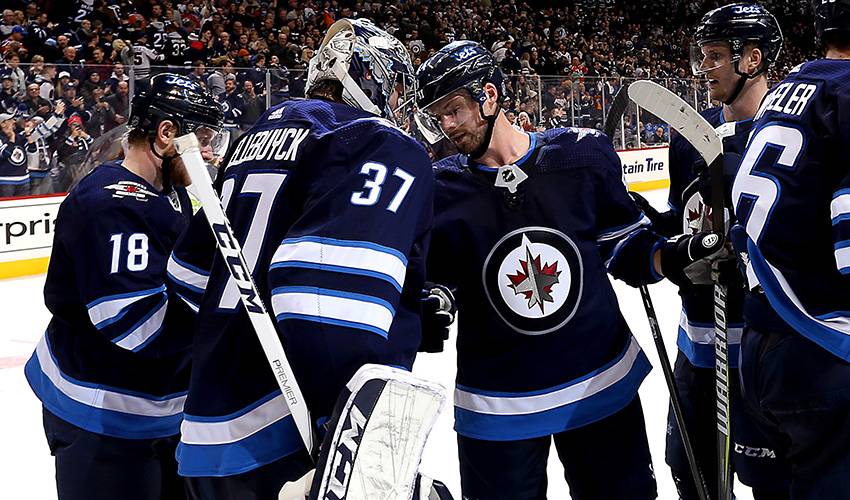 When things get frenetic inside the Winnipeg Jets blueline, Josh Morrissey knows he doesn't have to panic. Not with Helly on the case.
Currently in his third season between the NHL pipes, Connor Hellebuyck possesses the ability, proudly noted by his teammates, to instill confidence during moments that would typically elicit a much different response.
Whether it's facing a barrage of high-percentage shots with the Jets down a man, staring down a one-timer, or readying himself for a breakaway chance, the 24-year-old goaltender always exudes composure.
"Helly's game is so solid in all areas, but something people might not see or be able to feel on TV is just how calm he is on the ice," offered Morrissey, in his second full season with Winnipeg. "I think 'calm' is something that's used often when describing goalies, but I may have never played in front of such a poised, calm guy. It may not sound like it's as important of a quality as some other goaltending attributes, but as a defenceman, having a guy like that behind you just makes the game easier.
"Rebounds are always put to the right spot out of harm's way, pucks are always covered or caught and plays stopped before they could have even started, all by hockey sense," he continued. "It's his poise that keeps our team calm when the other team is buzzing with momentum. What's amazing is his ability to look that same way every night, which is a true testament to his preparation and work ethic."
Prior to the NHL, the six-foot-four, 207-pound Hellebuyck made his presence known in U.S. collegiate hockey with the University of Massachusetts-Lowell. Over two NCAA seasons, he allowed just 84 goals in 53 games while backstopping his team to consecutive Hockey East championships. In 2014, he was selected as the inaugural Mike Richter Award recipient as the most outstanding goaltender in NCAA Division 1 ranks.
Selected in the fifth round (130th overall) by the Jets six years ago, the Michigan native won his NHL debut on Nov. 27, 2015, against the Minnesota Wild. It was the first of three straight wins (he allowed one goal in each game). Hellebuyck netted his first NHL shutout on Dec. 27, 2015, making 30 saves against the Pittsburgh Penguins.
He won 13 games in 26 starts in his 2015-16 NHL rookie campaign and was named to Team North America for the World Cup of Hockey 2016.
Prior to the start of the 2016-17 season, Hellebuyck was handed the starter's role for the Jets. This season, he's already set a slew of personal-best marks.
Not bad for a self-described "big and boring" goaltender who didn't make the NHL Central Scouting's list of the top 36 North American netminders eligible for the 2012 NHL Draft.
"I think what is great about Helly, and our team as a whole, actually, is the fact we have so many guys with high-end talent that are always trying to get better and push each other to get better by driving the pace every day, whether that's in practice, in the gym or by something like watching video," said Morrissey. "It's a great way that our team holds one another accountable, led by guys like Blake Wheeler and Mark Scheifele. When you see those guys and others like Helly doing absolutely everything they can to get better and working their hardest, it makes the guy next to them want to do the same."
And that's precisely what Morrissey does.
"There are many things you could learn from Helly. He is probably one of the more mentally tough guys I've played with – nothing seems to faze him."