Luongo 4th place in all-time NHL wins; 1st place on Twitter
Roberto Luongo has proved his mettle in the NHL by cementing himself among the greats and into the fourth spot on the all-time NHL win list, and his skill between the pipes, is only paralleled by his skill within 140 characters.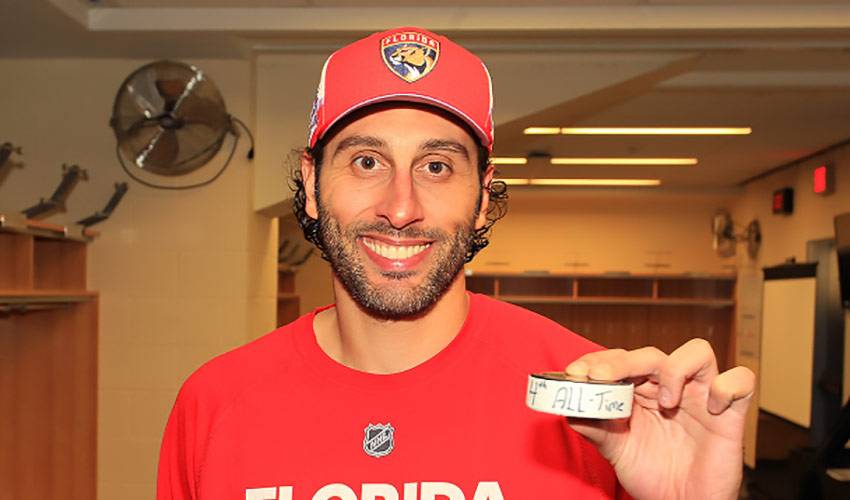 ​Roberto Luongo - master of netminding, tweeter of thoughts.
Friday night, Luongo turned aside 24 shots for the Florida Panthers in a 4-1 win over the Buffalo Sabres to surpass Curtis Joseph for sole possession fourth on the league's all-time win list.
Currently in his 18th NHL season, the native of Montreal, Que., was drafted fourth overall in the first round of the 1997 NHL Entry Draft by the New York Islanders. Since that fateful day in Pittsburgh, he's since tended goal in 973 NHL games while posting a career 2.50 Sv% and a .919 GAA. He also totes 73 shutouts to rank 11th on the all-time list.
The four-time NHL All-Star has also been the recipient of the William M. Jennings Trophy, awarded for his standout 2010-11 season performance with the Vancouver Canucks – during which he posted a career-best 2.11 GAA. Along the way, Luongo has made jaw-dropping saves that have induced comparisons to some of the game's greatest – including his own Olympic teammate, Martin Brodeur.
That being said, while there are few who parallel Luongo's skill between the pipes, there are even fewer who can match his wit in 140 characters or less. The hockey community has been nothing short of blessed by tweets from @Strombone1 – his contributions to the Twitterverse have always been sharp, comical, and have taught us a lot about the 38-year-old.
Here's what we've learned though our favourite times he won on Twitter:
He knows he's not Martin Brodeur.


He has A+ topical humour.


He recognizes his strengths.


He's compassionate.


He's humble.

REALLY humble.


He's got a romantic side.


He's embraced the role of a dedicated father.


He's an inspiration to his fans.


He's very self aware.


He's good at math.


And above all, he's a great sport.