Grier & Sabres Rattling the Competition
Gritty winger helping Buffalo to strong 2009-10 campaign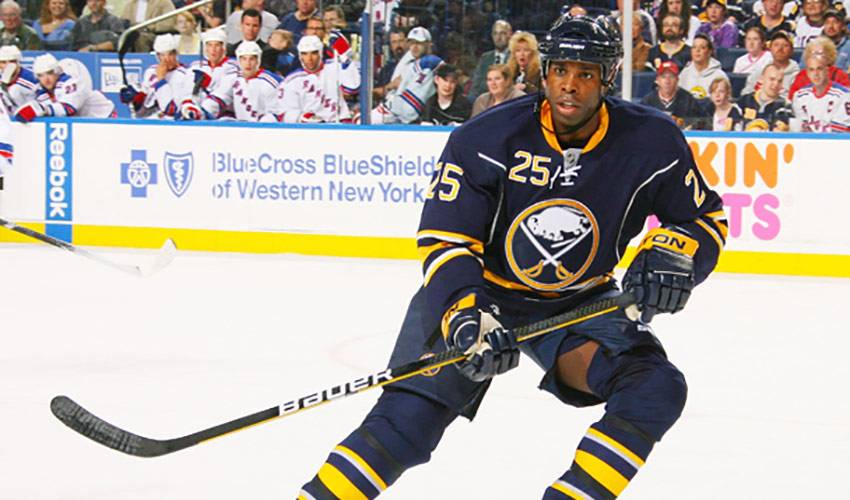 Blaise MacDonald remembers the kid from Detroit as a perfect blend of talent: physically imposing, soft spoken and hard working.
Mike Grier managed to make a solid impression on his collegiate associate coach even before they exchanged a word. It was 15 years ago when the forward met MacDonald, then a member of the Boston University coaching staff, who now handles the reins as head coach at the University of Massachusetts-Lowell.
"My first thoughts were that this was a big, strong young man who had a great competitive spirit about him," recalled MacDonald, who was behind the bench at Boston University from 1990-96, including three campaigns with Grier on the roster. "It was amazing to see how his teammates and even the opposition would gravitate towards him."
Grier was a key contributor in his three collegiate seasons with the Terriers, including NCAA East First All-American and Hockey East First All-Star Team honours in 1994-95.
His hard-hitting style and penchant for scoring key goals made him a favourite of fans and fellow players alike.
While he made things look easy at times on the ice, it wasn't always that way for the aspiring big-leaguer whose father is Bobby Grier, former NFL running back coach and current Associate Director of Pro Scouting for the Houston Texans.
"Mike had to take his fitness level to a much higher degree," remembered MacDonald, who was an assistant to UML Head Coach Billy Riley, Jr., from 1988-1990, before being named the fifth head coach in the program's history on April 6, 2001. "But to his credit, he worked extremely hard at it and he was very successful. I think that went a long way in helping him develop as a player."
A player who had more than his share of memorable moments in a Boston uniform.
After 18 points in 39 games in his rookie season with the Terriers, Grier netted 19 goals and 45 points in 37 games the following campaign.
His last year in the red and white jersey was his most impressive, one in which he lit the lamp 21 times, accompanied by 47 points.
MacDonald can point to any number of standout moments when he recalls Grier's collegiate career, including a thunderous check delivered in the Beanpot hockey tournament.
Grier brought his best throughout the tournament that features the four major college hockey schools from the Boston area (Boston University, Boston College, Northeastern and Harvard), held annually since the 1952-53 season.
"It was during the final against Boston College and Mike came right down Broadway and engulfed their defenceman with a huge hit," remembered MacDonald, who has compiled a 106-121-32 record in his first seven years of work behind the bench for the River Hawks. "It was completely clean and it was one of the best open-ice hits I have ever seen."
Grier's strength also served him well offensively.
"I can remember a game where the other team's player was draped all over Mike and was grabbing on to him as Mike was heading toward their net," offered MacDonald. "He managed to fend him off and with just one hand on his stick, he found a way to put the puck in the net."
In spite of his well-rounded style, Grier, selected by the St. Louis Blues in the ninth round of the 1993 NHL Entry Draft, was still considered a longshot to make it to the NHL.
Yet Grier, whose NHL rights were dealt to Edmonton along with goaltender Curtis Joseph in exchange for a pair of first round picks, found a way to crack the Oilers' lineup in 1996-97, where he was primarily used as a checking forward.
On October 2, 2002, Grier was traded to the Washington Capitals for a pair of draft choices.
The Capitals appeared to have the pieces in place to take a run at the Stanley Cup, but the team didn't live up to its' billing. Still, Grier remained a reliable checker at both ends of the ice.
Washington traded Grier on March 4, 2004 to the Buffalo Sabres for prospect Jakub Klepis. He finished the season with Buffalo, scoring nine points despite the Sabres failing to make the playoffs.
During the 2005-06 NHL campaign, Grier set a personal record, scoring four game-winning goals for the Sabres and contributing significantly during their run to the 2006 Eastern Conference Finals.
Grier signed a free agent deal with the San Jose Sharks, where he recorded 16 goals, including three shorthanded tallies, in 2006-07, his first season with San Jose. He scored nine and 10 goals in his next two seasons, respectively, before returning to the Sabres as a free agent.
This season, Grier cracked the double-digit mark in goals for the third time in the past four campaigns. He also finds himself closing in on 1,000 regular season games played, a milestone recognized by the NHLPA.
"I think Mike has worked very hard at every point of his hockey career," praised MacDonald. "He has a natural charisma about him that impresses everyone. He also has natural engagement with others which is a great quality to have. It's something you can't develop – it's a gift.
"He is a valuable commodity in a lot of ways," continued MacDonald. "Mike is the type of person you admire because he is the consummate professional."