Gorges A Playoff Warrior
The steady defenceman has played a crucial role in the Habs success this spring. His dedication to strong defensive play and his willingness to sacrifice his body is one of the reasons the Habs are now in the Eastern Conference finals.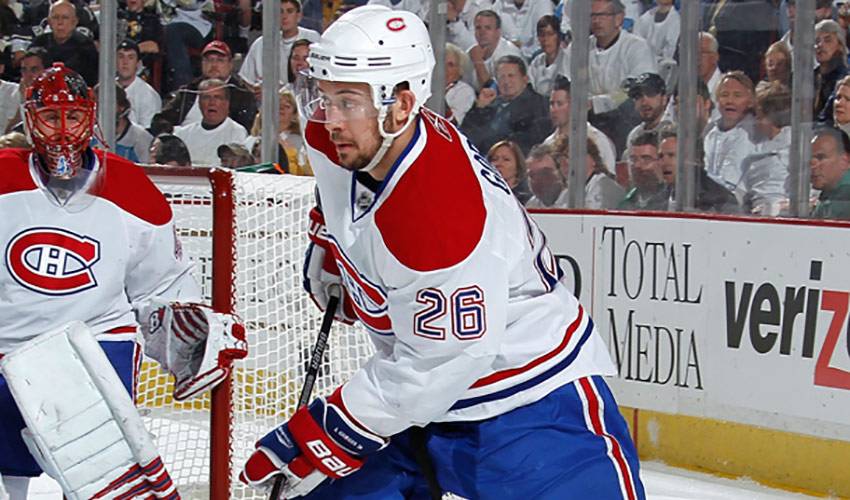 He's seen him battered, bruised and beaten down, but Bruce Hamilton knows when it comes to Josh Gorges, you can't keep a good man down.
If everything that had been said in the past about Gorges were true, he would never have made it to the NHL, let alone thrive at the game's premier level.
But Gorges, now in his third full season with the Montreal Canadiens, is not the type to accept defeat, regardless of the circumstances.
"He's a good story, that's for sure," said Hamilton, president and general manager of the Kelowna Rockets, the Western Hockey League team Gorges skated for from 2000 to 2004. "That's why he made it to the NHL. He might not be the fastest skater on the team or have the hardest shot, but he competes."
Gorges was a major factor in helping his hometown Rockets to a Memorial Cup championship in 2004 as their captain, where he was awarded the George Parsons Trophy as the Most Sportsmanlike Player in the tournament.
"He's a rubber band," praised Hamilton, of the defenceman who had 15 points in 17 playoff games in 2004 with Kelowna, en route to earning WHL First Team All-Star honours. "I've seen him take vicious hits time and again where he's been splattered against the boards. But every time, he scrapes himself off the ice, gets up and endures. He has no issue with playing hurt. All he wants to do is win."
Gorges will to succeed is by no means a new character trait.
Undrafted, Gorges was given a shot to make the roster with the San Jose Sharks in 2002.
Again, it wasn't so much skill that won over the Sharks, but rather, it was his willingness to outwork and outhustle others that earned him a spot on the Western Conference club's defensive corps.
"That's it, plain and simple," said Hamilton, of Gorges, who played with the Cleveland Barons of the American Hockey League during the NHL lockout in 2004-05, where he set the team record for the fastest goal from the start of a game (20 seconds). "Josh just works so hard. He does what it takes, no matter what it is, to be effective."
It's something fans of Les Habitants have come to admire in Gorges since he arrived in Montreal via a trade with San Jose on February 25, 2007, dealt with a 2007 first-round pick (Max Pacioretty) for Craig Rivet and a 2008 fifth-round pick (Julien Demers).
On July 9, 2008, Gorges signed a three-year contract worth $3.3 million with the Canadiens.
"He comes by hard work honestly," offered Hamilton, of the 25-year-old. "His parents own Dairy Queen restaurants in the Kelowna area and you get a sense that they taught him the right way to do things."
One lesson that has remained with Gorges is in not forgetting his roots.
Every summer, he returns to Kelowna and during his stay, he is a fixture at the Rockets' home rink, lending not only his time, but his voice to his alma mater.
"He is a tremendous member of our alumni, someone you are so proud of," said Hamilton. "At our training camp, he wants to be here. He attends rookie camp and answers questions. When you hear this guy speak, it's impressive. He's extremely well-spoken."
And as Hamilton came to discover during Gorges time in Kelowna, he's also well-versed in being a top-notch leader.
"Josh will defend his teammates in a heartbeat, on or off the ice," offered Hamilton. "He doesn't leave anything on the table. He's a no-nonsense guy who only wants what is best for the team. But in defending his teammates, he will hold you accountable. Honour is a big thing for Josh.
"He just plays to win in everything he does," continued Hamilton. "If you are out on the golf course, he wants to win. Same thing goes for hockey. The year we won the Memorial Cup, we weren't the best team, but it was guys like Josh who made everyone believe they could win."
How far the Habs go in this year's playoffs remains to Gorges' track record for success and his inspiring attitude, a shot at the Stanley Cup is not out of the question.
"He was one of the local guys who really became something with our team," recalled Hamilton. "There was no guarantee Josh would make it to the NHL, but he did it. You can't help but admire that determination."
And as Hamilton will happily remind you, Josh Gorges is proof that you can't keep a good man down.