Taylor and Tyler Headline the 2010 Draft Class
Hockey world invaded Los Angeles to see future hockey stars selected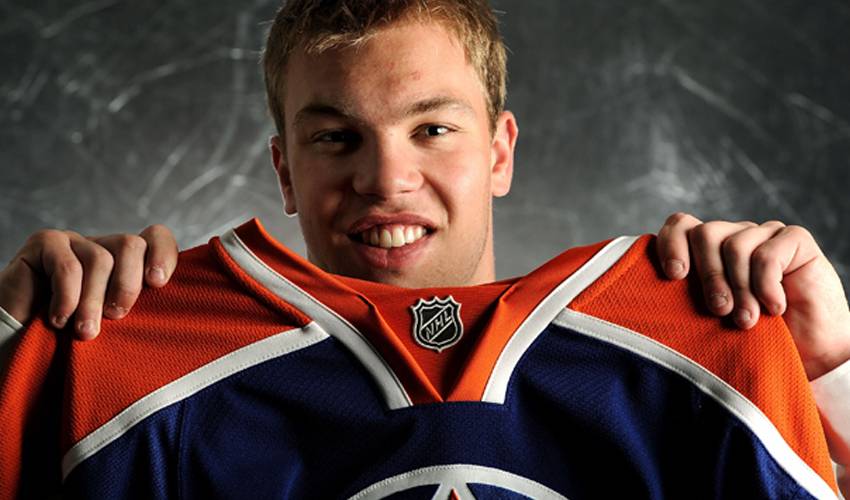 They've yet to skate in an NHL game, but the one-two punch of future big-league stars Taylor Hall and Tyler Seguin already has the hockey world buzzing.
Leading up to Friday evening's NHL Entry Draft in Los Angeles, there was still no clear-cut choice as to who would be the first overall pick.
And for good reason.
After a year of predictions as to who would get the nod, Taylor or Tyler, it was Hall who netted the No. 1 overall selection, taken by the Edmonton Oilers.
The 18-year old forward was brilliant in 2009-10, scoring 40 goals along with 66 assists in only 57 regular season games as a member of the Windsor Spitfires. He played an integral role in the club's consecutive Memorial Cup titles and was twice named the tournament's Most Valuable Player. Add a silver medal for Team Canada at the 2010 World Junior Hockey Championship and it was a simply astonishing campaign for the teenager.
But the player known for his steely on-ice composure was quite the opposite in the moments leading up to the announcement of the first pick in the 2010 draft.
"I was so shocked," said the Calgary native, whose list of honours and accolades is seemingly endless. "I was shaking in my seat. I got up to the podium and I was shaking so much I couldn't even put my jersey on. I'm just so happy. My whole family's so happy. It means a lot to us."
It also means a lot to an Oilers club who missed out on the playoffs this past season. The five-time Stanley Cup champions have not made the post-season since their appearance in the finals in 2005-06.
Hall is eager to help change their fortunes.
"Hopefully I can make that team next year," he said. "That's my first step. We can really recreate some of the magic they had there. I think when you have a young team, that's something I'm really looking forward to joining. I'm very excited to join the organization. I know that some of the fans are pulling for me. I hope they're excited for the next season. I know I am. I can't wait to get started with training camp, and just to meet the guys on the team, and hopefully develop a bond with the players and the fans."
If his numbers from last year's OHL campaign are any indication of what's to come, Oilers fans can't wait for the 2010-11 season to get going.
Hall finished 2009–10 tied for first place in points, with 106, (40 goals and 66 assists) to share the Eddie Powers Memorial Trophy (top scorer) with Seguin.
He was also stellar in Windsor's 2010 J. Ross Robertson Cup championship, recording a playoff-leading 35 points in 19 playoff games.
"I hope to be a dynamic offensive player, I like to play in the corners and knock it up, obviously get points because that's my role," offered Hall.
Seguin is equally impressive.
An offensive force, Seguin, who was selected as the CHL prospect of the year and finished atop the NHL's Central Scouting rankings, has drawn comparisons to Joe Sakic and Steve Yzerman.
The native of Brampton, Ontario, taken second overall by the Boston Bruins, was the 2009–10 Red Tilson Trophy winner, honoured as the OHL's most outstanding player.
"I've always been a natural centreman my whole life," said Seguin. "I've always played centre. But when I came into my OHL career as a rookie I had to adjust to wing because I was playing with better players, and I was more of a play maker that year.
"This past year, the better players ended up leaving the team, they were older, so I got moved to centre, and turned out to be more of a goal scorer. I'm a pretty diverse player, and I want to step into a team or organization like the Bruins and play any role."
Seguin would love nothing more than to emulate the impact his idol had on hockey during his storied NHL career.
"Steve Yzerman, he's always been my idol growing up. Just the way he was on the ice, he started off as a rookie and had to mature as a player like I did. Getting better in the zone and stuff like that. And he turned into an all-around good guy. He's phenomenal off the ice and a true leader. That's something I want to be like myself."