Myers Stands Tall
Sabres 6'8" defenceman caps off stellar rookie season with Calder Trophy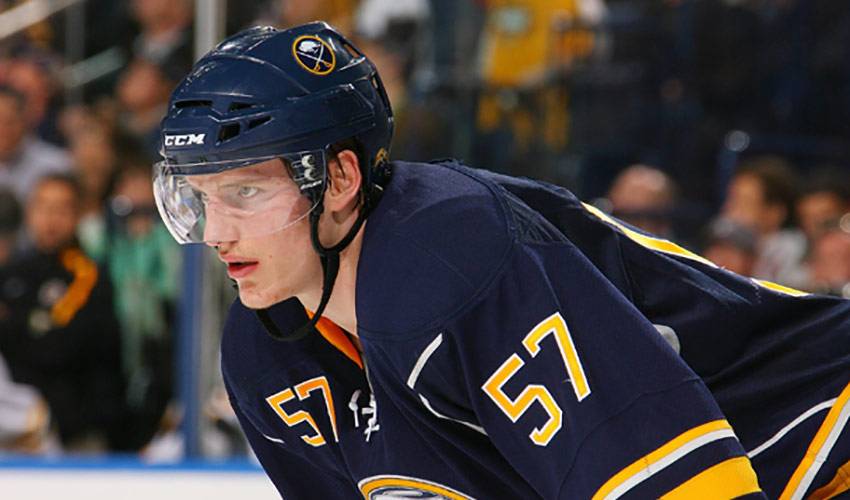 Tyler Myers is by no means disrespectful. Quite the opposite, in fact. But that wouldn't have stopped the strapping defenceman from scoffing at the suggestion he would walk away with top rookie honours in 2009-10.
Myers, who took the NHL by storm this past season, bringing a blend of size, strength and sizzle to the Buffalo Sabres blueline, didn't expect to hear his name being called when the winner was announced for the Calder Memorial Trophy as the league's top rookie.
"I would have laughed in their face," Myers, said with a chuckle, in admitting he never entertained the notion of winning the Calder prior to the start of the season. "That's it."
While Myers, who stands 6'8" and tips the scales and nearly 225 pounds, might not have believed he would be the one making the acceptance speech at the recent NHL Awards in Las Vegas, there are those who are anything but surprised at the announcement.
Bruce Hamilton, who holds the dual role of president and general manager of the Western Hockey League's Kelowna Rockets, always knew his former charge would be an impact player at hockey's highest level.
Myers skated in four WHL campaigns, from 2005-09, winning the WHL Playoff MVP award in 2009.
"When he left training camp here in Kelowna, we all knew he wasn't coming back," said Hamilton. "I'm not sure Buffalo knew what they were getting in Tyler, but they found out pretty quick just how good this kid is."
Myers notched his first NHL point on October 8, 2009, an assist, against the Phoenix Coyotes. Eight days later, he scored his first NHL goal against the New York Islanders. It was also his first multi-point game, as he recorded an assist as well.
On October 24, Myers was called in for the sixth round of a shootout against the Tampa Bay Lightning and scored the game winner. Earning rave reviews across the board after his first nine games with the Sabres, Buffalo decided to keep him rather than return him to the Rockets, initiating the first year of his contract.
Myers had his first multi-goal game on January 8, 2010. He scored twice on the powerplay, including the eventual game winner as the Sabres beat the Toronto Maple Leafs 3-2. He also assisted on Buffalo's first goal.
Myers was named the NHL Rookie of the Month for January 2010. He led all rookies in average ice time (24:42) and was third in scoring with 10 points.
"He was very hard on himself and he still is," noted Hamilton, of Myers, who was born in Texas, but moved to Calgary, Alberta with his family when he was 10 years old. "What people might not know about Tyler is that he is an unreal student. His parents' philosophy was that if your marks aren't good enough, you don't play. That's our policy, too."
Over time, Myers has learned to take a more positive approach to an off night on the ice.
"My coaches in Kelowna, that part of my game, it wasn't until the World Juniors before I started to figure that out," admitted Myers. "Before the World Juniors, I would have a bad shift and be done for the game and maybe even the next game. So I really had to - that was one of the biggest learning curves for me, and I owe my coaches in Kelowna that a lot. Just have a bad shift, don't worry about it. Go on and have another one."
"I think the big thing for me going into next year is don't try to change too much, don't try to do too much coming into my second year," continued Myers. "Just focus on the things I did last year. Obviously, there are a lot of improvements to make, but I don't want to change too much of my game."
It's easy to see why he wouldn't.
Judging from his first NHL season, it's certainly no stretch to say Myers has an extremely bright future ahead of him.
But he won't let any of his early success affect his approach. That was apparent in his response to the question, 'When are you going to be the best defencman in the league?'
"Not going to be thinking about that for a long time," said Myers. "Just go on to next year and work as hard as I can."