Modano Heading Home to Motown
All-time American-born NHL scoring leader ready to don the Winged Wheel in Detroit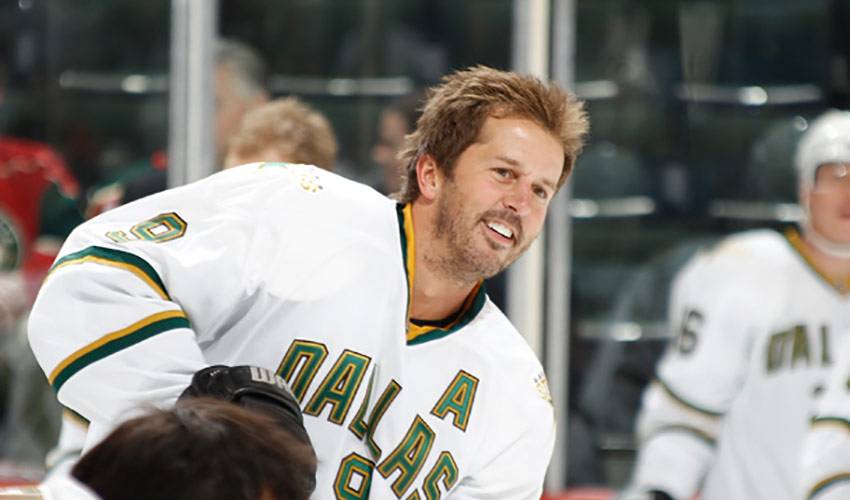 He's carved out a career as one of hockey's genuine superstars, but Mike Modano has achieved just as much, if not more, in other pursuits.
The all-time goal-scoring and points leader amongst American-born players in the NHL, Modano was the last player on the Dallas Stars roster, and is the last one in the NHL, that played for the franchise's previous incarnation, the Minnesota North Stars, drafted first overall by the franchise in 1988.
Now, 1,459 regular season games into his career, Modano, who recently signed a one-year contract with the Detroit Red Wings, is viewed as one of the top offensive talents of his era.
Although he ultimately chose hockey as his No. 1 sport, Modano, who hails from Livonia, Michigan, likely could have had a starring role in another athletic endeavor, including football.
At the age of 8, Modano became a national semifinalist for the NFL Punt, Pass and Kick competition.
Over one million kids of all ages competed in the popular annual event, as Modano became one of the final 26 participants in the United States. During halftime at a Detroit Lions home game, Modano and the other aspiring footballers wowed the crowd with their performances.
"My dad is huge football fan and he got me interested when I was a kid," said Modano, who played his junior hockey with the Prince Albert Raiders of the Western Hockey League (WHL). "I didn't win that day, but it was a great feeling being in front of all those people."
Soon enough, Modano found himself in similar situations, his hockey-playing exploits earning him a great deal of attention as he moved up the minor hockey ranks in his home state.
By the time he arrived on the WHL scene, his abilities as a point-producing performer were second to none. In three stellar seasons with Prince Albert, the centreman was a legitimate head-turner. After 62 points in the 70 games in his rookie campaign, Modano managed to crack the 100-point plateau over the next two schedules.
After completing his sophomore season, the Minnesota North Stars selected the superstar first overall in the 1988 Entry Draft, a deserving honour for a forward whose career was on fast-forward.
In spite of his undeniable talent, Modano, even in his own estimation, still had plenty to prove. The answer came in the form of a phenomenal first-year campaign.
"You realize that you have to work harder than you ever have before, but that's what makes being a hockey player special," said the left-handed shooter, who after appearing in two playoff contests in 1988-89, appeared in 80 games the following year, netting 29 goals and 75 points.
He was also the runner-up for top rookie of the year honours.
It was just the beginning to what has become a Hall of Fame-type tenure, including a Stanley Cup victory in 2000, numerous individual accolades and milestones, plus nine 30-goal seasons.
Modano, 40, will be entering his 21st NHL season. He currently ranks in the top five among active NHL players in 10 categories: games played (1,459), goals (557), assists (802), points (1,359), power-play goals (156), shorthanded goals (29), game-winning goals (92), overtime goals (9), and shots on goal (4,194).
In his 20 campaigns with the North Stars and Dallas Stars franchise, Modano was chosen to play in the All-Star Game on eight occasions. In 1999, he helped Dallas to a Stanley Cup Championship, registering 18 points in 23 games.
In international competition, Modano has represented the United States in three Olympic Games (1998, 2002 and 2006), winning the silver medal in the 2002 Salt Lake City games, and has competed in three World Championships (1990, 1993 and 2005), two World Cup of Hockey events (1996 and 2004), the 1991 Canada Cup, and two World Junior Championships (1988 and 1989).
And if you think Modano's tough to beat on the ice, he's even more of a handful on the links. The star centerman played in the Isuzu Celebrity Golf Classic in July 1998 and won the long drive contest with a 379-yard drive, besting former Denver Broncos quarterback John Elway by 10 yards.
But for all of the memorable moments on the ice and the links, Modano has been equally high profile off the rink. In 2000, he established the Mike Modano Foundation in 2000, a non-profit organization dedicated to raising money to improve the quality of life and assist underprivileged children in the Dallas area.
Modano has also lent his support to numerous charitable endeavors and is recognized on a regular basis for his commitment to enriching the lives of others, including the Tom Landry Award of Excellence in Volunteerism by United Cerebral Palsy, receiving the honour in 1998.
"I've been blessed in many aspects of my life and I have two wonderful parents who taught me the values of helping others," said Modano.
"That's why I decided to create the foundation. It's an honour for me."
Just another example of why Mike Modano is the model athlete, on skates or otherwise.