Barch Can Battle With the Best
Stars physical forward has carved out his career doing all the gritty work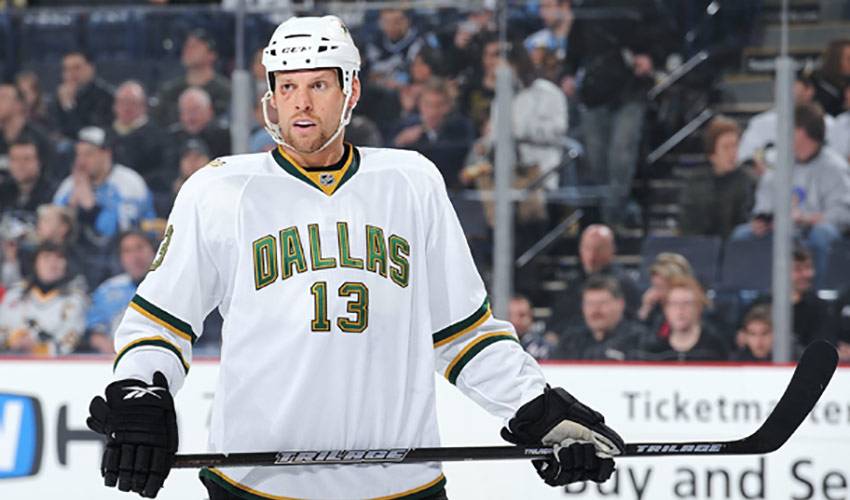 Krys Barch figured his best shot at an NHL career was to do the things others preferred not to. Over 200 big-league games later, the blue-collar forward's decision has paid off better than he could have ever hoped for.
There was never any doubt he could play the game. With the Ontario Hockey League's London Knights, Barch did just about everything. For one, he was a good skater. He could also score, too, netting 23 goals and 49 points in just 56 games in 1999-2000, his final season with the Knights. Show a physical side? Not a problem.
Still, Barch, who hails from hockey-rich Hamilton, Ontario, knew he'd have his work cut out to make it to the NHL ranks.
"I wasn't really different than anyone else," admitted Barch, who was selected 106th overall by the Washington Capitals in 1998. "I dreamed the dream. When I was a kid, playing at the rink or playing road hockey, I was out there thinking I would make it to the NHL some day."
It was anything but a slam dunk for Barch.
After skating in the American Hockey League (AHL) with the Portland Pirates in 2000-01, Barch split his time between the AHL and the East Coast Hockey League the following campaign.
Following a 36-game season with Portland in 2002-03, Barch decided to take a year off, a chance to take a forensic look at his career and future plans within the game.
"When I took the year off, I wasn't deterred, but more determined to figure out the best way to give me a shot at playing in the NHL," said Barch, who had 123 points in 187 games with the Knights. "I never gave up. I always knew the chance would come. I just felt as though I could do it."
Though he had dropped the gloves sparingly prior to signing as a free agent with the Dallas Stars on July 18, 2006, Barch decided the best strategy, at least for him, was to do the work that most athletes might shy away from.
Taking on other team's tough guys, riling up the opposition through hard hits and dogged forechecking – Barch pretty much did it all. And people took notice.
"It really is the same old story you've heard before," said Barch. "I think when you work hard, that you are honest in your approach, show a passion for the game and are willing to continually learn, it makes a big difference in how other perceive you.
"Only a handful of players get the opportunity to play in the NHL," he continued. "There are talented guys, players who score 50 goals in junior, that don't ever make it. But hockey is all about different jobs. You need fourth-line energy guys as much as you need the finesse, offensively-talented players. I feel that once I found my niche, my confidence took off."
And while his role doesn't garner the glory as some of his teammates, Barch isn't worried about the spotlight.
"I think my style fits really well here in Dallas," said the left-winger, who made his NHL debut in the 2006–07 season on January 15, 2007 against the Los Angeles Kings. "I've been lucky enough to be around players who have been phenomenal in the leadership role. Hopefully, I can instill some of what I learned into the younger guys."
Though there have been and will be games where he'll drop the gloves, Barch doesn't have any explaining to do when he walks through the front door at the end of the night.
"My wife has always been supportive," said Barch, who appeared in 63 games with the Stars in 2009-10, racking up 130 penalty minutes. "I think at first, when I altered my style, it took her breath away at times. Now, all she asks of me is that whatever happens on the ice, it can be fixed at the end of my career."
A career that Barch is absolutely thrilled with.
"It's tough to really go over things when you are still playing," he said. "I'm sure at the end I'll see it as an accomplishment. I've always loved the game. I was lucky to be in a great situation when I played in London. It was a great atmosphere. So is Dallas."
Look for more of the same grit and gumption from Barch in 2010-11.
"All I want to do is play my part and do what I do best to help the team be a success. I think people appreciate that."