Swedish Return for Shark
San Jose's Jamal Mayers discusses his NHL career and beginning the 2010-11 season in Stockholm, Sweden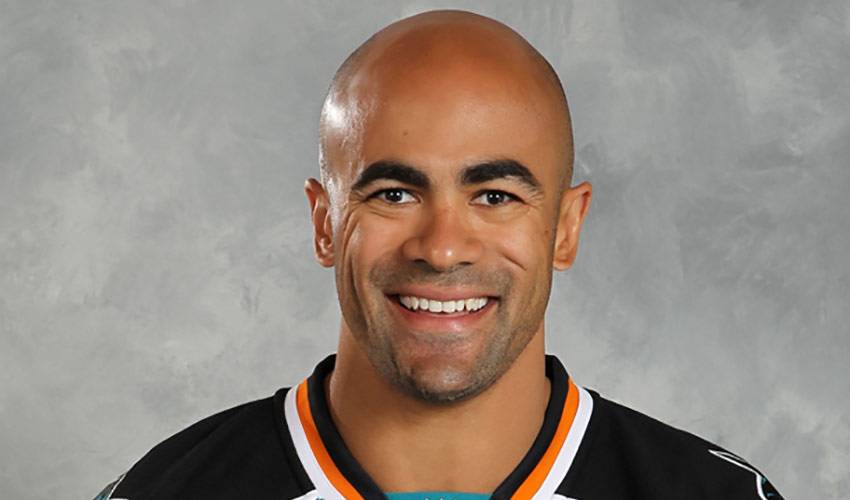 While there are plenty of new things in store for Jamal Mayers in 2010-11, the blue-collar forward will kick off the new NHL season in a very familiar place.
Over the course of nearly 750 regular season games, Mayers, who is set to start his first year as a member of the San Jose Sharks, has made a career of out of being a strong physical presence who can also net timely goals.
It's something Swedish hockey fans discovered when the Toronto native suited up for 19 games with Hammarby IF of the country's Elite League during the 2004-05 NHL lockout.
"It was a great experience in every way," said Mayers, who scored nine goals and added 13 assists with Hammarby. "From the moment you arrived, you were made to feel very welcome by everyone. The fans are very supportive and very passionate."
Mayers will likely be reminded of that when the Sharks face-off against the Columbus Blue Jackets on October 8 and October 9 in Stockholm, the city where he played in during his time in Sweden.
He's thrilled to be back in Europe.
"It's a unique way to start the season," said Mayers, who played his collegiate hockey with Western Michigan University. "Personally, it's great to be able to get back here. I love Sweden and I've been hearing a lot of the same from the other guys."
Mayers is hoping the Sharks can make history by delivering the city its' first taste of Stanley Cup glory.
"You look at the roster we have and you can't help but be optimistic about things," said the 6'1", 215-pounder. "Every line, forwards and defence, goaltending, we have very capable players at all levels. Obviously, I was thrilled to have this chance."
San Jose GM and Executive Vice President Doug Wilson believes Mayers will be a good fit with the Sharks, having brough him unto the club during the off-season.
"Jamal is a fast, physical, team-first player who brings the ingredients we were looking for to this role," said Wilson. "He is an extremely fit athlete who can kill penalties and we think he will mesh well with our group of forwards."
Mayers is looking to make the most of his time in San Jose.
"I don't think I ever thought I'd be playing this long," admitted Mayers, was originally selected by St. Louis in the fourth round (89th overall) in the 1993 NHL Entry Draft. "You begin hoping you can play one full season and the next thing you know, you are in your 30's and you've almost played in over 700 regular season games. I've been very fortunate to be in this position. You certainly don't ever take it for granted.
"When I came out of college, I had some offensive upside, but when you make it to the NHL, you have to make certain adjustments," continued Mayers, who has represented Canada three times at the World Championships (2000, 2007 [gold medal] and 2008 [silver medal]). "I was able to do that and it's worked out well."
Whether it's dropping the gloves, dishing out a bone-jarring body check or utilizing his speed on the forecheck, Mayers is willing to do it all.
And having the chance to do it in familiar territory, at least for two games, is definitely an added bonus.