Hockey Outdoors: The Canadian way
The Habs & Flames talk about playing outdoors in front of all of Canada in the 2011 Heritage Classic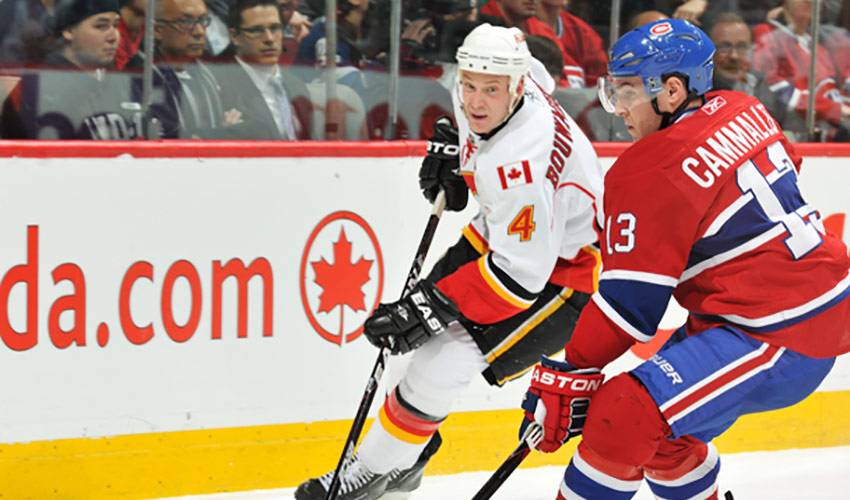 Take two teams with Stanley Cup success, take their matchup outdoors, put 40,000 eager fans in the seats, and this year's edition of the Heritage Classic could be just that - a classic.
The February 20 contest between the Montreal Canadiens, who have a record 24 Cup wins, and the Calgary Flames, who hoisted the trophy in 1989, marks the second outdoor hockey game of the 2010-11 NHL season.
It comes two months after the Winter Classic that saw the Washington Capitals best the hometown Pittsburgh Penguins. The event is a revival of the 2003 game played outdoors between the Habs and the Edmonton Oilers.
There are plenty of storylines involved this time around, including two former collegiate and NHL teammates that know a thing or two about the great outdoors.
Now while he is currently on the sidelines with a shoulder injury, Mike Cammalleri would love nothing more than to raise the roof at the upcoming Heritage Classic.
The event, which be held at Calgary's McMahon Stadium, home of the Canadian Football League's Calgary Stampeders, is a meaningful one on many levels for one of hockey's top offensive performers.
If he plays, it would be the second major outdoor game for Cammalleri, who netted two goals in the 2001 Cold War game for the University of Michigan against Michigan State before a crowd of 74,544 at Spartan Stadium.
The Heritage Classic also pits Cammalleri's Canadiens against his former team and Michigan teammate David Moss, who plays right-wing for the Flames.
"I'm doing everything I can to be ready for the game," said the 28-year-old forward. "Today (February 14), I practiced with the team. You know, I'm not able to take contact just yet, but I'm working on it. So I feel good."
He'd feel even better if the February 20 game represented his return to the lineup after he was injured on January 18.
"I don't think you fight the fact that it's different and exciting," said Cammalleri, who had career-best marks of 39 goals and 82 points in his only season in Calgary in 2008-09 before he inked a five-year contract as a free agent with Montreal. "I think you prepare for the game in a serious ready to play fashion as far as taking care of yourself mentally and physically. I think it could actually hurt your focus if you try and pretend that what's going on is not going on. You embrace it and enjoy it and take in what's going on around you. When the puck drops, you go hard."
While there are no shortage of question marks when it comes to the weather and other conditions that could greatly influence the game itself, Cammalleri's other outdoor experience was a memorable one.
"It was a game where it was almost a surreal experience, really cool," recalled Cammalleri. "I think maybe the first in North America, if I remember correctly. And so it kind of had the whole college rivalry, tailgate experience. So it was very, very exciting. Of course I remember the goals. It was a big game for us. And I just remember it being a ton of fun."
There are no players on the Montreal roster who took part in the first Heritage Classic played in 2003, a 4-3 Canadiens victory over the hometown Edmonton Oilers, in front of 57,000 at Commonwealth Stadium in Edmonton.
Cammalleri and teammate, defenceman James Wisniewski, who played for the Chicago Blackhawks in the NHL Winter Classic in 2009 at Wrigley Field against the Detroit Red Wings, are the only two Habs that have skated in outdoor contests.
"The one that we played in Chicago at Wrigley Field, when I was with Chicago against Detroit, was also a big game because that was the first year that Chicago was in the playoff mix in the last eight years," recalled Wisniewski. "You know, obviously, a divisional rivalry, an Original Six rivalry.
"But I think playing the Heritage Classic and hockey being such a national sport and everybody's going to be watching that game, it's going to be quite interesting at 4:00 that everybody in all of Canada and a lot of people in the United States will probably be watching that game as well."
Montreal will be facing a red-hot Flames squad who has fought their way back into the Western Conference playoff picture, punctuated by a recent 9-1 hammering of Colorado.
"I think it's probably been more than 20 games where we started to play some pretty good hockey and be more consistent," said Moss, who was part of the Team USA entry that played the opening game of the 2010 World Championship outdoors with 77,803 fans watching at Veltins-Arena in Gelsenkirchen, Germany. "Right now, we are getting the results and I think maybe earlier on, a little bit before, we were on that run, and we were just trying to find games to win and now I think guys are playing more consistent and we are getting some breaks."
Flames forward Alex Tanguay will be suiting up against a number of former teammates when the teams square off outdoors, having played in Montreal in 2008-09.
"I think that we believed from day one that we had a better team than what we showed in the first 40 or so games, and when we finally started getting a bounce here and there, we started believing in ourselves," offered Tanguay. "And right now we feel that we can play and we can match up against any of the other teams.
"I think that once you get that confidence, certainly with the team we have, we are certainly going to be a tough team to beat and we are just going to try to work as hard as possible to keep that confidence level high. And right now, we know that we are a long way from where we want to be, but our objective is to get ourselves in the playoffs and right now we've put ourselves in position to do that."
As for the game itself, Tanguay, an 11-year NHL veteran, knows just what's at stake.
"I think that we are very well aware that it's going to be a fun experience and very unique. But we have to be professional about it. And we know that those two points might be the difference for us getting in and us getting out. So we have to make sure that we don't give away games.
"Our fans are certainly going to help us a lot more on that one. It's going to be very loud outside with 40-plus thousand fans. We are not forgetting the task at hand."
With the players and fans ready to go, this is a game that seems to have classic written all over it.