A 'Cup' By Another Name
With the Stanley Cup playoffs underway, two Toronto schools vied for the Goals & Dreams Cup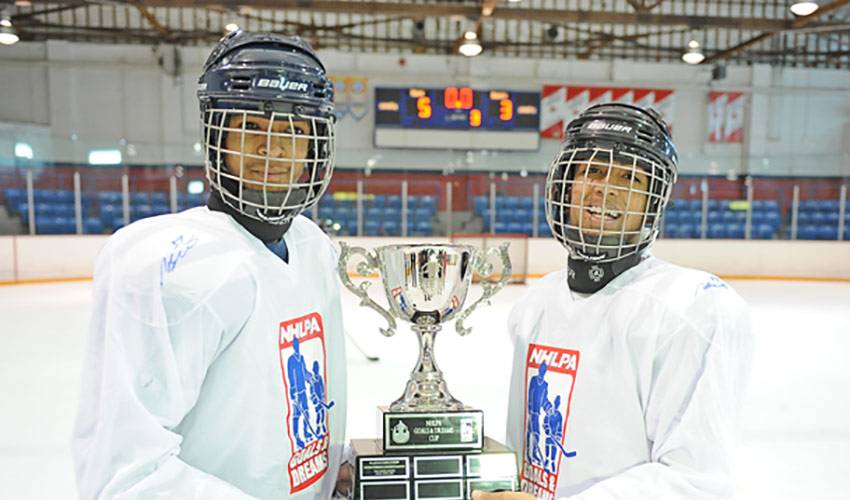 By bringing together two inner-city schools that have been recipients of the NHLPA's Goals & Dreams fund over the past few years, the National Hockey League Players' Association, along with a couple of its members, helped host the first ever 'NHLPA Goals & Dreams Cup' this past Wednesday at Toronto's Ted Reeve Arena. Sir Sanford Fleming Academy and Eastern Commerce Collegiate Institute were the schools that faced-off in the event, showcasing the hockey programs that have grown out of the donations received through the Goals & Dreams fund.
The game, and with it, the 'Goals & Dreams Cup', was ultimately won by Team White, who defeated Team Red by a score of 5-3. But the final score was far from the real story on Tuesday, as this was a special day for the kids far beyond the scoreboard. The two teams were comprised of children from each school mixing and playing together, and were coached by Toronto Maple Leafs players Luke Schenn and Tim Brent, who both signed autographs on the bench for their charges.
Following the final buzzer, the players lined up to shake hands and take group pictures with their teams and coaches. A pizza lunch was then served, where all of the kids received plaques for playing and were able to have their picture taken with the Ted Lindsay Award, the NHLPA's player voted award for the Most Outstanding Player annually in the NHL.
The day was well-received by all those who participated, from the organizers down to the players.
Eammon Nolan, who took the initiative in starting the hockey programs at both schools, was thrilled to see how far the process has come. Nolan has seen how introducing hockey into the lives of his students has helped them form new aspects of their personal identity, and make a stronger connection with their country and school, calling it "the beginning of a whole cultural change."
Nolan's teams, who used to play with old leather skates and skateboard helmets, received equipment grants from the NHLPA's Goals and Dreams fund to help develop his programs and he has seen results in his players that he says renders him speechless. The Goals and Dreams Cup seemed to do the same to his players, by his account.
"I can only judge that by the smiles on their faces – they're walking around in shock," Nolan said of the effect the day had on the kids following the game. "I don't think anyone has ever put this much effort into their lives and making them feel so special in sport. We've run this as an invitational hockey program and the idea was that we weren't necessarily looking for the best hockey players, but we want the best risk-takers. We want thepeople who'll come out and say 'I'll try this out.' So I can't find adjectives; they're blown away."
The players confirmed what their coach said about what the day meant to them, beyond the proof that was in their smiles and enthusiasm throughout the day. "With Eastern, we don't get a lot of opportunities to play sports, especially hockey, so the majority of us would have never gotten the chance to step onto the ice." explained Carlie Manners, a Grade 12 student at Eastern Commerce. "It's been unbelievable. As soon as it was announced, you could see everyone's face light up."
The Leafs' Tim Brent added his perspective on the day, noting how much the kids appreciated the equipment and the commitment to them. "Hockey's not sport that is easily played without the equipment obviously," Brent said. "So for them to get the opportunity to get to wear some of the cool stuff that we get to is pretty fun for them."