A Summer To Remember
Adam McQuaid has won the Stanley Cup, rubbed elbows with Prince William and Duchess Kate and signed a 3-year contract extension in Boston. Not too bad for a small-town kid from PEI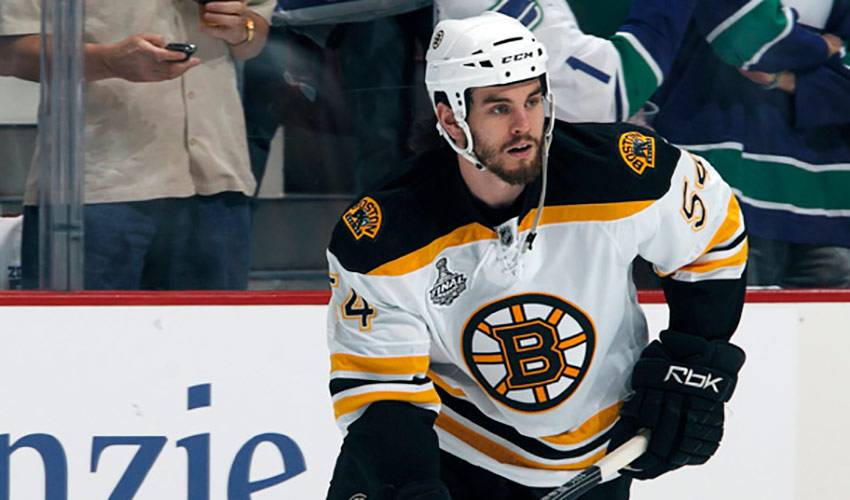 When the biggest loss you've had to deal with came while you were rowing with royalty in your home province, life can't be too bad at all.
It was an opportunity Adam McQuaid couldn't and wouldn't refuse.
Shortly after the Prince Edward Island native and his Boston teammates hoisted the Stanley Cup, McQuaid was offered the chance to take part in a charity rowing race, one headlined by Prince William, Duke of Cambridge and Catherine, Duchess of Cambridge.
"I think it was the day after we won the Cup and I was approached with the offer of taking part in the boat race," recalled McQuaid, a native of Cornwall, PEI, a town located immediately west of the provincial capital of Charlottetown. "Obviously, I was thrilled to be given the opportunity."
As for the event itself, one that took place on Dalvay Lake on July 4, in Charlottetown, P.E.I., McQuaid, who was on the dragon boat team of the Duchess of Cambridge, didn't sail away with bragging rights.
Not that he's lost any sleep over the loss.
"It was a lot of fun," said the 55th overall selection of the Columbus Blue Jackets in the 2005 NHL Entry Draft. "The whole day was great. I spoke briefly with the Duchess. She was very nice, very polite, soft-spoken and engaging. It's something I won't forget."
And McQuaid, who played four seasons with the Sudbury Wolves of the Ontario Hockey League (OHL), isn't likely to forget the thrill of winning hockey's ultimate prize in the foreseeable future.
The strapping, 6'5", 210-pound defenceman, who had 31 points in his final OHL campaign, certainly made an impact throughout the post-season, utilizing his size and strength to keep the opposition at bay, dishing out hard hits and clearing the front of the Bruins' net. So much of an impact in fact, that he accepted a 3-year contract extension with the Bruins.
Despite a few bumps and bruises along the way, McQuaid, who was selected in the second round (43rd overall) in the 2003 OHL Priority Selection, was proud of the effort he and his teammates put forth.
"It was a tough, long haul to get there, but we worked hard to earn it," said McQuaid, who scored his first NHL goal on February 7, 2010, a game-winner against the Montreal Canadiens at the Bell Centre.
"It's easier to sit back and let everything sink in now. But it's still an amazing feeling."
McQuaid, just like his teammate Brad Marchand, admitted it wasn't until days after when the enormity and reality of the victory truly hit home.
"Throughout the playoffs, you are so focused on the process, each game and each moment, that it's almost impossible to step outside of that mode," offered the 24-year-old, who along with his teammates, were feted by Major League Baseball's Boston Red Sox at their home in Fenway Park. "And when you finally win, it takes some time for it all to register.
"When we had the Stanley Cup parade in Boston, that's the moment when it really struck me. Fans were so genuinely happy for us. We would hear them saying, 'Thank you.' That's when you knew it wasn't just what you were feeling. It was something that was thrilling for everyone who supported us."
That list would also include McQuaid's family, who were on-hand for Game Seven in Vancouver when Boston won 4-0 to win the Cup.
"To see it through other people's eyes was amazing," he said. "My mother and father, along with my brother and sister were there to see the last game. That was very humbling to share that moment with them."
McQuaid, who contributed three assists in the 2010-11 playoffs, won't have to worry about losing that winning feeling any time soon.
"You realize that there are so many things you get to be part of when you win the Cup," said the blueliner, who had 15 points in 67 regular season games in 2010-11. "It's pretty cool."
Boston fans can rest easy. McQuaid won't be trading in his hockey stick for a paddle any time soon.
"I think I'll stick with what I know best," he said. "I really do feel fortunate. To lift the Cup, it's unlike anything I have ever experienced in my life. But to get to do these fun things, like the dragon boat race, I'm lucky and grateful to be part of it."
Which is why McQuaid still feels like a winner, even if he doesn't win them all.