Commitment to Club & Community
Jody Shelley loves to help out his teammates and the members of the town where he was raised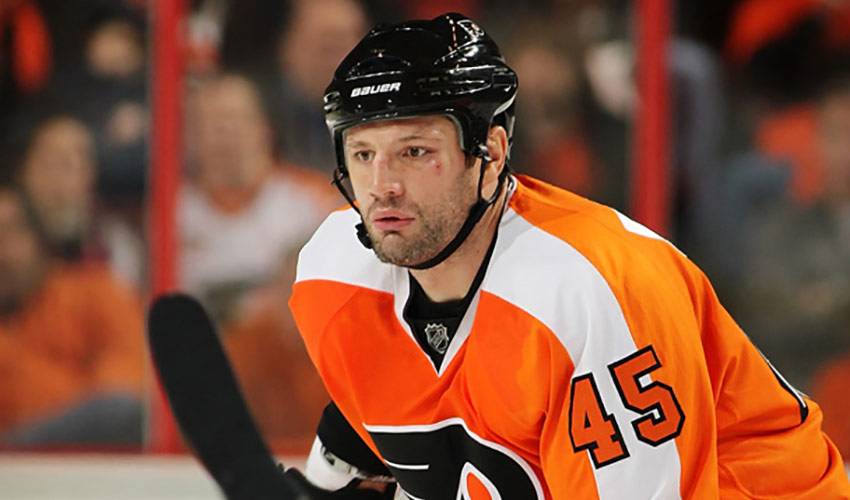 Whether it's standing up for a teammate, or stepping up for the community, people know they can always count on Jody Shelley.
As a hockey player, the strapping 6'3", 230-pound left-winger has never backed down from a challenge, a respected enforcer who finds himself just four games shy of 600 for his NHL career.
Away from the game, the Manitoba-born, Nova Scotia-raised, 35-year-old is equally revered for his contributions, including the annual golf tournament he headlines on Canada's East Coast.
"It's something I love doing and it's something we hope some good people can benefit from," said Shelley, of his Jody Shelley Golf Fore Health event that's held in Yarmouth, Nova Scotia, the place where he grew up. "It's a great cause and I'm honoured to be able to help in any way I can."
The Golf Fore Health event supports the Yarmouth Hospital Foundation.
"It's a great opportunity to give back to the community, not only for me but everyone involved," said Shelley, who attended Yarmouth Consolidated Memorial High School, graduating in 1994, where he was involved in a number of competitive sports, including hockey, swimming, soccer and volleyball. "Any time you're in a position to help your community, it's exciting."
Shelley is no stranger to generating excitement on the ice. Whether it's laying out an opponent with a check, or challenging one of the other team's enforcers, the forward, who went undrafted, is a genuine crowd pleaser.
But despite all the give and take, literally, that he's been through over the years, Shelley is thrilled to take on the responsibilities that come with the territory in hockey's toughest job.
The man who currently holds the all-time record in penalty minutes (420) for the Halifax Mooseheads of the QMJHL and also holds the single season record for penalty minutes (357) for the Syracuse Crunch of the AHL sees his charitable endeavors in much the same light.
"It's not only just about being a professional on the ice," said Shelley, who signed as a free agent with the Calgary Flames on September 1, 1998, but never played for them, signing as a free agent with the Columbus Blue Jackets on August 17, 2000. "Any chance you have to lend a hand or talk to people, it's just the right thing to do and I enjoy it."
Raising funds for a worthwhile cause aside, Shelley, who played five and a half seasons for the Blue Jackets, before being dealt to the San Jose Sharks for a 2009 draft pick on January 29, 2008, relishes the opportunity to hang out with old friends and family.
"It can obviously be a little hectic throughout the summer and you want to get the chance to see everyone that you can," offered Shelley, who traded by the Sharks to the New York Rangers on February 12, 2010. "So, when I can come back to Nova Scotia, I get to catch up with lots of people. But there are lots of Toronto, Montreal and Boston fans here. I take my lumps from them."
Has he made any headway in converting them to Philadelphia supporters?
"A few…maybe. But they might just being telling me that for my benefit."
Regardless of whether they'll be rooting for the Flyers or not, Shelley, who inked a three-year deal with the Flyers on July 1, 2010, is eager to get the new season underway, as part of team that has changed drastically from the 2010-11 version.
On June 23, the Flyers traded Jeff Carter to Columbus in exchange for Jakub Voracek, the eighth overall pick (Sean Couturier) and the 68th overall pick in the 2011 NHL Entry Draft.
Philadelphia also dealt Mike Richards to Los Angeles for Wayne Simmonds, prospect Brayden Schenn and a second-round selection in the 2012 NHL Entry Draft. They then traded Darroll Powe to Minnesota and Kris Versteeg to Florida, as well as signing Ilya Bryzgalov, after trading for the goaltender's rights on June 7.
On July 1, they signed former all-star Jaromir Jagr and defenceman Andreas Lilja to 1-year contracts, and signed forward Maxime Talbot to a five-year contract.
"Of course, you always have your eye on the new year," said Shelley, who played for JYP in the Finnish SM-Liiga during the 2004-05 NHL lockout.
"There have been a lot of changes, but this isn't an organization that stands still. If they feel changes need to be made, that's what they do."
One thing that won't change, however, is Shelley's commitment to his teammates and community.
"All you want to do is try your hardest to make a difference."
Whether he was talking about life on or off the ice wasn't certain. But for those who know Jody Shelley best, they'd happily and proudly tell you that it's both.