An Unbelievable Atmosphere
Braydon Coburn and the Flyers can sense the excitement around Philadelphia for the 2012 Winter Classic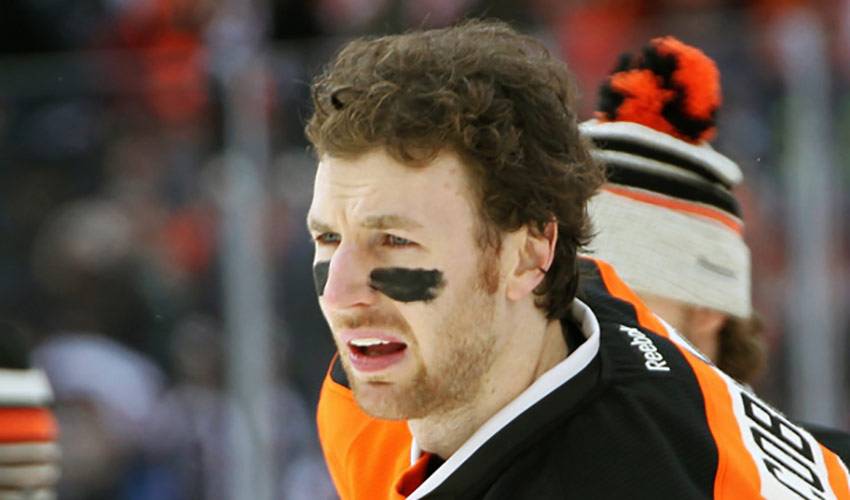 If you've already played in the NHL's annual outdoor game dubbed the Winter Classic, it might not hold the same feeling as it did the first time around. Just don't tell Braydon Coburn that.
It was two years ago when Coburn and his Philadelphia teammates took on their Eastern Conference rival the Boston Bruins in the Winter Classic, losing a hard-fought 2-1 overtime game at historic Fenway Park in Boston.
While the venue and opponent has changed (Citizens Bank Park, home of Major League Baseball's Philadelphia Phillies, with the New York Rangers the opposition), the excitement of taking part in the NHL's most unique experience isn't lost on Coburn.
"It's something you mark on the calendar and something you get more and more pumped up about as it gets closer," said Coburn, in a recent interview with NHLPA.com, in regard to the fifth annual contest that goes at 1 p.m. ET on January 2, 2012. "All of the guys are excited. Everyone has their own attachment to playing outdoors. But even if they are different stories, everybody is really looking forward to the chance to be part of something special."
But for Coburn, who grew up in Western Canada, he doesn't need thousands of cheering fans to get geared up about playing the game outdoors.
"I was lucky enough to be able to play lots of outdoor hockey when I was young," said the eighth overall selection of the Atlanta Thrashers in the 2003 NHL Entry Draft. "It was always fun. It would be me and my three brothers out there all day."
Coburn, who played major junior hockey with the Portland Winter Hawks of the Western Hockey League (WHL) and was awarded the Jim Piggott Memorial Trophy as rookie of the year for the 2001–02 season, laughs when he recalls a typical day on the outdoor rink.
"Well, with four brothers (Braydon is the oldest), it would always end up with someone crying and there was always at least one fight," offered Coburn, who was awarded the WHL's Doug Wickenheiser Memorial Trophy in 2004 as humanitarian of the year. "We'd be out there nearly every day, for a long, long time. I don't think my mother minded at all. I'm sure she saw it as she'd rather us be out there wreaking havoc, then being inside and creating all kinds of mayhem and mischief."
Last year, Coburn was able to head back home for a few days during the Christmas break in the schedule. Not surprisingly, he found himself donning his skates under the backdrop of a winter sky.
"We had a three-hour match with family and friends," remembered Coburn, who was dealt on February 24, 2007, at the trade deadline, to the Flyers in exchange for defenceman Alexei Zhitnik. "It was so fun. It's become a Christmas tradition. We open presents, then go out skating. We also do some snowmobiling, too. It's nice to go back and be able to relive those earlier times."
As for the upcoming Winter Classic, Coburn knows that playing a game that is out of the ordinary compared with the rest of the 82-game schedule doesn't alter the importance of the contest.
"Obviously, it's a unique setting," said the blueliner, who has appeared in 80 or more games the past three campaigns. "It's an opportunity you cherish, but it's also two points you need. You don't want to look back at any game and realize two points drastically altered your season."
Still, Coburn can't wait to get out on the ice for his second shot at a Winter Classic win.
"It could rain, snow, there could be a crosswind, you just never know what you could be facing when you play in this game," said Coburn, who has appeared in 54 NHL playoff games. "But that's what you love about this game and playing outside. You don't know what it will be like."
Coburn, who'll have family and friends in the stands on January 2, isn't the only who is counting the days until the puck drops.
"Just from talking to people I know, reading the newspapers and watching TV, you get the sense everyone is really excited about it," noted the 26-year-old. "I'm happy for the fans, too. There is a great tailgating-type mentality at football and baseball games here in Philadelphia. That atmosphere will be unbelievable on game day."
A game that will be twice as nice for a player who knows a thing or do about playing in the great outdoors.