Between The Bluelines With Martin Brodeur
The Devils superstar netminder talks about his love of playing goal, his advice to young players & getting through the tough times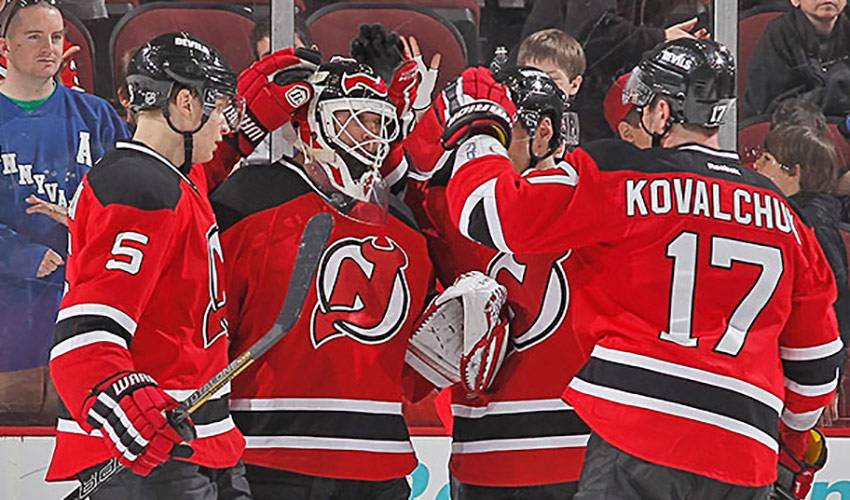 He's one of the most prolific puck-stoppers to ever play the game, a shot-snaring star destined for the Hall of Fame. But, despite his lofty credentials, Martin Brodeur has never taken his role lightly.
While New Jersey has endured a difficult season in 2012-13, just one campaign removed from an appearance in the Stanley Cup Finals, the veteran goaltender can still come up with highlight-reel saves on any given night.
Now, it's time to go Between the Bluelines with Martin Brodeur:
NO EASY TASK: "It's the hardest position, but it's why I do it. You can be a hero one day and a zero the next. Sometimes, it's hard to take when you see it go one way all of the time because you have so much responsibility for the outcome of the game. That's the reason why I became a goalie because I want something to say in everything I do."
SOUND ADIVCE: "I tell kids to just to have fun with it. I think it's demanding, but it is really rewarding when you do it well and when you work at it. I always say to kids, 'Just to enjoy the sport and to have fun.' You've just got to keep your stick on the ice."
GOING FORWARD: "When I first started out, I played forward for a while. It went pretty well and I had some good games. But once I put the pads on for the first time, something just felt so right about it and I stuck with it after that."
FEELING A DRAFT: "It was such a thrill to finally realize the dream of making the NHL. It's so tough to get there, but it's the greatest feeling when you hear your named called. There are so many things that go through your mind. I just remember being so excited that it happened. You know what to expect in some ways, but it does take a lot of adapting on your part."
ALL YOU NEED IS LOVE: "One thing that always keeps you going, even in tough times, is the love of the game. To be with your teammates, working hard to have success together, and battling through tough times – all of that makes you love it. I think that's great. That's what keeps you going."
Where to start? It's no easy task when the topic is Martin Brodeur.
He is the all-time leader in regular season wins, shutouts and games played, while holding numerous other league and franchise records.
Did me also mention he has three Stanley Cups and two Olympic gold medals with Team Canada?
"I've been very fortunate to experience a lot of great moments and it's been a blast," said Brodeur. "Obviously, a lot changes the more you play the game. You prepare differently and you gain experience. The one thing that hasn't changed for me is just how fun the game really is."
For more on Martin Brodeur, click here to visit his NHLPA.com player page