Starting Things Off Right in Round 1
David Perron and the St. Louis Blues are facing a familiar foe in the Kings and started strong in the series to take the early lead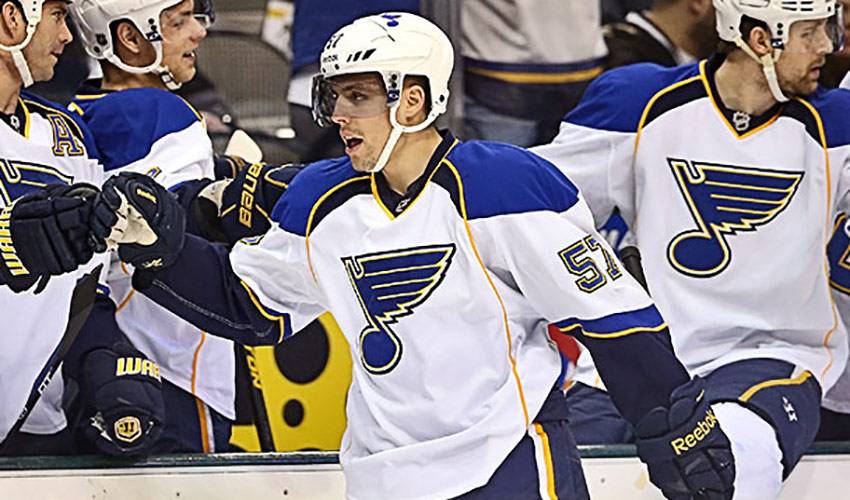 A semifinal sweep delivered by last year's Stanley Cup champions gave David Perron and his St. Louis teammates all the motivation they needed when they met up with the Los Angeles Kings once again.
After finishing second overall in the Western Conference last season, a campaign in which the Blues posted 49 wins and 109 points, the Central Division residents dispatched of the San Jose Sharks in five games in their quarter-final matchup.
It was a vastly different result in the semifinals when St. Louis was sent to the sidelines courtesy of a four-game sweep against eventual Cup winners, Los Angeles.
Now, the Blues have an opportunity to exact revenge on their rivals as the pair face-off in the first round of the 2012-13 playoffs. They started things off on the right note winning the first two games on home ice to head to Los Angeles with the early control of the series.
"You take a lot of things out of last year," Perron told NHLPA.com. "We certainly didn't take them for granted because you can't do that with any team. But it really stung to get knocked out in four straight. That's something you don't forget. It was frustrating, to say the least."
Perron, the Blues' 26th overall pick in 2007, has appeared in 13 NHL playoff games, including nine last year, when he contributed one goal and four assists.
Motivation is hardly an issue for the native of Sherbrooke, Quebec, or his teammates, who look to deliver St. Louis its' first Cup.
"When you get to the NHL, you crave that opportunity to experience your first playoff game," offered Perron, who has seen a significant amount of ice time early in the series and is being counted on to produce scoring chances for the Blues .
"You're just happy to find yourself in that position. But once that happens and the more time you spend in the league, you see things much differently. You become calmer and more able to control your emotions. It's the most intense time of the year, but you embrace that. It's what you play for."
So, in spite of the challenges that come with going up against the defending tile holders, it's not a nervous Blues squad that will took to the ice in hopes of reversing last year's outcome.
St. Louis headed into the post-season on a high note, a 3-0 home win against the West's No. 1 seed, the Chicago Blackhawks.
"We know this is a big test for us," said Perron, who had 10 goals and 25 points in 2012-13.
"This is a team that has so many strengths. But we are very similar to Los Angeles in our approach. You can't make any mistakes or else they can make you pay. The key is to get to them early, to make life as tough as possible for (goalie) Jonathan Quick."
Hardly an easy task, but one Perron believes the Blues are well-prepared for.
"You look at every matchup, not just in the West, but also in the Eastern Conference, and it shows you what this league is all about," noted the veteran of 340 regular season NHL games.
"Every series is tough. Ours is no different. We know it will be a challenge. But the veteran guys have kept everyone calm and focused."
Just what you need when your mission is to dethrone the Kings.