Staying Sharp is critical as playoffs draw on
Patrick Sharp and the Chicago Blackhawks are in the midst of a second round matchup against the Red Wings where experience will play a definite role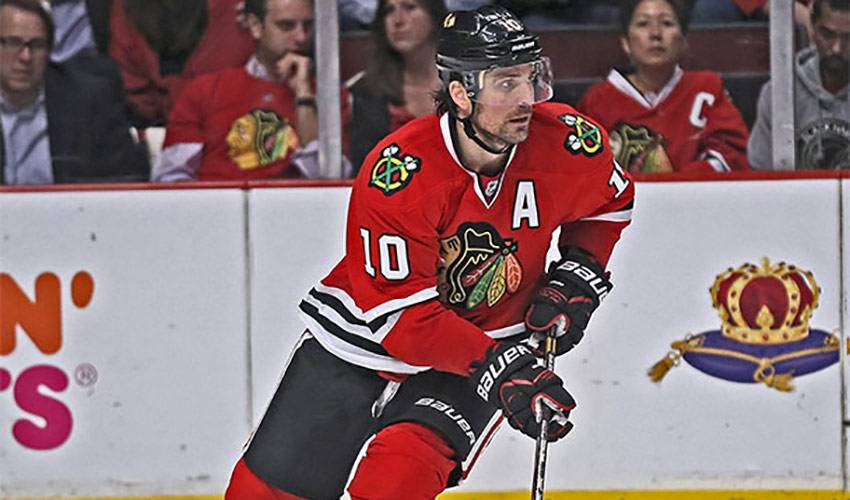 Madelyn Grace Sharp might not know exactly how many points her father has in this year's edition of the Stanley Cup Playoffs, but like most Blackhawks fans, he's giving them all plenty of reasons to smile.
With six goals, two game-winners, and nine points in six post-season games, Patrick Sharp has been, as his numbers suggest, an unstoppable force. He's rightfully receiving plenty of applause and adulation for his efforts, from teammates, fans, media, as well as his 1 ½-year-old daughter.
"My wife and I were flipping through the pages of one of the game-day programs and my daughter saw my picture, she pointed and had a big grin on her face," Sharp told NHLPA.com.
Chicago's opposition in the playoffs so far, Minnesota in the first-round and Detroit in the Western Conference semifinals, would have a far different reaction to a player that has flown under the radar at times.
Sharp, however, is unaffected by being cast in such a light. He's not out to prove people wrong. He simply wants to win.
"When you hear good things about your contributions, it's nice," offered Sharp, who came to Chicago via a trade from Philadelphia during the 2005-06 season. "But I don't dwell on it. I'm at my best when I'm motivated. The bottom line is always to do what you can to help the team."
Sharp has undeniably done that over his 595-game NHL career.
In 2007-08, the Winnipeg native topped the Blackhawks scoring list with 36 goals. He needs just one more tally to reach the 200 career-goal mark. He has 29 career playoff markers, including 11 in 22 games when Chicago won the Stanley Cup in 2010.
Success has been plentiful, both for Sharp and the Blackhawks. There have also been tough times for both.
"The past two years, we've been knocked out of the playoffs in the first round," said the 95th overall selection of the Flyers in 1995, limited to 28 games this season due to injuries. "We didn't want that again."
Seeded first in the West and President's Trophy winners as the team with the most regular season points, Chicago took out the Wild in five games in their quarterfinal matchup.
The best part of winning that series?
"Winning the series," said Sharp, with a laugh. "There are no easy games and every team that's in the playoffs deserves to be there. There is no underestimating an opponent. You just can't do that. You have to be at your best every time you put that sweater over your head."
Sharp, who scored 34 and 33 goals in 2010-11 and 2011-12, respectively, has consistently accomplished that goal over his career. The kind of contributor every team wants. The kind of player that deserves to be noticed.
Just ask Madelyn Sharp.