Kronwall a Huge Hit in Detroit
As the veteran leader on the Detroit blueline, Niklas Kronwall has been a key contributor to the success the Red Wings have had in 2013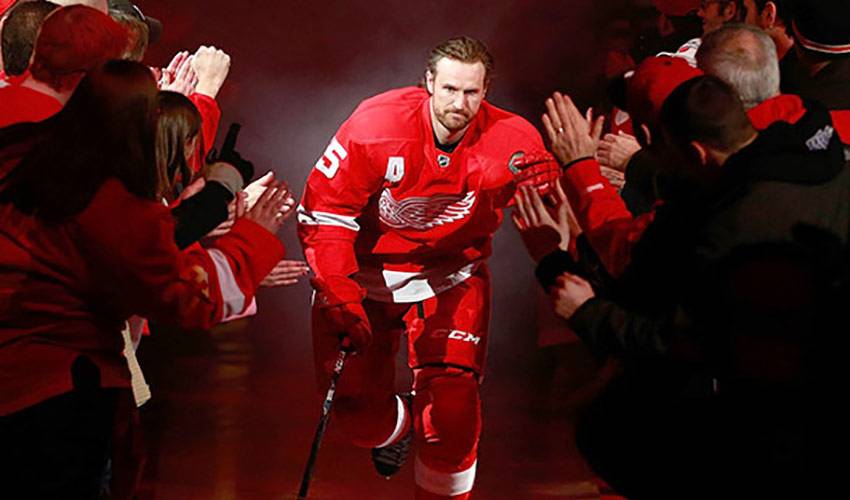 Even strength. Power play. Penalty kill. Twenty-plus minutes. It doesn't matter what you ask of Niklas Kronwall. He's always a huge hit.
It seems the only battle Detroit's heavy-hitting defenceman can't win, at least on this day, is getting the better of traffic.
"I can talk for as long as you need," Kronwall told NHLPA.com, on his way home from the airport after a recent Red Wings playoff win. "It's bumper-to-bumper. But it's no big deal."
The man who wears No. 55 on his red and white jersey, however, certainly is a big deal and a big worry for the opposition.
His devastating body checks might garner the most headlines when it comes to his game, but Kronwall, who has patrolled the blueline in Detroit since 2005-06, is much more than a one-hit wonder.
The Red Wings veteran continues to be a steady offensive contributor, scoring 11 and 15 goals, respectively, in 2010-11 and 2011-12. In 48 games this year, he recorded 29 points.
Throw such numbers out to him, however, and Kronwall humbly deflects any opportunity to speak about his game.
"If you score or get an assist and you lose, you can't view it as a success," said the Swedish native who has appeared in 515 regular season NHL games. "It's magnified even more when it comes to the playoffs. It's the most intense time of the year. Your only focus is to do anything to get the win. There are plenty of things you can do to help make that a reality."
For Kronwall and his teammates, simply getting to the post-season was a massive undertaking, as they drifted between inside and outside of the top eight in the West.
In the end, Detroit managed to secure the seventh seed. After their seven-game triumph against the Ducks, they have faced off against Original Six rival, Chicago, the league's top team, points-wise.
In Game Six on Monday night, the Wings lost 4-3 to set up a deciding Game Seven in Chicago on Wednesday.
"It was a fight to get into the playoffs, but we played some of our best hockey when we needed to," offered Kronwall, who won the Cup with Detroit in 2008. "There was a sense of confidence when the playoffs started. We have plenty of veterans who know what to say and what to do in those pressure-filled times.
"You try and maintain a simple approach each time you're on the ice," continued Kronwall, who won gold with Sweden in 2006 at both the World Championships and Olympics. "You can't get too high or low throughout the course of the game. Obviously, there is so much on the line. It's impossible to look beyond the next shift."