Gregory Campbell Kills Penalty Despite Breaking Leg
Gregory Campbell shows us why hockey players are the world's toughest athletes in our viral video of the week.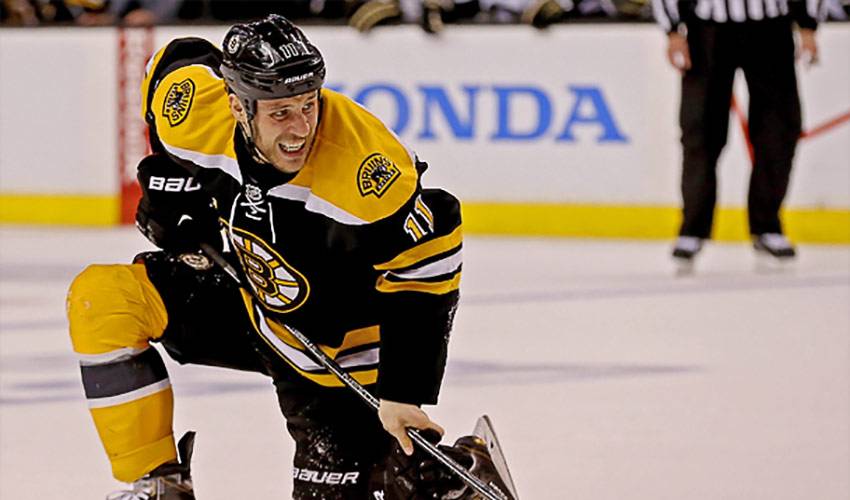 On Wednesday night, during the second period of Game Three of the Eastern Conference Final, Boston Bruins forward Gregory Campbell laid out to block a slap shot from Evgeni Malkin on a penalty kill. While Campbell was successful in blocking the shot and preventing a scoring chance, it came at the expense of a broken leg. Unable to get to the bench, and unwilling to see the Penguins score, a very injured Campbell remained on the ice, on his feet, for nearly a full minute. Only after the puck was cleared out of the Bruins zone did Campbell make a one-legged skate to the bench.
If there was any doubt that hockey players are the toughest athletes in the world, Campbell just squashed it.
The play is reminiscent of Bobby Baun's iconic Toronto Maple Leafs moment in 1964. Facing elimination in the Finals against the Detroit Red Wings, Baun blocked a shot from Gordie Howe, breaking his ankle in the process. The game eventually went into overtime, and despite his injury, Baun returned to the game and scored the game-winning goal. The play uplifted the spirit of the Leafs, and they went onto win Game Seven 4-0 to capture their third consecutive Stanley Cup.
Campbell's effort was one of many small plays that helped the Bruins win the game 2-1 in double overtime, and take a commanding 3-0 series lead. #BecauseItsTheCup, indeed!