Budweiser and NHLPA Sign Multi-Season Canadian Partnership
Agreement will bring fans even closer to the players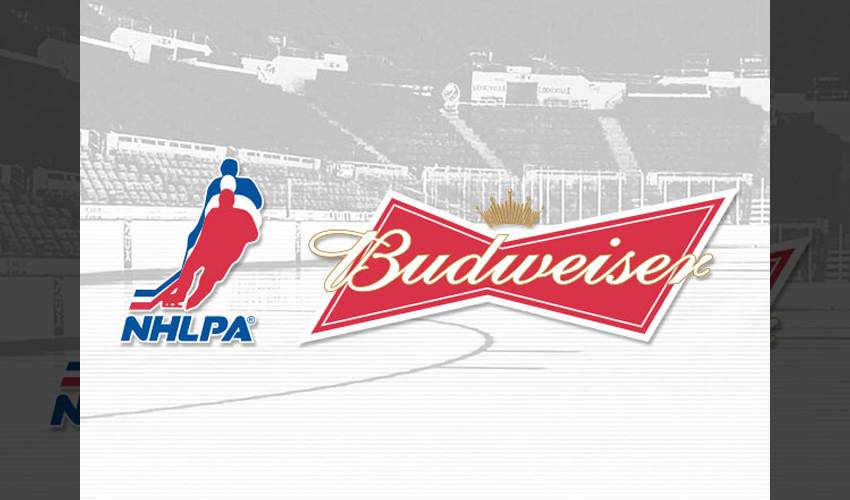 (Toronto) – Budweiser and the National Hockey League Players' Association (NHLPA) have signed a new sponsorship deal to bring hockey fans closer to their favourite players and the game they love. Through its multi-season partnership with the NHLPA in Canada, Budweiser will create more experiential touch points between hockey fans and players.
The partnership debuted with an ad on Saturday night's game featuring the Doughty family cheering on their son who plays for L.A. The family is shown celebrating after an L.A. goal with a Budweiser Red Light. Additional executions – including a few surprises along the way – are planned over the coming months.
"Budweiser has a long-term commitment to supporting hockey at all levels from coast-to-coast and our partnership with the NHLPA allows us to extend our passion for hockey to include the best players in the world" said Kyle Norrington, Marketing Director, Budweiser Canada. "Our NHLPA sponsorship aligns with Budweiser's goal to make hockey more exciting, more fun and more accessible for Canadians. We're looking forward to bringing even more great times to hockey fans from coast-to-coast."
"This partnership will provide us with an opportunity to work closely with Budweiser to creatively connect our Canadian fan base with their hockey heroes," said, Mike Ouellet, NHLPA Chief of Business Affairs. "Through this multi-season sponsorship, we look forward to extending hockey fans' connections to the players beyond the ice."
To view the new Budweiser ad featuring the Doughty family, click here.
About Budweiser
Budweiser – the King of Beers – has been brewed since 1876 under the highest quality standards. Brewed in Canada for more than 30 years, Budweiser uses only the finest ingredients without any artificial ingredients, additives or preservatives. Budweiser is distinguished by its clean, crisp, distinctive flavour, the result of a unique beechwood aging process. For more information, visit www.budweiser.ca or www.facebook.com/budweisercanada.
About the NHLPA The National Hockey League Players' Association (NHLPA), established in 1967, is a labour organization whose members are the players in the National Hockey League (NHL). The NHLPA works on behalf of the players in varied disciplines such as labour relations, product licensing, marketing, international hockey and community relations, all in furtherance of its efforts to promote its members and the game of hockey. Over the past 13 years, the NHLPA has donated more than $21-million to grassroots hockey programs. For more information on the NHLPA, please visit www.nhlpa.com.
- 30 -