Beleskey Looking For A Duck Dynasty
Matt Beleskey doesn't like to lose, whether it's a tough end to a season or being on the losing end of a fishing trip with his dad. As the season draws near, Beleskey is ready to help take the Ducks far this season.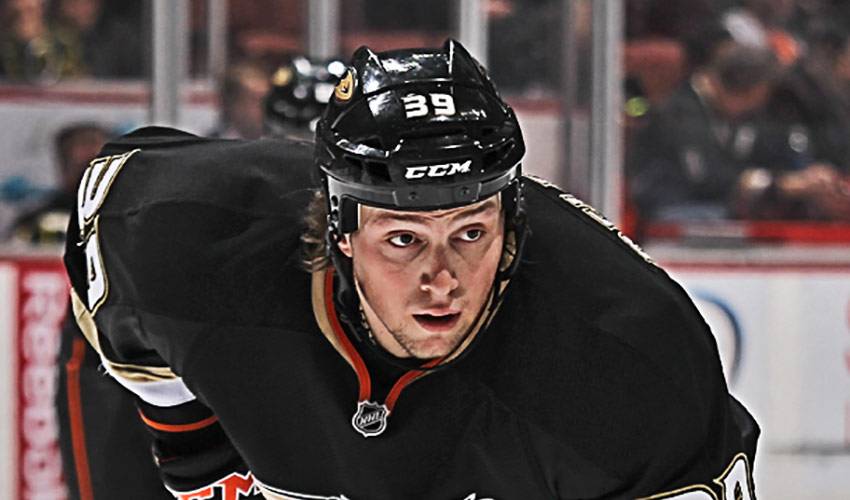 Matt Beleskey doesn't take losing lightly, whether it happens to be on the ice or on the water.
All it takes is one shift to understand what Anaheim's No. 39 is all about. Regardless of what he manages to accomplish, a goal, assist, a hit, a blocked shot, the 25-year-old Beleskey is a man of many talents.
Failure doesn't sit well with the Ontario native. That even applies to the off-season. Take for example a recent fishing trip with his father and two grandfathers in Newcastle, Ontario, just under an hour's drive from Toronto. Beleskey proudly posted a picture of himself holding a sizeable rainbow trout on Twitter.
"It was a really nice one," said the veteran of 209 NHL regular season games. "It was a great day. Perfect weather and a lot of fun." But… "My dad caught the biggest fish," acknowledged Beleskey. "He doesn't always have the best luck when we go fishing, but on this day, he really did well. He made sure he rubbed it in, too."
A self-described "amateur fisherman," these days Beleskey's thoughts are focused on helping Anaheim net its' second Stanley Cup (the Ducks took all the spoils in 2007).
After a strong regular season, one that yielded a 30-12-6 record and their second Pacific Division title in franchise history, the Ducks were tasked with facing perennial Cup contender Detroit in the first round of he Western Conference playoffs.
The end result was a seven-game series win for the Red Wings.
"It really stung," admitted Beleskey. "It did for a time after, too. Losing, especially a seventh game, is really tough to handle. After a while, you are able to let it go. But it also motivates you. I know from talking to the guys that they all feel the same way. There were a lot of good things that happened last year. We just need to build on those positives."
Beleskey, who happened to be packing in preparation to head back to Anaheim, is already in a hockey state of mind.
"Definitely," he said. "You look at the guys we have and what we did last year and there is every reason to believe it can be another good year. I just want to be a guy that is looked upon as being a player that can deliver a little bit of everything."
"I don't like to lose," he offered. "None of us were happy with how things finished last season. We all want to make sure that doesn't happen this time around."
The quest begins on October 2, a three-game road trip starting in Colorado.