Matt Martin A Smashing Success
The feisty Islanders forward has carved out his career by battling through junior and into the NHL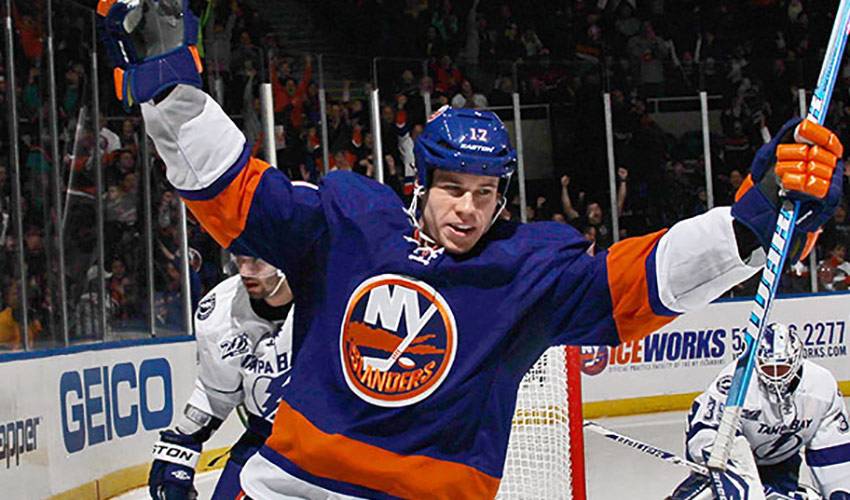 From the moment he walked through the doors of the Sarnia Sting dressing room hoping to make the OHL team, to his 201-game NHL career with the New York Islanders, Matt Martin enjoys being a big hit.
Greg Walters, the 80th overall pick of the Toronto Maple Leafs in 1990 and former Ontario Hockey League assistant coach, wasn't quite sure what to expect when the physically imposing kid from Windsor came looking for a roster spot.
"He showed up and wanted to be on the team," recalled Walters, of the moment he met Martin in 2006. "You don't know really what to expect with a walk-on. But then he goes out on the ice and starts hitting everyone in sight. The veterans wanted to kill him, but he was relentless."
Walters soon discovered Martin wasn't going to make it easy on Sarnia brass when it came to deciding his fate.
"I remember early on, he would line up 50 pucks at the blueline after practice and then go stand in front of the net," recalled Walters, now the head coach of the Georgetown Raiders of the OJHL. "He was waiting for me to shoot them so he could try and tip them in. He'd get hit by some of the pucks, but he didn't care. He wanted to make the team and he worked hard for that to happen.
"I skated him hard, where he'd be huffing and puffing, but he never complained," continued Walters. "I remember going to our coaches and saying, 'We've got to sign this kid.'"
Martin appeared in 39 games for the Sting in 2006-07. He recorded three goals and three assists along with dishing out plenty of hard hits.
The following season, Martin lit the lamp 25 times. In 2008-09, his final campaign with the Sting, he had 35 goals and was playing alongside one of the top junior players of all time.
"He just worked hard every single day and pushed himself to be better every time he was on the ice," said Walters. "He had an amazing last year on the left side with Steven Stamkos, who has obviously gone on to have a stellar NHL career. It's a great story, really."
And a story that is far from over.
Martin, who was selected 148th overall by the Islanders in 2008, is playing an integral role for a New York team looking for back-to-back playoff appearances.
Last year, the Isles finished eight in the East, but were eliminated in six games by the Pittsburgh Penguins in their quarterfinal pairing.
"We were disappointed at the way the season ended, but there were a lot of things that we were able to take from the experience," said Martin, who skated in all six post-season games, scoring one goal. "Last year, we learned to win together, understanding what it took to be a playoff team. We have a good mix on this team. There's plenty to look forward to."
There are also plenty more bodychecks to be delivered courtesy of Martin, who holds the record for most hits in an NHL season (374, recorded in 2011-12).
"Of course," he said with a laugh. "Everyone has a role. It's always been a part of my game. Being physical can be a very key element in helping the team get those two points. I just want to play my part in helping the team win."
His proud former coach will tell you Matt Martin is, without a doubt, a smashing success.