"NHL REVEALED: A SEASON LIKE NO OTHER" TO OFFER THE MOST COMPREHENSIVE BEHIND-THE-SCENES LOOK EVER AT THE LEAGUE'S TOP STARS
Seven-Part Series on NBCSN and CBC Will Follow More Than Two Dozen Top Players Before, During & After Their Participation in the 2014 Coors Light NHL Stadium Series™ Games, XXII Olympic Winter Games from Sochi, Russia, and Tim Hortons NHL Heritage Classic™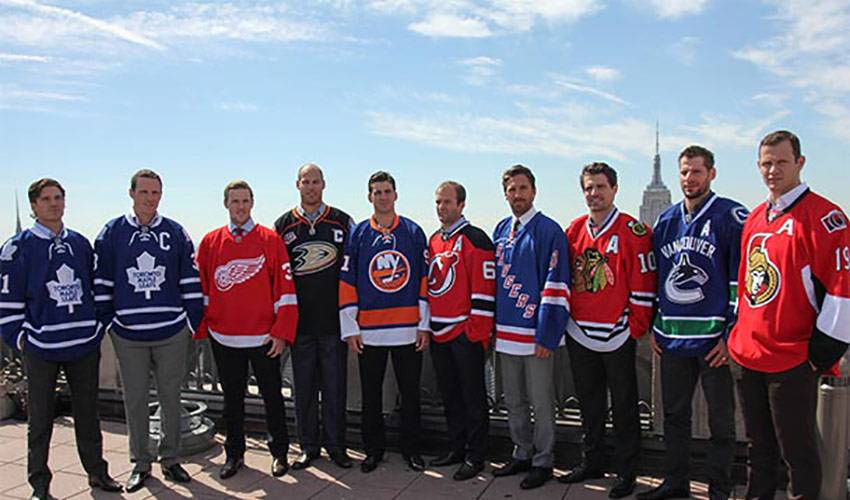 NEW YORK (Nov. 18, 2013) – National Hockey League fans will get an up-close, all-access look at many of their favorite stars with the upcoming "NHL Revealed: A Season Like No Other" that will begin in mid-January on NBCSN (Jan. 22) and CBC (Jan. 23) and re-broadcast in Canada on Sportsnet (Jan.26). The joint announcement was made today by the NHL®, NHLPA, NBCSN and CBC.
NHL Revealed™ is a seven-part series that will tell the stories of more than two dozen of the League's top stars – on and off the ice – as they participate in 2013-14 regular-season games, including the four 2014 Coors Light NHL Stadium Series™ games and the Tim Hortons NHL Heritage Classic™. Additionally, the cameras will follow the stars to Sochi and back in February.
The series is being produced by Toronto-based Bristow Global Media Inc. and its principal, Julie Bristow with Ross Greenburg as an executive producer on behalf of the NHL. Bristow is a former executive at CBC whose duties included overseeing production of CBC's Hockey Night in Canada and creating and producing other top CBC programming. Greenburg, the former HBO Sports President and winner of more than 50 Sports Emmys, served as executive producer of HBO's initial "24/7: Road to the NHL Winter Classic." Steve Mayer, the Senior Vice President and Executive Producer of IMG Productions, also is serving as an executive producer on the series. Mayer oversees IMG Productions' entire New York-based production unit, which produces hundreds of hours of television each year.
The series will air on NBCSN in the U.S. on Jan. 22; Jan. 29; Feb. 5; Feb. 27 (two hours); Mar. 5 and Mar. 12 and CBC in Canada on Jan. 23; Jan. 30; Feb. 6; Feb. 27 (two hours); Mar. 6 and Mar. 13. Sportsnet further extends audience reach of the Series in Canada with re-broadcasts on Jan. 26; Feb. 2; Feb. 23; Mar. 2 (two hours); Mar. 9 and Mar. 16.
"'NHL Revealed' is all about answering our fans' demand for more great content and our partners' demand for new ways to engage with our fans," said NHL Chief Operating Officer John Collins. "Julie Bristow and Ross Greenburg are accomplished storytellers who can weave a compelling narrative through seven episodes by following our top players and highlighting the subplots and storylines that are sure to emerge. The access our clubs and players are generously providing is what will make this a great series."
The 2014 Coors Light NHL Stadium Series™ games begin on Jan. 25, 2014, when the Anaheim Ducks face the Los Angeles Kings at Dodger Stadium (9:30 p.m. EST, NBCSN/CBC). The first of two Coors Light NHL Stadium Series™ games at Yankee Stadium follows on Sunday, Jan. 26 when the New York Rangers play the New Jersey Devils (12:30 p.m. EST, NBC/CBC). The Rangers battle the New York Islanders three days later on Wednesday, Jan. 29 at Yankee Stadium (7:30 p.m. EST, NBCSN/TSN).
Following the NHL's participation in the 2014 Olympic Winter Games, the 2014 Coors Light NHL Stadium Series™ game in Chicago is on March 1 when the Pittsburgh Penguins square off against the defending Stanley Cup® champion Chicago Blackhawks at Soldier Field (8 p.m. EST, NBC).
The 2014 Tim Hortons NHL Heritage Classic™ wraps up this dramatic run of signature events on March 2 in Vancouver, B.C., when the Vancouver Canucks host the Ottawa Senators (4 p.m. EST, NBCSN/CBC).
Players expected to be featured in "NHL Revealed" include Sidney Crosby of the Penguins; Jonathan Toews and Patrick Kane of the Blackhawks; brothers Daniel and Henrik Sedin of the Canucks; John Tavares of the Islanders; and goaltenders Henrik Lundqvist of the Rangers and Jonathan Quick of the Kings.
One compelling narrative will be watching teammates play together in classic rivalry games at iconic venues such as Yankee Stadium and Dodger Stadium, then become opponents during the Sochi Games and, finally, reunite to begin the march to the 2014 Stanley Cup® Playoffs.
"The lives of NHL Players will be shown through the 'NHL Revealed' series which will capture intriguing storylines that sports fans will enjoy," said Steve Webb, NHLPA Divisional Player Representative. "The uniqueness in this seven-part-series is that not only will it feature the players' experiences in regular season games, including five outdoor games, but fans will also get to see the exciting road to the Olympic Games in Sochi where many teammates will become competitors as they play for their home countries."
Over two months, the production's cameras will take fans to places they have never seen before. Players will be featured from all nine teams participating in the Coors Light NHL Stadium Series™ games and Tim Hortons NHL Heritage Classic™ as well as NHL standouts from throughout the League representing their home countries at the Sochi Games.
"'NHL Revealed: A Season Like No Other' will provide viewers with an all-access pass into the lives of NHL stars through an unprecedented series of high- stakes events", said Bristow. "The combination of both spectacular and deeply personal moments will reveal the strength and sacrifice required as these athletes journey through an extraordinary year of competition."
"This is a unique time for the NHL," Greenburg said. "And there is a unique opportunity to tell some terrific stories in a non-linear way, checking in with the game's best players before, during and after these key games and key moments. The all-access look will help capture the best moments of their journeys and give our viewers the chance to experience those moments with their favorite players."
The Coors Light NHL Stadium Series™ games follow the success of the wildly popular Bridgestone NHL Winter Classic®, which, since its inception in 2008, has attracted overflow crowds to such iconic venues such as Wrigley Field and Fenway Park and generated record regular-season television viewership.
The regular-season outdoor NHL® games first made their way into the schedule in 2003 when the initial NHL Heritage Classic™ was played in Edmonton. The 2014 Bridgestone NHL Winter Classic® at Michigan Stadium on the campus of the University of Michigan in Ann Arbor is expected to surpass the previous all-time hockey game attendance record of 104,173 set at a Michigan-Michigan State game there in 2010.
### (11/18/2013)
NHL, the NHL Shield, the word mark and image of the Stanley Cup and the word mark NHL Winter Classic are registered trademarks and the NHL Winter Classic logo, NHL Revealed name and logo, NHL Heritage Classic name and logo and NHL Stadium Series name and logo are trademarks of the National Hockey League. NHL and NHL team marks are the property of the NHL and its teams. © NHL 2013. All Rights Reserved.