JAMAL MAYERS RETIRES AFTER 14 NHL SEASONS
Stanley Cup champion played in 915 career games with the St. Louis Blues, Toronto Maple Leafs, Calgary Flames, San Jose Sharks and Chicago Blackhawks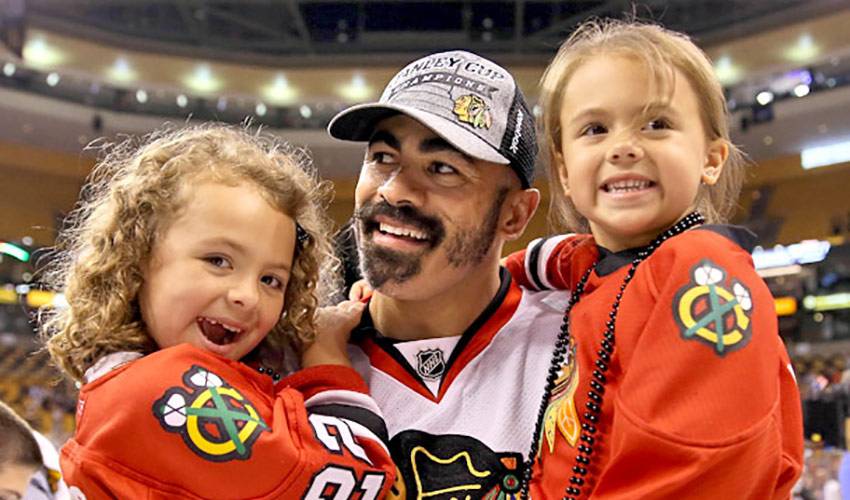 TORONTO (December 13, 2013) – Jamal Mayers, a Stanley Cup champion and valued teammate throughout his career, announced his retirement from the National Hockey League (NHL) today after 14 seasons.
"It really has been an amazing experience to have had the chance to play 14 seasons in the NHL, and finish it all off last season as a part of the Chicago Blackhawks winning the Stanley Cup," said Mayers. "Thank you to my mother Doreen, who gave me every opportunity to play this game while doing a remarkable job as a single parent of two in Toronto, my brother Allan for everything he did and gave up for me, and my stepdad Alan Crosswell. I would also like to thank my teammates, friends and fans, as well as Larry Pleau, Pat Brisson, Jim Nice and each of the five organizations I was fortunate enough to play for in my career. Certainly, those who sacrificed the most for my career were my wife and kids, and I can't express enough how much their love and support has meant to me."
Mayers played for five different NHL teams over the course of his career and accumulated regular season totals of 915 games played, 90 goals, 219 points and 1,200 penalty minutes. He also saw action in 63 playoff games. He broke into the NHL in 1996-97 with the St. Louis Blues, where he played parts of 10 seasons, before moving on to the Toronto Maple Leafs, Calgary Flames, San Jose Sharks and finally played the last two seasons with the Chicago Blackhawks – culminating with a Stanley Cup championship in 2012-13.
Prior to the NHL, Mayers had a remarkable four-year NCAA career at Western Michigan where he scored 158 points and recorded 181 penalty minutes. He was drafted by the Blues in the fourth round, 89th overall in the 1993 NHL Entry Draft. On November 3, 1996, he made his NHL debut with the Blues, and he scored his first point – an assist – two nights later in his hometown of Toronto. After spending most of two seasons in Worcester of the AHL, Mayers earned his spot the in the St. Louis lineup in the latter portion of the 1998-99 season when he played in 34 regular season games and 11 playoff games. He scored his first career regular season goal on February 8, 1999 in Florida and later registered his first playoff point on May 10th vs. Dallas.
Mayers showed outstanding durability while in St. Louis by playing in at least 77 games in six of the eight full seasons he spent with the Blues. In 2001, he helped lead the Blues to the Western Conference Final. In 2005-06, he scored a career-high 15 goals and recorded 129 penalty minutes while averaging 15:07 of ice-time. Two seasons later, in 2007-08, he set a career-high in points (27) while averaging a career-best in ice-time (15:56).
In June of 2008, Mayers was traded to the Toronto Maple Leafs, where he would spend parts of two seasons. In 2008-09 he played in 71 games and recorded 16 points to go along with 82 penalty minutes. He played 44 games with the Maple Leafs in 2009-10 before he was traded to the Calgary Flames in January of 2010; he set a career-high with his combined penalty minutes total (131) in 2010-11. As an unrestricted free-agent, Mayers signed with the San Jose Sharks in the summer of 2010. He played 78 regular season games in 2010-11 and recorded 14 points, 105 hits, 124 penalty minutes and he also played in 12 playoff games as the Sharks reached the Western Conference Final.
As a free-agent in the summer of 2011, Mayers signed with the Chicago Blackhawks where he would play his final two seasons. In 2011-12, he played 81 regular season games and recorded 15 points to go along with 91 penalty minutes and 102 hits while he also played in three playoff games. In the 2012-13 season, Mayers played 19 regular season games and provided a veteran presence as a well-regarded member of the Stanley Cup champion Blackhawks team.
Throughout his career, Mayers was a strong contributor to his team at both ends of the rink. Listed at 6'1", 222 lbs., the right winger played a hard, physical game that was appreciated among his peers. Mayers was always willing to contribute to help his teams win – whether it was on the penalty kill, blocking a shot or making a hit. Internationally, he represented Canada three times at the World Championship (2000, 2007, 2008), which included helping Canada win the gold medal in 2007 and the silver medal in 2008.
As a member of the NHLPA, Mayers was very active on behalf of his fellow players; he has served as a trustee of the Players' Pension Plan for the past six years; he was on the Executive Board as a Player Representative for the Blues, the Sharks and the Blackhawks; and he also attended several CBA meetings and bargaining sessions in 2012-13 during the lockout.
Jamal resides in St. Louis where he lives with his wife Natalie and their three children. He is enjoying his retirement, while staying connected to the game of hockey by doing broadcast work for the NHL Network and co-hosting a radio show.
-30-