Friends Facing Off
What could cause two former NHL teammates to each jokingly tell the other, 'keep your head up'?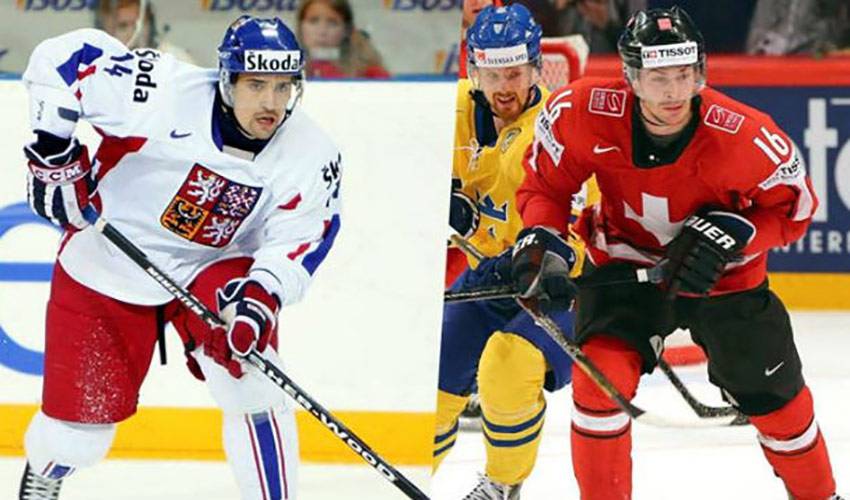 What could cause two former NHL teammates to each jokingly tell the other, 'keep your head up'? For Raphael Diaz, who was recently traded from Montreal to Vancouver, and Canadiens forward Tomas Plekanec, it's a meaningful matchup on the world stage.
When the rosters were announced for men's hockey at the upcoming 2014 Winter Olympic Games in Sochi, Diaz, who will play for Team Switzerland, and Plekanec, who will suit up for Czech Republic, had a brief, yet playful, exchange in the Habs' dressing room.
"Tomas came up to me and said, 'So, you'll be playing for Switzerland.' I laughed and told him I would be. We both knew that we'd be playing each other at the Olympics. I laughed and said, 'Keep your head up, buddy.' He told me to do the same."
For Diaz, who has represented Switzerland at several international tournaments, including a silver medal-winning performance at the 2013 World Championships, it was all fun and games with a respected teammate.
"He's a great guy, a great teammate to have played with and obviously, he's an excellent hockey player," said Diaz, of Plekanec, who won gold with the Czechs at the 2001 World Junior Championships. "He's pretty quiet, but he's a funny guy, too. He's a real team player. We didn't talk too much about facing off against each other at the Olympics. We were both happy for each other.
"When you played with someone every day, pushing for the same goal, you know it will be strange to see them on the other bench," continued Diaz, who had four points in six games for Switzerland at the 2011 World Championships. "You really don't think about being past teammates when you are in that position. Your first thought is to win the game and to try and prevent anyone, even someone you play with in the NHL, from scoring or trying to create a scoring opportunity."
Diaz is simply thrilled to have the opportunity to wear the red and white colours of his country.
"You could really feel the team spirit when we won the silver in 2013," said the undrafted defenceman, who signed with Montreal in 2011. "Everyone throughout the whole country was excited.
"We just have to take things game by game at the Olympics," continued Diaz, who spoke with countrymen and fellow NHLers Damien Brunner (New Jersey) and Yannick Weber (Vancouver) after the Swiss team was finalized. "It's a tough competition, but I know we will keep that same team spirit that we had last year."
Just don't expect any trash talk between Diaz and Plekanec when they meet up in Sochi.
"It will be just be a normal game," he offered. "Our minds will both be on the game itself, not playing against one another."