Monahan Making An Impact
Just 55 games into his big-league career, Sean Monahan has made an impact in the NHL.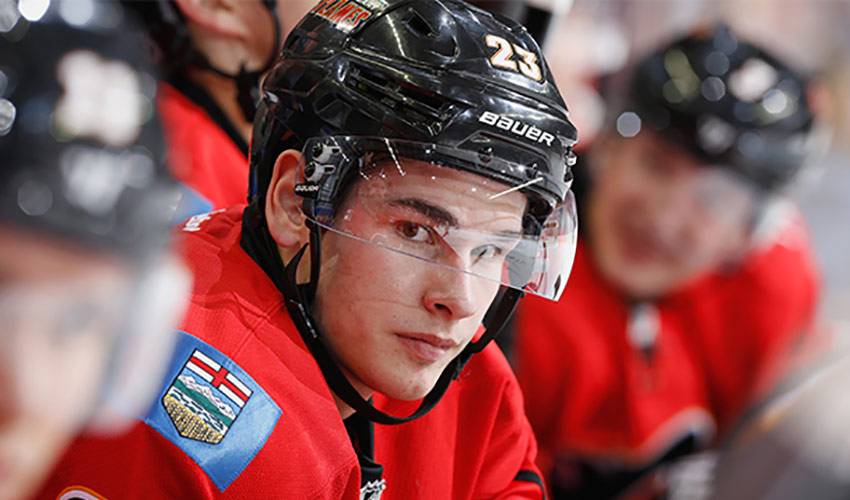 Just 55 games into his big-league career, Sean Monahan has made an impact in the NHL. His March 1st 'Battle of Alberta' performance was anything but out of the ordinary for Calgary's 19-year-old leading scorer.
Monahan had both goals, including the overtime winner (the first of his NHL career), as the Flames bested the Oilers 2-1. He also earned rave reviews from several of his teammates for yet another strong showing.
"I want to be a reliable player out there," said the former Ottawa 67's captain, who recorded 203 points in 185 career games. "I don't want to be taken off my own end for face-offs. I want to compete and be an impact player."
Calgary's sixth-overall selection in the 2013 Entry Draft, Monahan gave the Flames little choice when it came to deciding whether he would stay or be sent back to the junior ranks, earlier on in the campaign.
It's a testament to what he brings to the Pacific Division club.
Beyond the goals and great reviews, the Brampton, Ontario, native has the resume and the desire to one day be a leader for the Flames.
"I think it's kind of a trait I have," said the centreman, who scored his first NHL goal on October 4, 2013, eight days before turning 19. "I've been a leader growing up, and I think obviously being named the captain (of the 67's) was an honour. But it was good for me. I think it made me a better player. I didn't want to take any days off at all and make sure that my teammates were on the right page, and I think it helped me as a player."
It also helps when you want to pattern your game after one of the most complete players in the league.
"He competes hard game in and game out," said Monahan, of Chicago captain Jonathan Toews, a two-time Stanley Cup winner, who won gold with Team Canada at the Winter Olympics in Sochi. "He's a consistent player, and that's what I want to be. He's a leader and he also produces. That's the type of player I want to be."
So far, so good.