A Simple Mission in Columbus
James Wisniewski & the Blue Jackets are confident they have what it takes to be a playoff team in 2014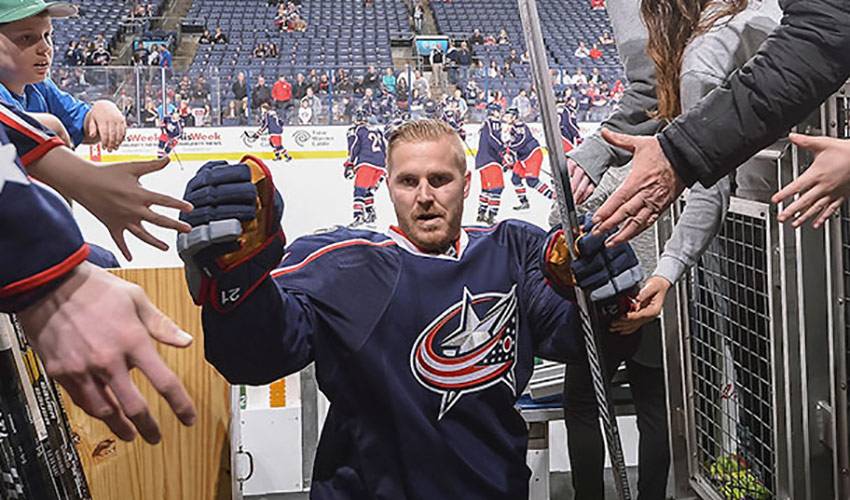 Desperation. Relentlessness. Do or die. Welcome to Columbus defenceman James Wisniewski's three-point plan on the approach to making the playoffs.
They are one of several teams duking it out for a shot to play for the Stanley Cup, a Blue Jackets squad bent on being one of the eight Eastern Conference representatives in the 2013-14 NHL Playoffs.
For Wisniewski, who has appeared in 18 big-league post-season contests, the mission is a simple one.
"I see it as we've been playing playoff hockey for two months, well aware of what is at stake and what it will require to achieve our goal," Wisniewski told NHLPA.com. "When we do get there, we'll be prepared."
Notice that the veteran of nearly 500 NHL games did not say 'if.'
"I really think this team is one that sees any number of players step up and make a difference when we need it," offered the Michigan native, who signed a six-year deal with Columbus in July of 2011. "We have so many guys capable of giving us a boost. If you look at our team, we don't have a 90-point guy. (Fourth overall pick in 2010) Ryan Johansen has 54 points and most are in between 25-50 points. We have consistency in our lineup, where things are spread out. That's been huge for us."
So, too, has been the ability to win the so-called big games, while not letting a tough loss derail the confidence in the room.
"We hold our fate in our own hands," said the 30-year-old, who is third in team scoring with 43 points. "We've been in the spoiler role before. Now, we control things. The way we see it as that the next game is the biggest one. When we've lost, we have the leadership to keep things focused on the overall picture. There have been games where we've won, but haven't played well, and games where we've lost and played great."
What's Wisniewski's philosophy on winning and losing?
"I'd rather play crappy and win, than play great and lose."
Thankfully, if you happen to be on the Columbus roster or a Blue Jackets fan, the team has been consistent throughout the 2013-14 campaign, and currently in position to return to the post-season.
The last time Columbus made the playoffs was 2008-09, losing in four games to Detroit in the quarterfinals.
They will continue to strive towards adding a new playoff chapter to the Blue Jackets history book as they enter the final stretch drive of the 2013-14 season.