A Preview of the 2014 NHL Awards
NHLPA.com takes a look at the finalists for the 2013-14 NHL Awards, and why they find themselves on the short-list for the sport's most prized trophies.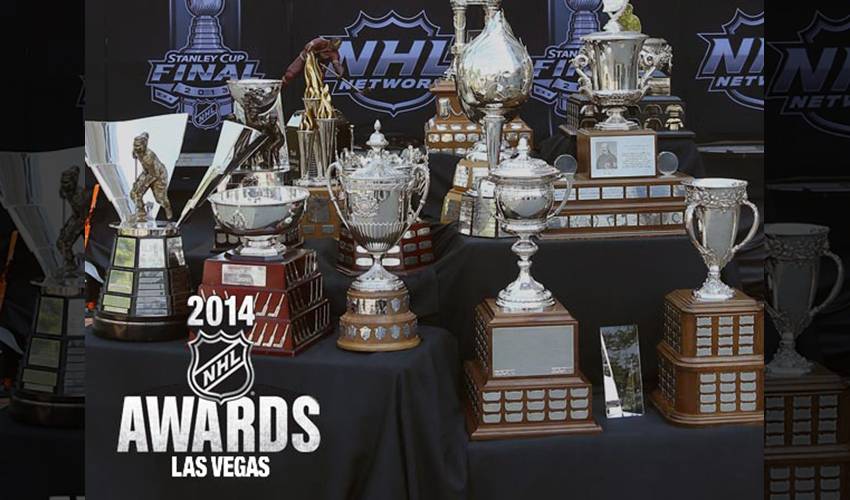 Which players will skate away with hockey's top individual honours, including the talented trio up for the coveted Ted Lindsay Award, this Tuesday in Las Vegas?
NHLPA.com takes a look at the finalists for the 2013-14 NHL Awards, and why they find themselves on the short-list for the sport's most prized trophies.
Sidney Crosby – A two-time Ted Lindsay Award winner (he won last year, and was also a finalist in 2010), Crosby led the league in points (104), assists (68), and helped the Penguins to the second-best record in the Eastern Conference.
Ryan Getzlaf – The driving force behind the Ducks netting the No. 1 seed in the Western Conference, team captain Getzlaf scored a career-best 31 goals, recorded 87 points, and fashioned a +28 rating. A first-time nominee, the Saskatchewan native will look to deliver Anaheim their first "Most Outstanding Player" honour.
Claude Giroux – Philadelphia's captain had yet another strong campaign, finishing third in the league in points (86) and fourth in assists (58). Giroux, a first-time nominee for this award, was integral in helping the Flyers net their sixth playoff berth in the past seven seasons.
Hart Memorial Trophy
Sidney Crosby – (see Ted Lindsay Award section)
Ryan Getzlaf – (see Ted Lindsay Award section)
Claude Giroux – (see Ted Lindsay Award section)
Lady Byng Memorial Trophy
Patrick Marleau – The pride of Aneroid, Saskatchewan was good as gold in 2013-14, winning gold with Team Canada at the Winter Olympics and reaching 30 goals for the seventh time in his career. He recorded 18 penalty minutes in 82 games.
Ryan O'Reilly – While he posted 28 goals and 64 points in 80 games with Colorado, the rising young star's penalty minutes stats were equally impressive: one minor infraction, two minutes.
Martin St. Louis – A three-time winner of the Lady Byng, St. Louis won Olympic gold with Canada, and then delivered a stirring playoff performance with the New York Rangers. He had just 10 penalty minutes on the campaign.
Calder Memorial Trophy
Tyler Johnson – The 23-year-old from Washington received thunderous applause for his play with the Lightning in 2013-14. The undrafted NHLer netted 24 goals and had 50 points in 82 games.
Nathan MacKinnon – The first overall pick in the 2013 Entry Draft had the hockey world talking in 2013-14. The Nova Scotia native netted 24 goals with the Avalanche, and also recorded 63 points in 82 games.
Ondrej Palat – Drafted 208th overall in 2011, Palat was a primetime performer for the Lightning in 2013-14. The 23-year-old had 23 tallies, accompanied by 59 points in 81 games.
Frank J. Selke Trophy
Patrice Bergeron – Considered one of the top two-way forwards in hockey, Bergeron, who skated away with the Selke in 2012, racked up 62 points for the Bruins, and a stellar +38 rating.
Anze Kopitar – His season was highlighted by a Stanley Cup win (his second) with the Los Angeles Kings, and representing Slovenia at the Winter Olympics. Kopitar had 70 points in 82 regular season games, along with a +34 rating.
Jonathan Toews – An Olympic gold with Canada, a strong regular season and playoffs, one of the most complete players in the game will look to win back-to-back Selke honours. Toews posted a +26 rating.
Vezina Trophy
Ben Bishop - The 6'7" backstopper stood tall between the pipes in 2013-14, setting several personal-best NHL marks, including 37 wins and five shutouts. He also fashioned a .924 save percentage.
Tuukka Rask – The Finnish goaltender was once again in fine form for the Boston Bruins, earning a career-best seven shutouts, along with a 2.04 goals against average and .930 save percentage.
Semyon Varlamov – Highlighted by 41 wins, Varlamov's 2013-14 season was his most impressive to date, and a huge reason why the upstart Avalanche enjoyed a great campaign. The 26-year-old Russian had a .927 save percentage.
James Norris Memorial Trophy
Zdeno Chara – With 17 goals, 40 points and a +25 rating, Chara, who won this award in 2009, had one of his best NHL seasons in 2013-14. Boasting one of the hardest shots in hockey, the Slovakian blueliner has appeared in over 1,100 regular season games.
Duncan Keith – One of the most decorated defencemen in the game, Keith, who won the Norris in 2010, celebrated Olympic gold (for the second time) with Team Canada, and enjoyed a banner season with the Blackhawks, registering 61 points and a +22 rating.
Shea Weber – Undoubtedly, Weber is one of the top defenceman in hockey. The 28-year-old captain of Nashville, who won gold with Team Canada in Sochi, scored 23 goals for the Predators and registered an NHL career-best 56 points.
Mark Messier Leadership Award
Dustin Brown – The Los Angeles captain, who received the NHL Foundation Player Award in 2011, helped spearhead the Kings to Stanley Cup glory in 2014.
Ryan Getzlaf – Regarded as one of the top leaders in hockey, Getzlaf played an integral part in leading Team Canada to a gold medal in Sochi, while helping the Ducks net top spot in the Western Conference standings.
Jonathan Toews – (see Frank J. Selke Trophy section)
Bill Masterton Memorial Trophy
Jaromir Jagr – One of the top offensive players to ever play in the NHL, the 42-year-old Jagr has still got game. While most athletes have called it a career, the Czech Republic native is still making an impact, earning New Jersey's team MVP honours in 2014.
Manny Malhotra – A serious eye injury threatened to end his career, but Malhotra, who was Vancouver's nominee for this award in 2011-12, refused to believe his NHL dream was over. The alternate captain skated in 69 games this campaign with Carolina, posting the league's second-best faceoff percentage (59.4%) mark.
Dominic Moore – One of hockey's most underrated players, Moore returned to the NHL this season after taking a leave of absence in the spring of 2012 to tend to his wife, Katie, after she was diagnosed with liver cancer. Katie passed away at the age of 32 in January of last year. The forward was pivotal in helping the New York Rangers make it to the 2014 Stanley Cup Finals.
NHL Foundation Player Award
Patrice Bergeron – The 28 year-old has certainly made his mark both on and off the ice. A tireless leader in the community, Bergeron established "Patrice's Pals" in 2006-07, offering children a chance to watch a Bruins game from his luxury suite.
Brent Burns – A passionate supporters of several causes, Burns has given over $1-million of his own money to support Defending the Blue Line, an organization that enables the children of military families the chance to play hockey.
Duncan Keith – The talented defenceman has worked overtime to assist others throughout his NHL career, including his efforts through Keith Relief. Keith and his wife have helped countless people by alleviating some of the financial and emotional burdens families and individuals experience dealing with medical crises.