Matt Duchene makes hometown hockey Goals & Dreams come true
Thanks to the NHLPA's Goals & Dreams fund, Matt Duchene and 50 kids in his hometown of Haliburton, Ontario, will have plenty to smile about.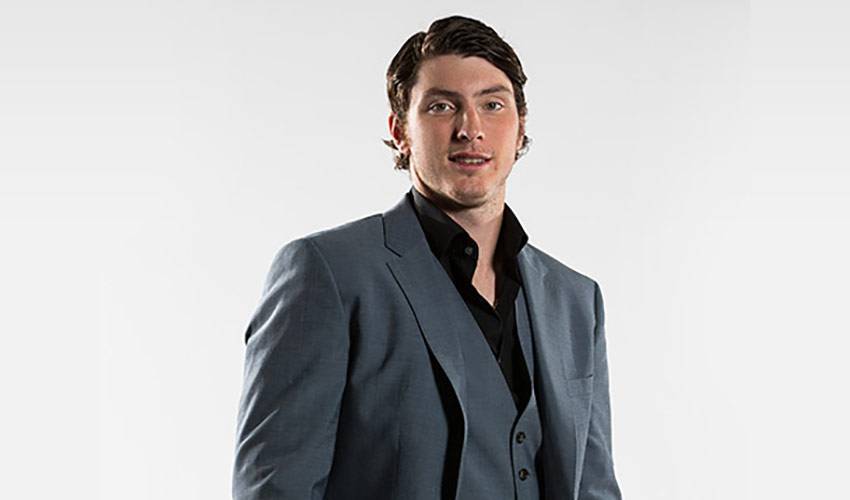 Thanks to the NHLPA's Goals & Dreams fund, Matt Duchene and 50 kids in his hometown of Haliburton, Ontario, will have plenty to smile about.
The Highland Storm Minor Hockey Association are the latest recipients of hockey equipment, 50 sets in all, donated by Goals & Dreams, a program founded by the NHLPA in 1999 that has contributed more than $21 million to grassroots hockey programs and related causes in 25 countries.
"We have had a declining enrollment in minor hockey the last few years, one of the factors being due to cost for equipment, registration and travel," said Bruce Griffith, a Haliburton Highlands Secondary School teacher and vice president of the Storm. "This initiative will help 50 families get their kids on the ice. Haliburton County is a "hockey town" and we are doing everything we can to get as many kids playing hockey."
Griffith knew he could count on Duchene's support.
"Two years ago, our area had a quick spring melt and many rivers in the county flooded," noted Griifith. "The town of Minden was hit hard and many homes and their basements full of hockey equipment were ruined. Matt and his father Vince wanted to help out and they started a fundraising golf tournament to assist in the repairs needed to many of these homes. After this event, I was speaking to Vince and asked how the Highland Storm Minor Hockey Association could get involved with specifically helping those families affected by the flood in assistance with hockey equipment that might have been ruined. Vince suggested I contact the NHLPA and ask about their Goals & Dreams program. An application was sent along with Matt's endorsement and with Matt's support, 50 sets of equipment arrived in Haliburton this October."
For Duchene, in his sixth campaign with the Colorado Avalanche, the donation is extremely meaningful.
"The camaraderie, selflessness and teamwork you learn through hockey is something you hope many people can experience," said the 23-year-old. "I really believe hockey is the best sport in the world for that. And to know that kids who might not have had the chance to play hockey now will, is a wonderful thing."
A committee (Point in Time staff, Jumpstart Canadian Tire staff, local community members and minor hockey executive members) will determine who will receive the equipment.
Families can apply via the Storm website to be considered for a full set of equipment. People who have endured hardship in providing recreational activities for their children will receive top priority.
"Hockey, compared to a lot of other sports, can be quite expensive," offered Duchene. "Skates, sticks, and other equipment – it's tough for some parents to afford what is needed. To know that kids are going to have some big smiles on their faces, to have the chance to play the game we love, that's the biggest thing for me."
Duchene recalled the sacrifices his family made during his minor hockey days.
"My parents, like so many others, always put their potential personal endeavors aside," he remembered. "What they did for me, taking me to the rink early in the mornings, things like that, it's something I carry with me to this day. When you are trying to make it to the NHL, it's a fine line between looking ahead and remembering who and what helped put you on the road towards that goal.
"Being a good teammate, being a good person – my parents always put an emphasis on that," continued Duchene. "That is still important to me."
It's a winning attitude Griffith knows well.
"Matt, like any young star who has made it big, has been bombarded with requests for appearances and donations since he joined the NHL," said Griffith. His generosity and commitment started well before he went pro. As a junior player, he donated his time, his autographs and his motivational thoughts to the younger people of this community without a second thought. One story that comes to mind was when Matt was playing for the (Brampton) Battalion and his season was almost over, he had a chance to come home, his old high school hockey team had a road trip planned for a playoff game. Matt asked the coach if he could join the team on their road trip and he entertained and motivated the players on their long bus trip south for the game. They won.
"Matt genuinely cares about hometown hockey and has sponsored many events and programs, made many appearances and had donated many items to local charities. He has never turned down a request to give a talk or an extra hour of standing to sign autographs until every kid in the line has got one. Matt and his family have already given back to their community in a huge way and are highly regarded. There is a reason his picture is painted on the outside wall of our arena. It's not just because of his skills and success."