Backlund Brings The Flames Back
Mikael Backlund scored the OT winner as the Flames re-ignited their series with the Ducks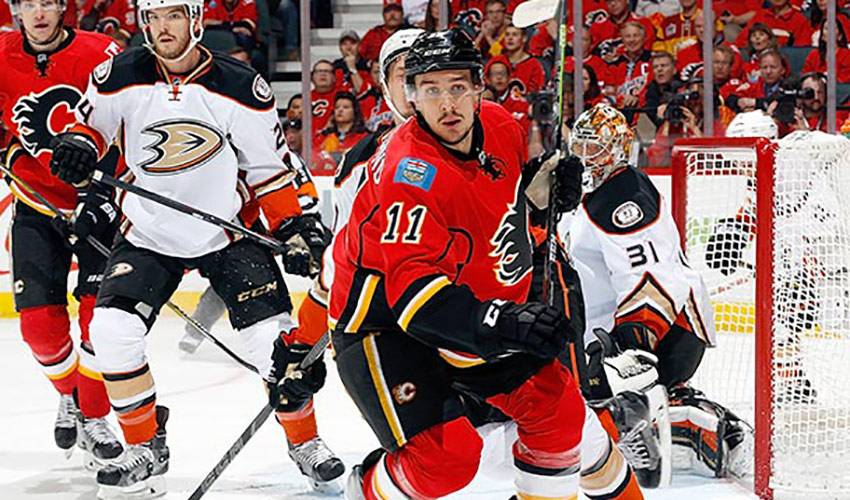 Mikael Backlund's extra effort on Tuesday night extinguished a 2-0 series deficit for the Flames and put them back on the winning track against a mighty Ducks squad.
Knotted at 3-3 after regulation, it was Backlund who played the role of overtime hero for Calgary, netting the winner at 4:24 of the fourth period in front of a delirious Saddledome crowd.
It was the first goal of this year's playoffs for the centreman, who is seeing his first NHL post-season action in 2014-15.
STAT PACK: 24:46. Backlund's ice time was tops among all Calgary forwards.
NEED TO KNOW: Backlund is a huge supporter of charitable endeavors in both Calgary and his native Sweden. He was honoured for his efforts when he was named the 2014 recipient of the Flames' Ralph T. Scurfield Humanitarian Award.
RIDING FOR A CAUSE: In 2013, Backlund joined Barncancerfonden's Ride of Hope, a bicycle event that takes place over nine days and stretches 1,250 kilometres throughout Sweden. "I was in Calgary, but went home for two weeks when I heard my friend was getting really sick from battling cancer," said Backlund, in reference to Victor Engstrom. "While I was home, I started a fundraiser to help bring in money for kids dealing with cancer, as well as in support of my friend. About two hours after I released the news of the fundraiser, he passed away. But, I wanted to do the ride for him and for the kids. It was tough because I had known him almost my whole life and he died at a young age."
A HELPING HAND: Backlund is the spokesperson for Kids Cancer Care Foundation, and a spokesperson for the Special Olympics. "I hate seeing kids struggling with serious illness, or having to deal with things they shouldn't have to," he said. "The strange part about it is that a lot of the times you meet these kids, they are smiling. That puts a smile on my face. Getting to know them means a lot to me."
LOOKING FOR A GOLD RUSH: Backlund has represented Sweden several times in international competition, winning three silver medals, including in 2011 at the World Championships, as well as three bronze medals, including last year at the same event in Belarus.
MILESTONE MOMENT: On January 28, 2010, Backlund scored his first NHL against the Phoenix Coyotes.
ROCKET MAN: Playing for the Kelowna Rockets in the 2009 WHL playoffs, Backlund tied teammate and fellow NHLer Jamie Benn for the league lead with 13 goals in 19 games as Kelowna defeated Calgary in the final to win the Ed Chynoweth Cup as league champions.
HONOURABLE MENTIONS: Corey Crawford made 30 saves as Chicago won 1-0 and took a 3-0 lead in their series against Minnesota. Patrick Kane had the lone goal in the Blackhawks' victory. Johnny Gaudreau tied the things up for the Flames with just 19.5 seconds left to play in the third period.