Stepan Sends The Rangers On
Derek Stepan buried the OT winner on Wednesday night to send the Rangers to the Eastern Conference Final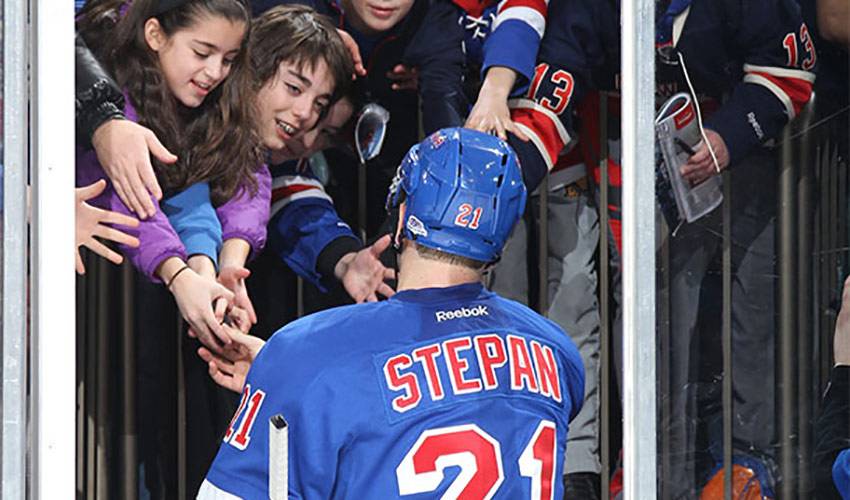 First, Derek Stepan won a key face-off. Then, just seconds later, he potted the series winning goal in overtime of Game 7 on Wednesday night, sending the Rangers to the Eastern Conference Final.
It was the third goal of this year's playoffs for Stepan, who drilled home a shot at 11:24 of the extra frame, to secure a match-up with the Tampa Bay Lightning for a chance to play in the Stanley Cup Final.
The Minnesota native now has eight points in 12 post-season games in 2014-15, four of which have come in the past three contests.
STAT PACK: Stepan took two shots in 23:15 of ice time, taking 32 shifts.
NEED TO KNOW: Last November, Stepan, through the NHLPA's Goals & Dreams fund, played a big role in delivering 25 boxes of hockey equipment to his former minor league team in Hastings, Minnesota. "I was fortunate enough to have equipment available to me when I was growing up," Stepan told NHLPA.com. "But, in some cases, kids don't. To know that G&D will be giving kids a chance to play hockey is fantastic. Hastings is a great town and a town that loves hockey. I wasn't the best player growing up, but I've always loved the game. I remember biking down to the rink with my buddies and getting out on the ice. I have nothing but great memories of playing hockey back home. You hope that many more will have that same experience."
CAPTAIN AMERICA: Stepan captained the U.S. side that won the 2010 World Junior Championships, taking gold courtesy of a thrilling 6-5 overtime win over host Canada. "Those are the moments you truly appreciate," said Stepan, of the tournament that saw him lead all scorers with 14 points (Edmonton's Jordan Eberle and Taylor Hall were second and tied for third, respectively, in the category). "Obviously, you're very grateful to have those experiences. You really understand what it takes to win something that significant."
THREE CHEERS (AND GOALS) IN HIS DEBUT: On October 9, 2010, he became the first player in Rangers history, and the fourth in NHL history, to score a hat trick in his big-league debut.
ALL IN THE FAMILY: Stepan's father, Brad, was also a draft pick of the Rangers in the 1985 NHL Entry Draft. Stepan's cousin, Zachary, was selected 112th overall by Nashville in the 2012 Draft.
FAMILIAR FACE: Stepan was teammates with current Ranger defenceman and teammate, Ryan McDonagh, while at the University of Wisconsin.
IT'S A FIRST: Stepan's first job was working at his father's sporting goods store.
HONOURABLE MENTIONS: Henrik Lundqvist was huge again, recording his sixth straight Game 7 win courtesy of 35 saves, eight of which came in overtime. Alex Ovechkin, a finalist for the NHLPA's Ted Lindsay Award, scored his fifth goal of the playoffs.