Moore Than A Feeling
Dominic Moore enjoying a whirl-wind summer that includes Smashfest IV in Toronto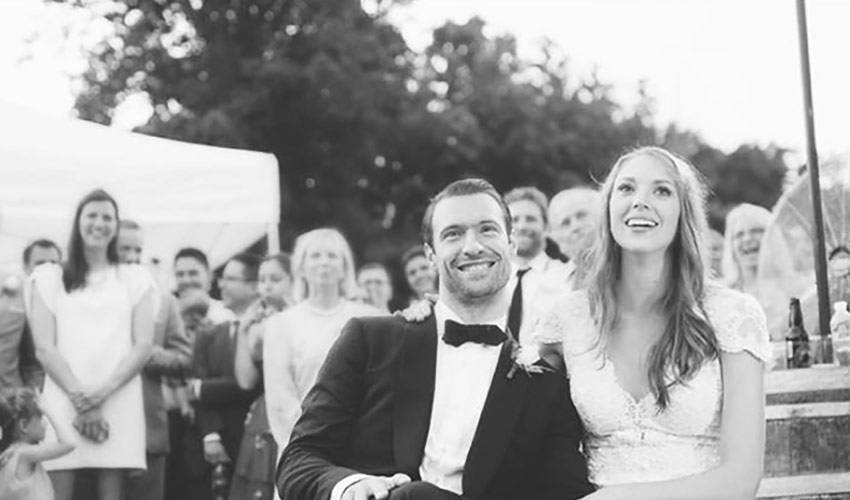 The last few months, both on and off the ice, have been a whirlwind for Dominic Moore, the man behind Smashfest, one of sport's hippest and well-regarded charity events.
Moore, one of the NHL's most impactful two-way forwards, once again endured a long post-season run with the New York Rangers, this time losing in Game 7 of the Eastern Conference Finals, just shy of the Stanley Finals appearance he and his teammates made one year perviously.
A lengthly playoff beard has become the familiar face of Moore, who has reached the Conference Finals or better in his last four seasons, with three different teams.
This year's playoff exit, however, while painfully premature, did have a silver lining of sorts. The extra few weeks allowed Moore to be involved in the planning and build up to a very special part of his summer. On July 11, he and his wife Mary tied the knot in her native Tennessee on what Moore called, "the most perfect day we could have ever imagined."
The newlyweds then splashed off to Italy for their honeymoon before returning this week to Toronto, where Moore will host the fourth annual Smashfest Charity Ping Pong Challenge at Steam Whistle Brewery tonight.
The event, which features almost 30 NHLers both past and present, will once again raise funds for two very worthy and important causes - concussion and cancer research. With a combination of casual party and competitive action, Smashfest has quickly grown into one of the summer's hottest, and most unique, charitable gatherings.
Fans attending will have the chance to meet Moore and his colleagues from around the league, as well as some surprise special guests, while soaking in the party atmosphere and even sharing the ping pong table with them. Later on, the NHL players-only singles tournament will crown a league-wide champion.
"I'm usually pretty hands on and involved, but with the wedding this summer, I wasn't able to be quite as much," said Moore, of the event that also showcases sports memorabilia auctions, both silent and live, for all to bid on. "I'm very grateful to the NHLPA staff and to so many others for their extra efforts in helping put this together. They really allowed me and my wife to fully enjoy our special time."
"Smashfest is always a team effort, and I'm proud of that," said Moore. "We've had a group of people that believed in the unique and different idea from the beginning, and to see it grow to what it has become now is extremely gratifying."
It's no doubt been a busy stretch for Moore. But, he's certainly not complaining.
"It certainly has been the busiest summer ever, but it has also been the best one."