BRYCE SALVADOR RETIRES FROM NHL AFTER 14 SEASONS
The strong and steady defenceman played in 786 career games with the St. Louis Blues & New Jersey Devils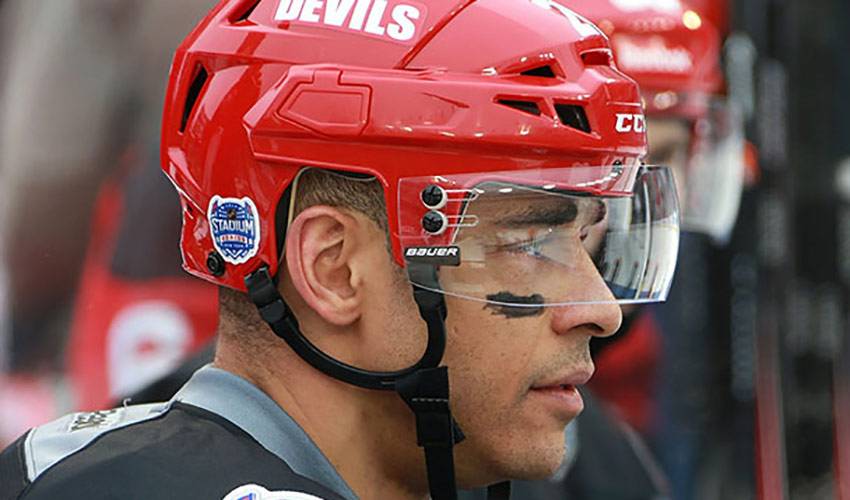 TORONTO (September 2, 2015) – Bryce Salvador has announced his retirement from the National Hockey League (NHL) after 14 seasons.
Salvador played in a total of 786 career NHL games with two teams, the St. Louis Blues and the New Jersey Devils. He scored 24 goals and 86 assists for 110 points in his NHL career. Salvador, a six-foot-three, 215-pound defenceman, played in 74 playoff games and reached the Stanley Cup Final in 2012 with the Devils. He captained the Devils for the final three seasons of his career.
"I would like to thank my wife, April, for her unconditional and ongoing support, and love. I'm blessed and so thankful that my two sons, Pierson and Hudson, were able to see and remember me play as I thought my career was over when I missed the entire 2010-11 season due to injury. To my parents, and my extended family, as well as Bonnie and Gerald, thank you for all your love and support," said Bryce Salvador. "I would like to thank the Lethbridge Hurricanes and GM Bob Bartlett, the St. Louis Blues and GM Larry Pleau, and the New Jersey Devils and GM Lou Lamoriello, for giving me the opportunities to play hockey. Thanks also to my teammates, the owners of each of these organizations, and to the fans for bringing excitement and energy to every game. I look forward to a continued involvement in hockey for years to come."
A native of Brandon, MB, Salvador was drafted by the Tampa Bay Lightning in the sixth round, 138th overall, of the 1994 NHL Entry Draft, and later signed with the St. Louis Blues as a free agent on December 16, 1996. Following a junior career that spanned five seasons in the Western Hockey League (WHL) where he helped lead the Lethbridge Hurricanes to the Memorial Cup final (1996-97) and a WHL championship (1996-97), he played three seasons with the Worcester IceCats of the American Hockey League. On October 5, 2000, Salvador made his NHL debut with the Blues (StL. 1 @ Phx. 4). He recorded his first career assist on October 28, 2000 (Dal. 3 @ StL. 4 OT), and he later scored his first NHL goal on December 10, 2000 (StL. 6 @ Chi. 1). In his rookie season, Salvador recorded 10 points and 69 penalty minutes in 75 regular season games in 2000-01, and he also played in 14 playoff games. In 2001-02, he scored two game-winning goals including his first career overtime goal on January 21, and he later played in all 10 of the Blues' playoff games. In his first four seasons in St. Louis, he averaged over 70 games played and helped the team reach the playoffs each season.
Partway through Salvador's seventh season with the Blues, he was traded to the New Jersey Devils on February 26, 2008. After playing in eight regular season games following the trade, he played in five playoff games and recorded one goal. Salvador re-signed for four more seasons with the Devils on July 1, 2008. In 2008-09, Salvador played 76 games in his first full season with the Devils and he matched his career-high with two game-winning goals. He played in 79 regular season games and five playoff games in 2009-10.
After missing the entire 2010-11 season due to injury, Salvador returned to play in all 82 regular season games in 2011-12 and he record a plus-minus of +18, his personal best mark. He also played in all 24 playoff games in the spring of 2012, helping the Devils reach the Stanley Cup Final while scoring four goals and 14 points during their postseason run. On January 17, 2013, Salvador was named team captain of the New Jersey Devils – the 10th captain in team history. During the lockout-shortened season of 2012-13, he played in 39 games. In 2013-14, he was limited to 40 games played due to injuries. In 2014-15, Salvador's fourteenth and final NHL season, he played in 15 games before his season was cut short due to an injury suffered in his last game on November 10, 2014.
Throughout his career, he was an important leader and contributed as a strong and steady defenceman. Salvador also helped his teams reach the playoffs in eight of his 13 seasons.
He served as an NHLPA Player Representative for four seasons while he was a member of the Devils.
Salvador, 39, resides in Westfield, NJ, with his wife April and their two sons.
-30-