Burns Brings Goals & Dreams to San Jose
Brent Burns is always willing to work overtime in support of Goals & Dreams & Defending the Blue Line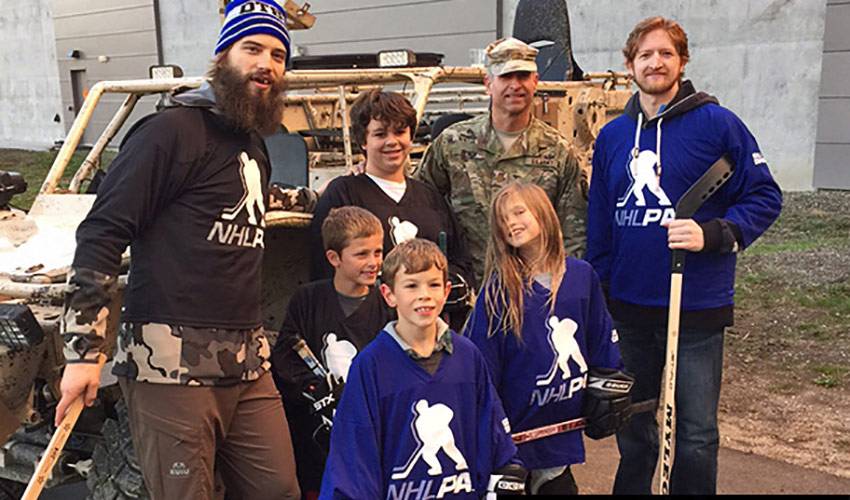 When it comes to being a game changer, Brent Burns is always willing to work overtime.
It was certainly no surprise to see one of hockey's most generous players lending his time and support to the NHLPA Goals & Dreams (G&D) most recent initiative, in an event held just outside of San Jose, California.
Burns, along with Sharks teammate Paul Martin, were at Moffett Field on November 24th, to officially announce Goals & Dream's donation of 50 complete sets of new hockey equipment valued at $25,000 to Defending the Blue Line (DTBL), which ensures that children of military members are afforded every opportunity to participate in the game of hockey.
Close to 40 children from DTBL, between the ages 8-12, took part in a ball hockey game that was coached by Burns and Martin.
It was hard to tell who enjoyed themselves them more, the players or the kids.
"Paul and I had lots of fun today, playing in the ball hockey game with the kids and getting a chance to spend some time with them," said Burns, who, along with Martin, also signed autographs. "I'm proud to be a part of our NHLPA Goals & Dreams program as we continue to donate hockey equipment to DTBL, which does an outstanding job helping children in military families play our great game.
"My interests have always been the military and hockey," he continued. "So once my dream of playing in the NHL came true, I really wanted to get involved somehow with the military. Now, to see what Shane (DTBL founder, Hudella) has done and how much he has grown and helped so many people, it's amazing."
To cap-off the event, Burns hosted military families on Wednesday evening, in a game that featured San Jose hosting the Chicago Blackhawks.
"The Goals & Dreams events have all been great experiences, which makes it easy to want to be a part of them," he said. It's important as players to be involved and help grow the game and allow kids who maybe can't play, but do love the sport, the ability to play."
Throughout his NHL career, Burns has lend his time and support to several community and charitable endeavours.
Prior to the start of the 2015-16 campaign, he was announced as the recipient of the NHL Foundation Player Award, which recognizes an NHL player who applies the core values of hockey - commitment, perseverance and teamwork - to enrich the lives of people in his community.
Burns also came up with "Burnzie's Buzzcut" – a fundraiser that sees him and his teammates shave their heads in an effort to raise money and awareness for charities.
In the summer, he and other players were in Australia to take part in the USA versus Canada Ice Hockey Classic, a multi-day event designed to help grow the game on a global level.
Did we mention Burns is a difference-maker on the ice, too?
The 30-year-old, who has skated in nearly 750 NHL games, won gold with Team Canada at the 2015 World Hockey Championship and was named the tournament's top defenceman.
"I just think the past year has had so many great experiences and to share all of them with my whole family involved and the kids, it's been an amazing summer," said Burns. "Being in Europe for over a month with all of them and then heading right to Australia, a place I have always wanted to go with them, and then right to Las Vegas for the (NHL) awards, it was non-stop, but just a great summer and one we wont forget. Then we took the 'Beast,' our RV, for 25 days and drove around the country."
*
G&D – now in its sixteenth year, having donated over $23-million to grassroots hockey programs around the world – is a long-time supporter of DTBL, and with this week's donation, the players' charitable program has now donated 375 full sets of new hockey equipment to DTBL in the last five years.