Hornqvist Hat-Trick Leads Pens
Patric Hornqvist notched a hat-trick in the Penguins Game 1 victory on the opening night of the 2016 Stanley Cup Playoffs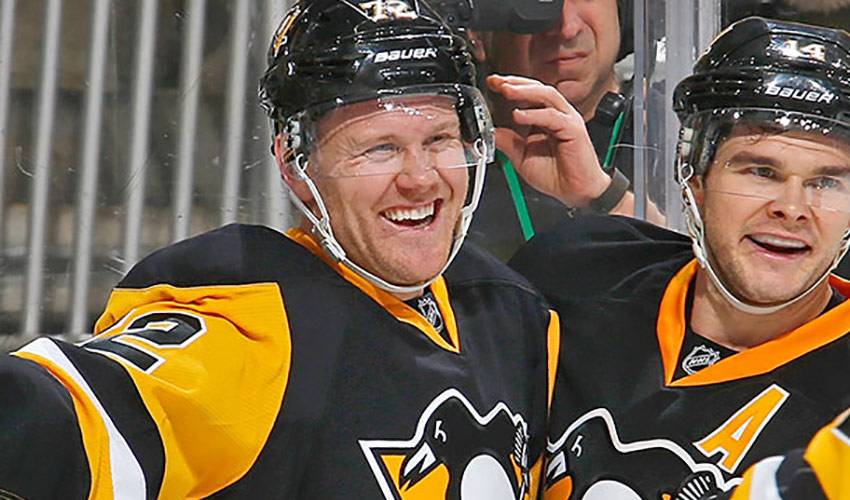 Patric Hornqvist kicks off this year's edition of Playoff Performer of the Night, courtesy of his three-goal, four-point performance in Pittsburgh's 5-2 win over the New York Rangers in Game 1 of their Eastern Conference series.
In his 30th career NHL playoff game, the Swedish forward was in all but one of the Penguins goals, giving him a total of seven points in six post-season appearances with Pittsburgh.
Hornqvist netted his first playoff goal in 2010-11 when he was with the Nashville Predators.
STAT PACK: Hornqvist took four shots on goal, was a plus-three, dished out three hits and blocked two shots in 17:53 of ice time.
NEED TO KNOW: It was the first career playoff hat trick for the native of Sollentuna, Sweden, who was traded to Pittsburgh in June of 2014.
IT'S A FIRST!: With his Game 1 hat trick, Hornqvist became the first player in franchise history to register three goals in the team's playoff opener.
PAYING IT FORWARD: Hornqvist pointed out the play of goaltender Jeff Zatkoff (who replaced injured Marc-Andre Fleury) as pivotal in the Pens win. "He was our best player."
START IT OFF, CLOSE IT OUT: The game's first goal came off Hornqvist's stick – at 19:42 of the first period – and the final tally of the game came courtesy of the 29-year-old, a marker at 17:10 of the third frame.
TRICKS OF THE TRADE: Hornqvist collected his first regular season hat trick on February 29, 2016, a 6-0 win over Arizona that also saw him chip in with an assist.
BIRTHDAY GIFT: How did Hornqvist celebrate his 25th birthday on New Year's Day? He recorded two assists in a Nashville win over Calgary. "I guess it should be my birthday every day, right?" offered the forward, who was Swedish hockey's Rookie of the Year in 2007 after his standout second season with Djurgården's regular team, scoring 23 goals and notching 34 points.
A PLAYOFF STATE OF MIND: Said Hornqvist: "You can be happy with what you accomplished, but it doesn't take long for you to resume your focus and be mentally and physically prepared for what comes next."
'HORN' OF PLENTY: Drafted 230th overall in 2005, Hornqvist has six 20-goal seasons to his name, and 153 total tallies since first joining the NHL ranks in 2008-09.
HONOURABLE MENTIONS: David Backes scored the overtime winner as St. Louis beat Chicago 1-0 in their Western Conference match-up, while Nikita Kucherov had a pair of goals and one assist in Tampa Bay's 3-2 win over Detroit in Game 1 of their series.